Super Formula Race 2 at Okayama Results
2017年5月28日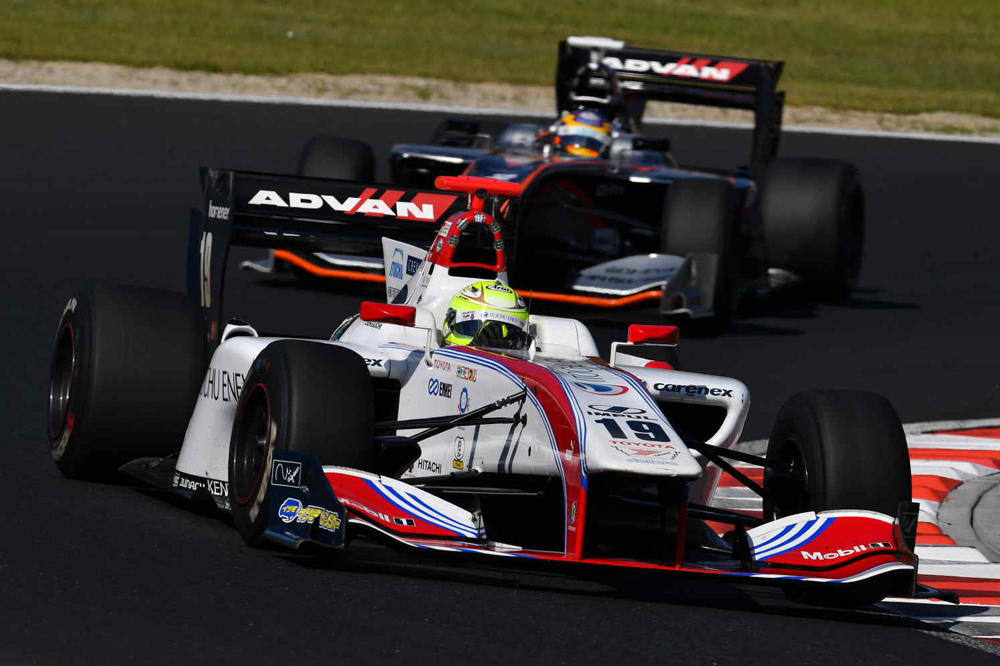 One of the biggest factors in today's Super Formula 51-lap race was the pit in timing for the mandatory tire change (all four tires). In pole position was Hiroaki Ishiura, who is the course record holder in Okayama. In a 2nd grid start was rookie Kenta Yamashita, followed by Yuhi Sekiguchi in 3rd and Andre Lotterer in 4th—who both made it to the podium in yesterday's race.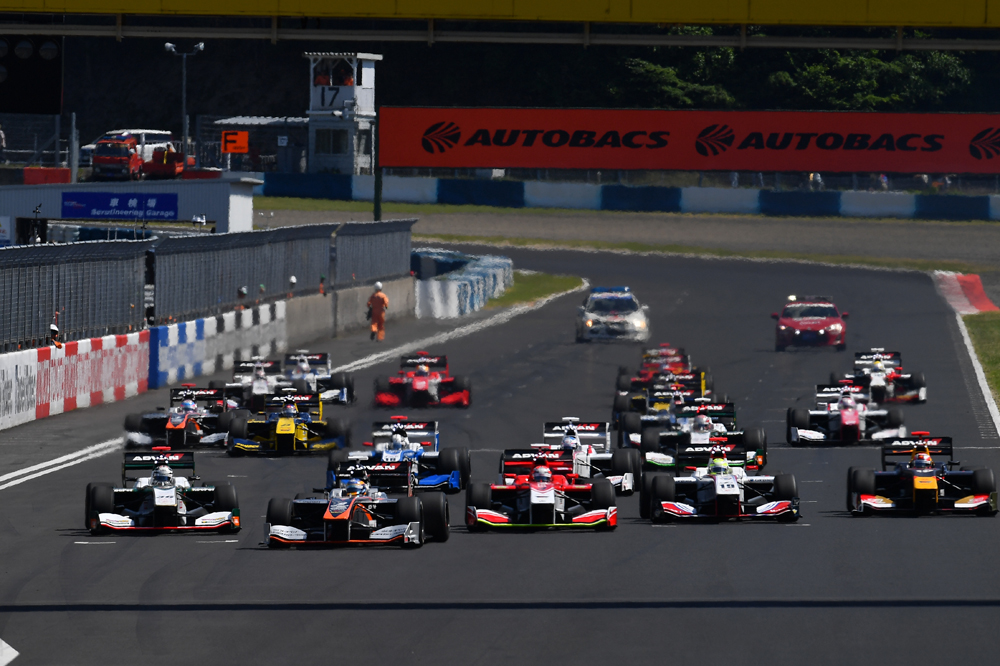 For just a few seconds, it appeared that Lotterer pulled off a great start and was going to jump up into the top spot from his 4th grid start, but Ishiura and Yamashita were able to successfully fend the always tough Lotterer off. Yuhi Sekiguchi, who was overtaken by Lotterer at the start of the race, headed to the pit before the end of lap one and set up his plan of attack for the rest of the race. Lotterer followed suit on lap 6, and came back out onto the track behind Sekiguchi. Sekiguchi was able to gradually gain on front running Ishiura lap by lap and close the gap between them.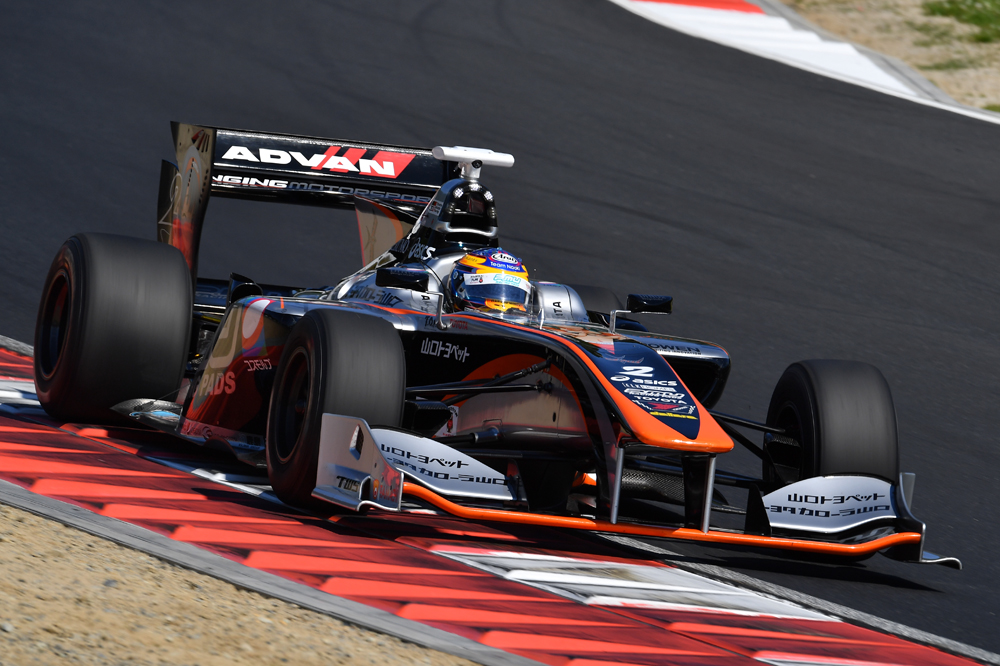 Yamashita, who was in 2nd place, wasn't able to pick up the pace, so Ishiura began distancing himself from Yamashita and the rest of the cars. Then on lap 32, Yamashita went into the pit on lap 32, but it took longer than expected to have his tires changed—taking away his chance of making his Super Formula podium debut. At this point in the race, it was still Ishiura, Sekiguchi or Lotterer's race to win. The timing of front-running Ishiura's tire change now became the key to how the race was going to pan out.
Ishiura went into the pit on lap 34 when he still had a full 6 second lead over Sekiguchi. But it took 9.5 seconds to have his tires changed. When he came out on the track, he was nearly 4 seconds behind Sekiguchi, who was now in the lead.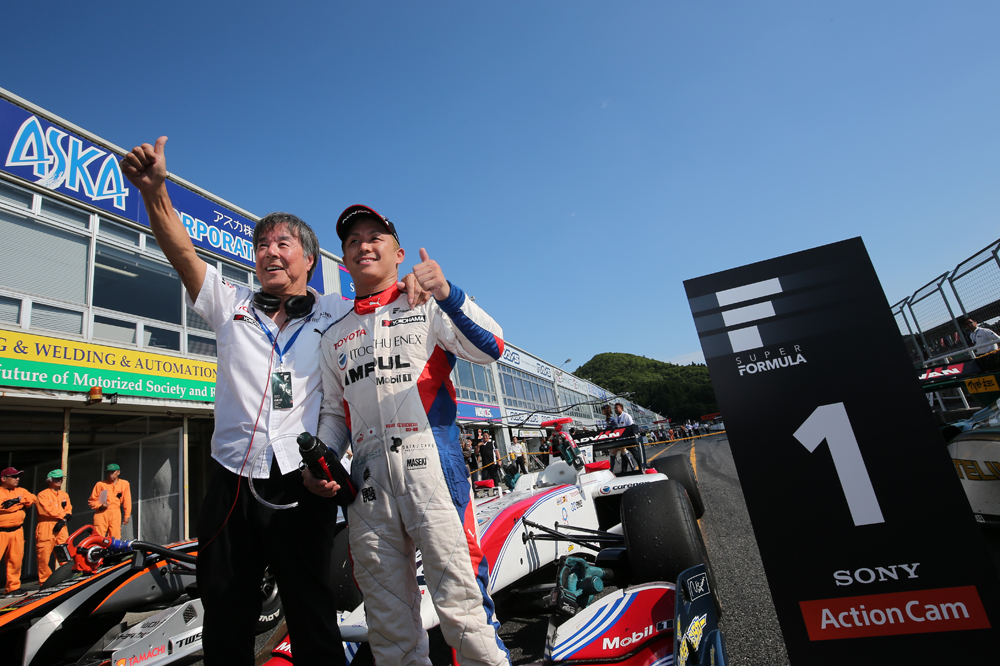 Takuya Izawa crashed on lap 38, and the safety car was deployed on lap 39. Felix Rosenqvist took advantage of the situation and headed to the pit for a tire change. And when the safety car went off the track, it was Sekiguchi, Ishiura, Lotterer and Rosenqvist in the top 4 spots. Sekiguchi was able to control the race from there, and Ishiura, who had the advantage of having on the least used tires, began heavy pursuit of Sekiguchi, for a tail to nose race over the 5 remaining laps. Sekiguchi successfully held off Ishiura to take the checkered to pick up the win. Ishiura finished in 2nd place, and Andre Lotterer in 3rd. Felix Rosenqvist moved up 11 spots from a 15th grid start to finish 4th, followed by Kamui Kobayashi, Kenta Yamashita in 6th, and Pierre Gasly in 7th place.