Super Formula Round 3 at Fuji Speedway Preview
2017年7月1日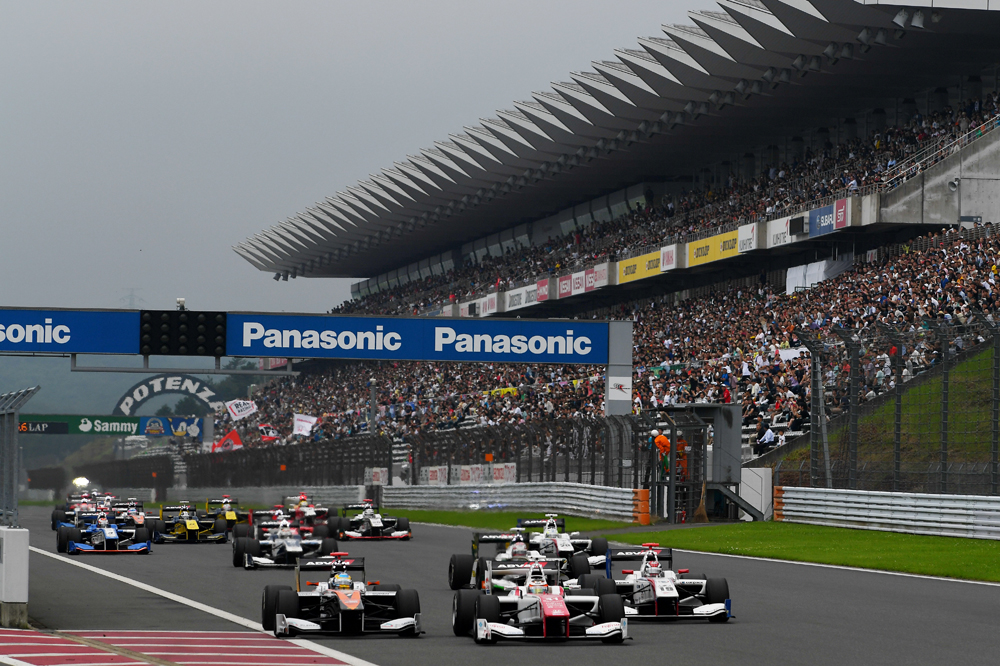 Super Formula, which opened its season in April at Suzuka, held Round 2 at Okayama in late May, so it has been over a month since then. It is now mid-summer in Japan, as we head into Round 3. The drivers in the top spots at this point in the season probably start to consider the possibility of capturing the driver's championship title. Those drivers that haven't been satisfied with their results thus far, are more than likely hungry to score points.
The location for Round 3 is Fuji Speedway. Fuji is one of a handful of international circuits in Japan, and has been in operation for over 50 years. This circuit features one of the longest straights in all of motorsports. This straight, going into the first corner, has been the scene of many a great battle over the years. Braking going into the Dunlop Corner, as well as other spots along the course provide for plenty of opportunities for overtaking—adding even more excitement to races.
VANTELIN TEAM TOM'S showed their speed at Fuji Speedway during official tests in March. Andre Lotterer and Kazuki Nakajima weren't at those tests due to a WEC race commitments, but Ryo Hirakawa, who tested for the team in their absence recorded the overall top time. J.P. de Oliveria, who also tested with the team in March, recorded the 2nd best time. So will it be VANTELIN TEAM TOM'S who runs away with it at Round 3, or will it be another team?
Kazuki Nakajima captured a pole-to-win victory in Round 1 at Suzuka, but recorded no points in Round 2 at Okayama. On the other hand, Lotterer finished 5th at Suzuka, but won one of the two races at Okayama, and now sits at the top of the point standings. Kazuki, Naoki Yamamoto, Hiroaki Ishiura, Yuhi Sekiguchi are all in the top 5, and are only separated by a mere 2 points. Sekiguchi's pace in race 2 at Okayama was blistering, as he went on to hold off both Ishiura and Lotterer for the victory. Since making his podium debut at Fuji Speedway last season, Sekiguchi has showed brilliance. And his team ITOCHU ENEX TEAM IMPUL has proved strong year after year at Fuji Speedway. So it is highly likely that Sekiguchi will be a major factor in this round. Let's not forget P.MU/CERUMO・INGING either, because after all, Fuji Speedway is their home course. TEAM MUGEN, the top HONDA engine equipped team so far in 2017, has two quality drivers, and are also making a run for it this season. Kamui Kobayashi, since switching to KCMG this season, has shown his speed and the possibility that he possesses, so he is also one of the drivers who may fare well at Fuji.
This year's rookies are definitely ones to watch in this race. Not only Pierre Gasly, who may very well be racing in F1 next season, but Nick Cassidy who captured his first podium in Super Formula at Okayama and isn't afraid to use his overtake system, along with his teammate Kenta Yamashita, who sat in the front row in just his third race are no doubt up for the challenge again this time around. Let's certainly not forget Felix Rosenqvist, who raced a faster pace than the top finishing drivers, and almost made it to the podium in Okayama. All of these rookies may not have the experience that the veteran drivers do yet, but among them, their certainly is a star in the making.
The free practice run results on Friday at Fuji Speedway is something to keep your eyes on as all of these talented drivers prepare to put their skills to the test. In addition, definitely keep an eye on whether the machines are running in top form or not. The Qualifying at Fuji Speedway is almost always decided by just the smallest margin—with 0.1 seconds separating the top positions. So this type of margin will probably dictate who moves on from Q1 to Q2, and Q2 to Q3. How the cars are running is one factor, but the drivers who keep even just the slightest miss to a minimum will definitely help their own cause. But just winning pole position at Fuji Speedway doesn't ensure a victory. Even those who start from the second row have a chance if they can get off to a solid start, take advantage of overtaking throughout the race, and come back out onto the track from the pits and move up some positions. And if it is raining, even more drivers will probably make use of their overtake systems.