Super Formula Round 3 at Fuji Speedway Race Results
2017年7月9日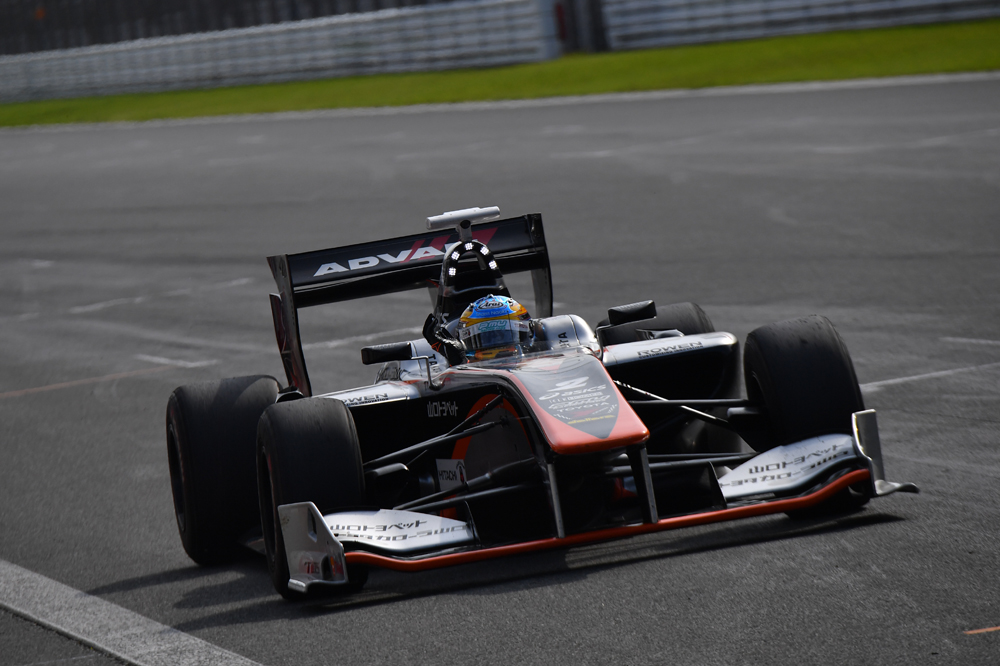 The 250 km Round 3 race at Fuji Speedway got underway at 2:13 pm under 32℃ degree temperatures (track temp. 44℃).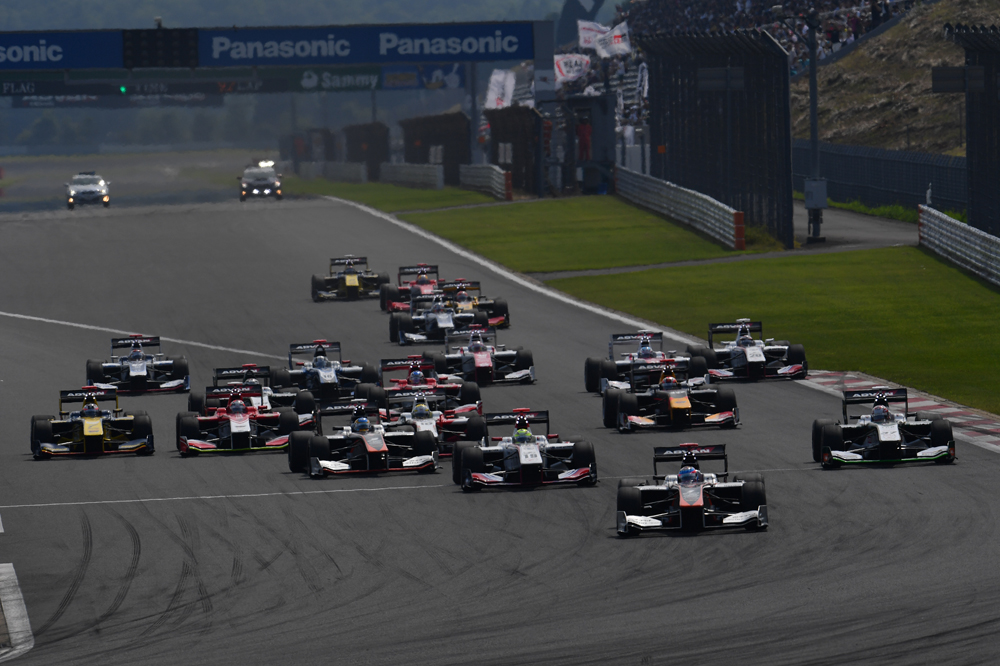 Yuji Kunimoto, who started from pole position, got off to a clean start to the 55 lap main event. During lap 1, Nick Cassidy, who started in the 7th grid, went off the track, bringing an unfortunate close to the New Zealander's day. At that point in the race, it was Kunimoto in the lead, followed by Yuhi Sekiguchi in 2nd, and Kunimoto's teammate Hiroaki Ishiura in 3rd. Andre Lotterer who started in P12 had jumped up 5 spots into 7th.
By lap 5, Kunimoto had more than a 2 sec. advantage over Sekiguchi. And by lap 9, that gap had widened to 4 sec.

During lap 10, Andre Lotterer went to the pit for fuel, which would prove to be a smart move at the end of the day. Kazuya Oshima followed suit on lap 11, then Kazuki Nakajima on lap 14. Sekiguchi fueled up on lap 15. None of the drivers who had went to the pit at that juncture had their tires changed however.

Tomoki Nojiri was the first driver to have a tire change while getting needed fuel. Pierre Gasly had all 4 tires changed on lap 19, and also got fuel. This would prove to be a valuable move for Gasly later on in the race even though he was currently in 14th.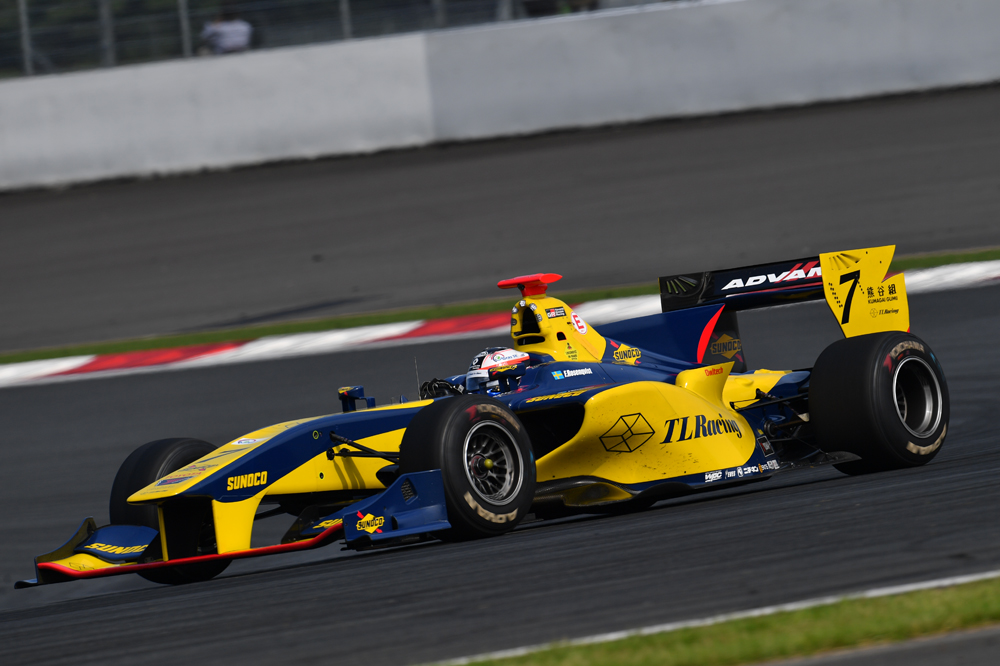 It looked like Kunimoto was going to have a smooth go of it as he continued to widen the gap between himself and the cars behind him. Kunimoto was nearly 7 sec. in front of Ishiura, 12 sec. ahead of Yamamoto, and 16 sec. ahead of Rosenqvist.

During lap 25, Naoki Yamamoto's left rear tire ruptured. He struggled to make it back to the pit, but was forced to retire from the race. Rosenqvist was now in 3rd, but was still yet to pit. Although there was no mandatory tire change in this race, additional fuel for all cars at some point was a must to be able to run the full 250 km.

Kenta Yamashita, who started in the 6th grid, also fell victim to a ruptured tire. Unlike Yamamoto however, Yamashita made it back to the pit and had all 4 tires changed, and also fueled up. He was able to get back out onto the track, but had to retire from the race later due to machine trouble.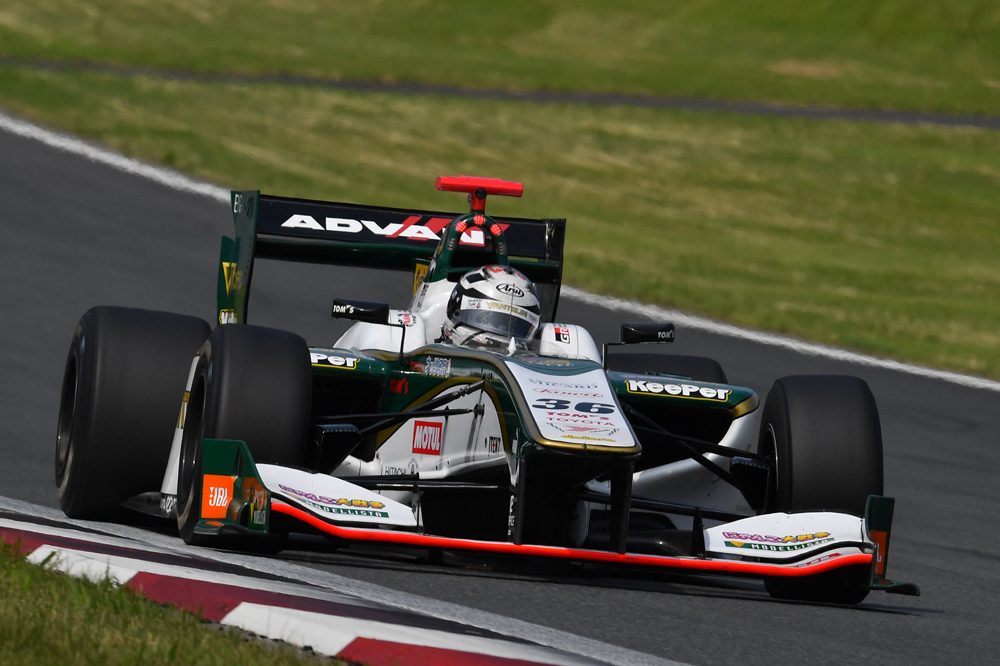 Yuji Kunimoto, who had a 6 sec. lead, went into the pit on lap 32. He had all 4 tires changed and fuel added. He came back onto the track, but on lap 36, he headed back to the pit again due to suspension and other troubles, only to be forced to drop out of the race. Kunimoto's teammate Ishiura took over where Kunimoto had left off, and was now in the top spot. Rosenqvist was in 2nd, Kamui Kobayashi in 3rd, and Narain Karthikeyan in 4th. Andre Lotterer passed Yuhi Sekiguchi on lap 37, as Rosenqvist headed to the pit. Hiroaki Ishiura went to the pit on lap 39, and came back in 2nd. Kamui, who was briefly in the top spot, still hadn't gone to the pit. When he did however, his engine stalled. It took a long period of time to get his engine re-started, which caused him to wind up finishing in 15th place overall.

On lap 44, it was now Ishiura in 1st, Rosenqvist in 2nd, Lotterer in 3rd, followed by Sekiguchi–who had to fight off Pierre Gasly's fierce attack over several of the remaining laps in the race. Although this is how they would finish, the big news of the day was Rosenqvist's first podium in Super Formula. He also recorded the fastest lap of the day on lap 46 of 1'25.581 sec.