Super Formula Round 4 at Twin Ring Motegi Race Results
2017年8月20日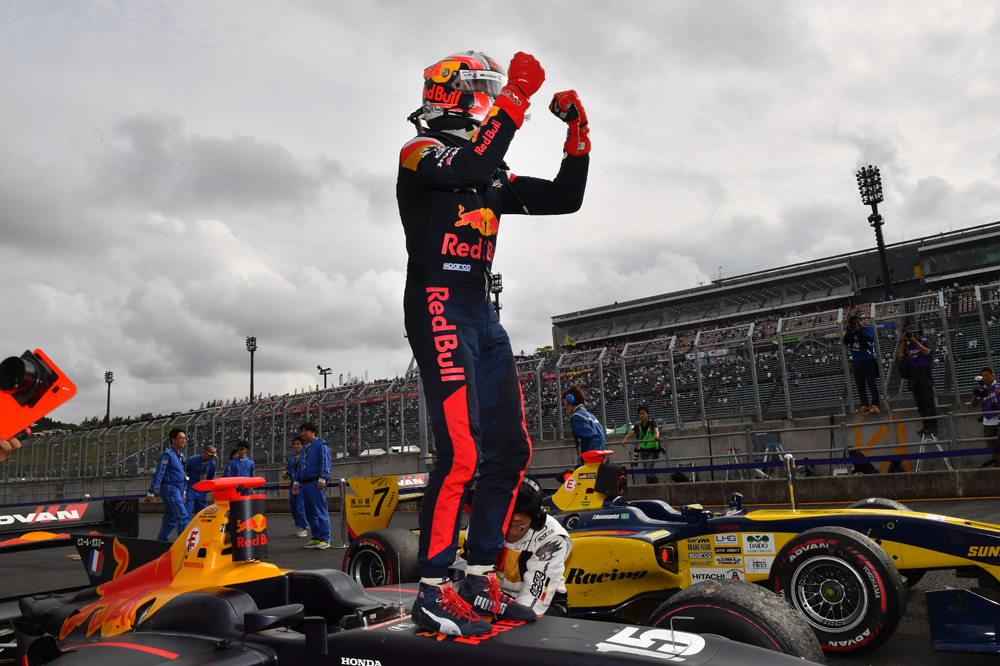 Round 4 of the 2017 Super Formula season began at Twin Ring Motegi under 28℃ temperatures, with a track temperature of 30℃. It was Kamui Kobayashi who got off to a rocket start to the race from his 2nd grid position overtaking pole position starter Kenta Yamashita. Tomoki Nojiri, who started the 250 km (52 lap) race in 3rd also was able to get past Yamashita to move up into 2nd. Pierre Gasly who started in the 4th grid, and Felix Rosenqvist, who started in 5th, were both able to maintain their positions.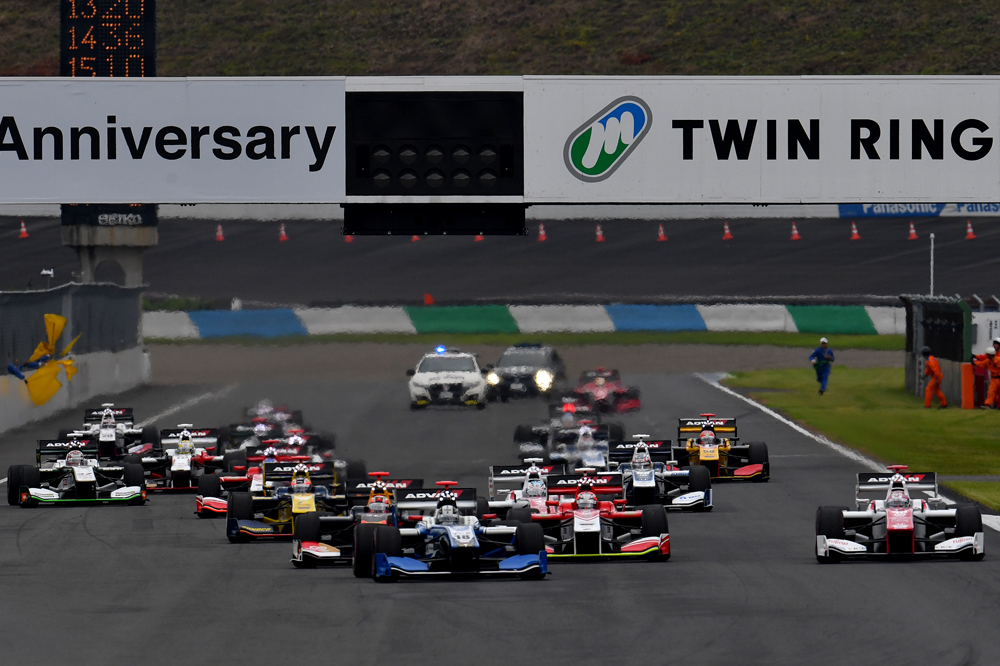 On lap 5, Kamui had a 3 sec. lead over the rest of the machines that pursued him. Naoki Yamamoto, who began in the 16th grid, had moved up to 11th by that point in the race. Koudai Tsukakoshi, whose car stalled at the start, had jumped up 10 spots all the way to 9th. 

It was Yamashita who headed to the pit first for the mandatory tire change, and some fuel. On lap 11, Yamamoto also went to the pit and changed to medium tires, which would prove to be the difference in the rest of his day.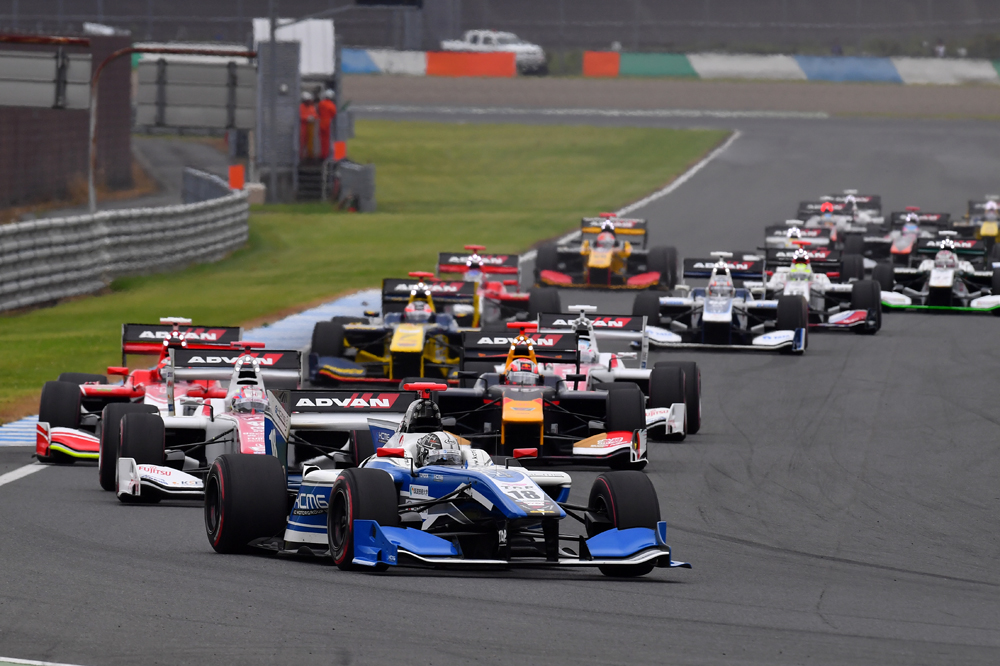 Kamui, who still had on soft spec tires, had lost contact with his team because of transceiver problems, continued in the top spot and had a 6.8 sec. lead over 2nd running Nojiri. Gasly was in 3rd, Felix Rosenqvist in 4th, and Nick Cassidy in 5th. Narain Karthikeyan was in 6th place. 

During lap 19, Tsukakoshi briefly headed to the pit to change to another set of soft tires. But he would still need to change over to medium tires at some point due to the regulations for this race.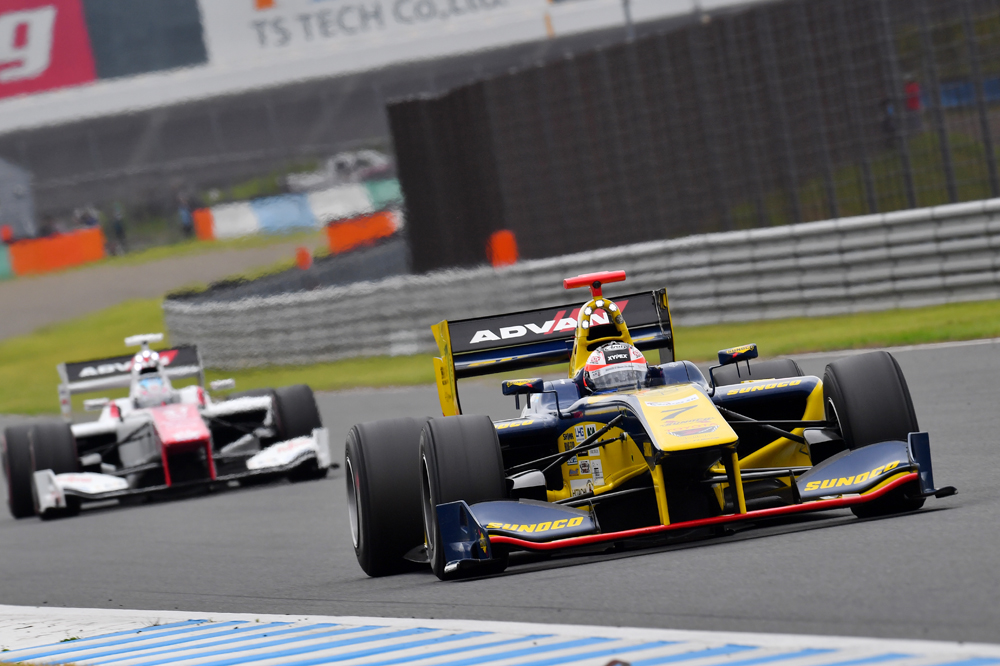 On lap 21, Kamui had built a 14.6 sec. lead. It was now Pierre Gasly in 2nd, and Rosenqvist in 3rd. Then on lap 25, Rosenqvist changed to soft tires. But Kamui still had on the soft tires that had begun the race on. Rosenqvist's soft tires were working well, as he was able to get past Nojiri on lap 30. Then on lap 31, he moved up to 6th. 

During lap 32, Kamui's team began preparing for a tire change. While that was happening, Andre Lotterer's car ran into Takuya Izawa from behind, causing Izawa's car to run into the guardrail. He appeared to briefly lose control of his car due to his left rear tire almost coming off as a result of the crash. 

On lap 34, Kamui headed to the pit and changed tires and had fuel added. But trouble in the pit caused a huge time loss for Kamui–pretty much ending hopes of winning his first Super Formula race.
On lap 36, Rosenqvist was directly behind Kamui's car, but Kamui was able to maintain his 2nd place position. The story of the day was Pierre Gasly who had a 14 sec. lead over Kamui on lap 41. Gasly was able to maintain that lead and capture his first Super Formula victory. Kamui finished the race in 2nd, and Rosenqvist in 3rd. Hiroaki Ishiura, who began the race in the 16th grid, moved up all the way into 4th, where he finished the race. Nick Cassidy finished in 5th, and his teammate pole position starter Kenta Yamashita was in 6th.