Nick Cassidy Pulls off Victory from a P12 Start
2019年4月22日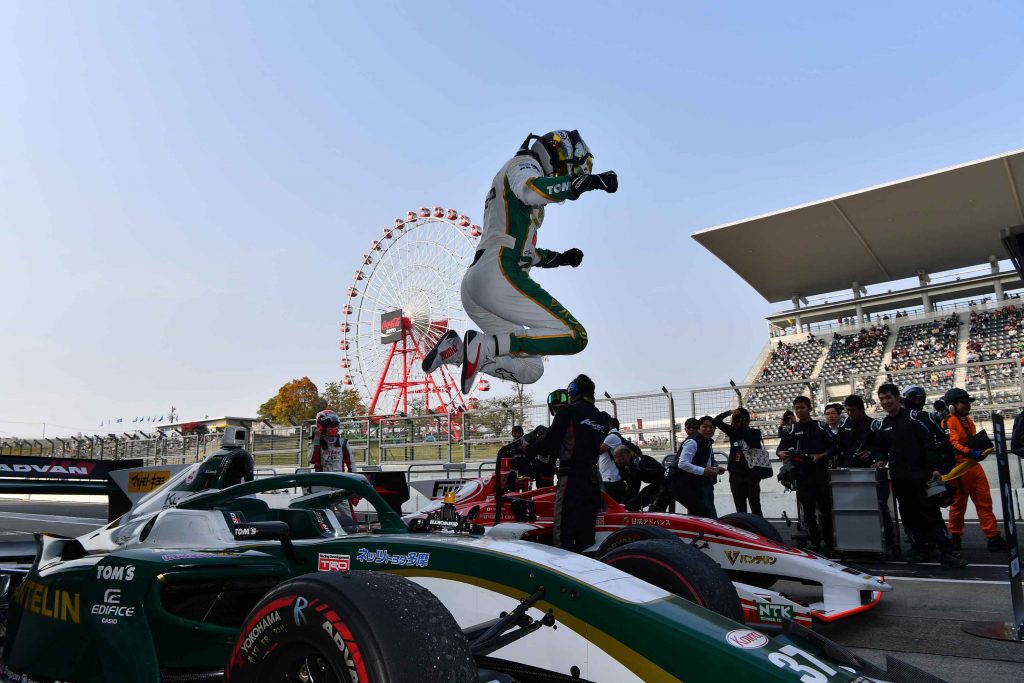 The Super Formula Rd. 1 race at Suzuka was held under 25℃ cloudy conditions (37℃ track temp).
Rookie Tadasuke Makino was the pole sitter for the 250 km (43 lap) race. Makino got off to a fine start to the race,
but P3 starter Naoki Yamamoto did too–helping him to jump in front of P2 starter Alex Palou. Alex used his
overtake system (OTS) on lap 2 to pass Yamamoto. At the lap 3 point in the race, Makino was in P1, Alex P2, Yamamoto P3,
Yuhi Sekiguchi P4, Ryo Hirakawa P5, and Kenta Yamashita P6.
On lap 7, Nick Cassidy was the first to pit, change tires and fuel up. This strategy would prove to be brilliant, and
is probably what was the key to him being able to win the race.
The safety car was brought out on to the track 4 times during the race. The first was when 18-year-old rookie
Tristan Charpentier crashed into barriers on lap 9. Makino used that crash to head to the pit and take care of the
mandatory tire change. Many of the other drivers did the same. Sekiguchi was one of them, but his car stalled out in the middle of pit road
causing chaos. It appeared he would not be able to get it started again, but it finally started. But only for him to have to retire
from the race on the following lap because of gear problems.
Kamui Kobayashi was leading the race on lap 13, but had yet to complete a tire change. On lap 16, Alex Palou did
his best to pass Kamui, but to no avail. Shortly after, Alex's car started slowing down, it was apparent he would not
be able to finish the race, so he pulled his car off to the side of the track and called it a day.
When the race re-started on lap 21, it was Kamui in P1, Nick P2, Yamamoto P3, Makino P4, Tomoki Nojiri P5, Kenta in P6. On the
ensuing lap, Kenta used his OTS to battle it out with Makino, but Makino battled back. Then suddenly on lap 27, Makino's right
rear tire punctured and his wheel came off, as he crashed into barriers. As the safety car came back out again, it looked more
and more like it wouldn't be Kamui's day to win, because he just couldn't build up enough of a lead to pit and get back on the
track in P1.
Kamui finally went into the pit for the mandatory tire change on lap 41 of 43 laps, handing the lead over to Nick. He kept that lead for the final
2 laps–pull off an amazing victory by jumping up 12 spots from where he started the race. Yamamoto finished in P2, Kenta in P3, Nojiri P4,
Kazuya Oshima P5, Sho Tsuboi P6, and Lucas Auer in P7. Lucas' points were the first ever for B-Max Racing with motopark.