Super Formula Rd. 7 Race at Suzuka
2019年10月27日
Super Formula Rd. 7 Race at Suzuka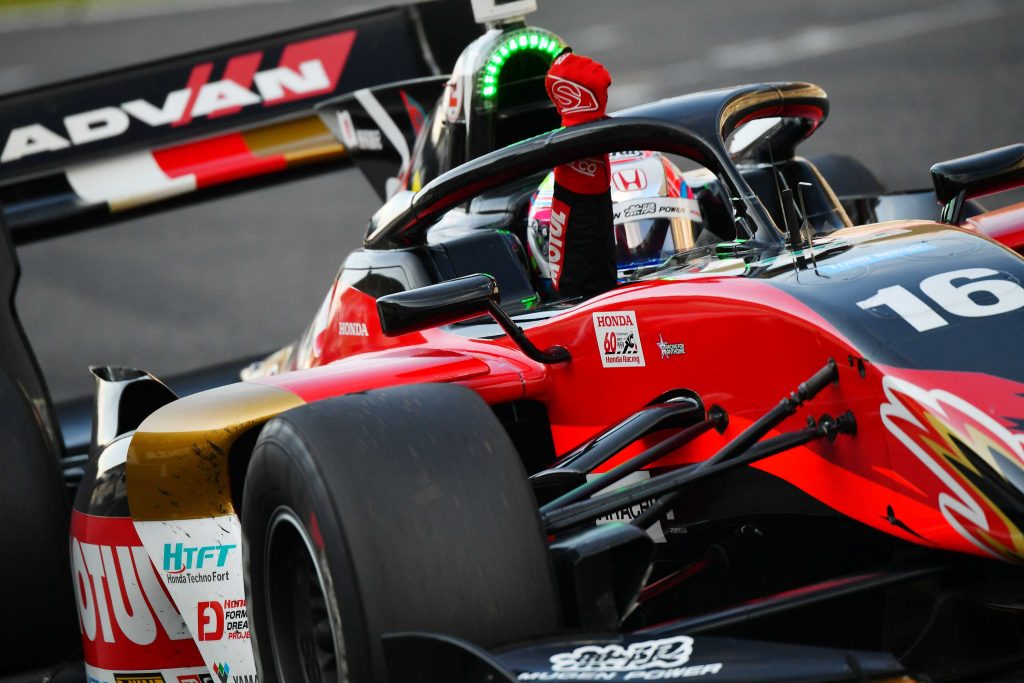 The 2019 Super Formula Rd. 7 season finale race took place at Suzuka circuit under 23℃ partly sunny conditions (26℃ track temp) on Sunday, October 27, 2019. Lucas Auer's car stalled out at the start of the race, as Alex Palou, who had on med spec tires, got off to a great start. Just behind Alex in the first corner was P2 starter Tomoki Nojiri, followed in P3 by Naoki Yamamoto, Nirei Fukuzumi in P4, Nick Cassidy in P5, Koudai Tsukakoshi in P6.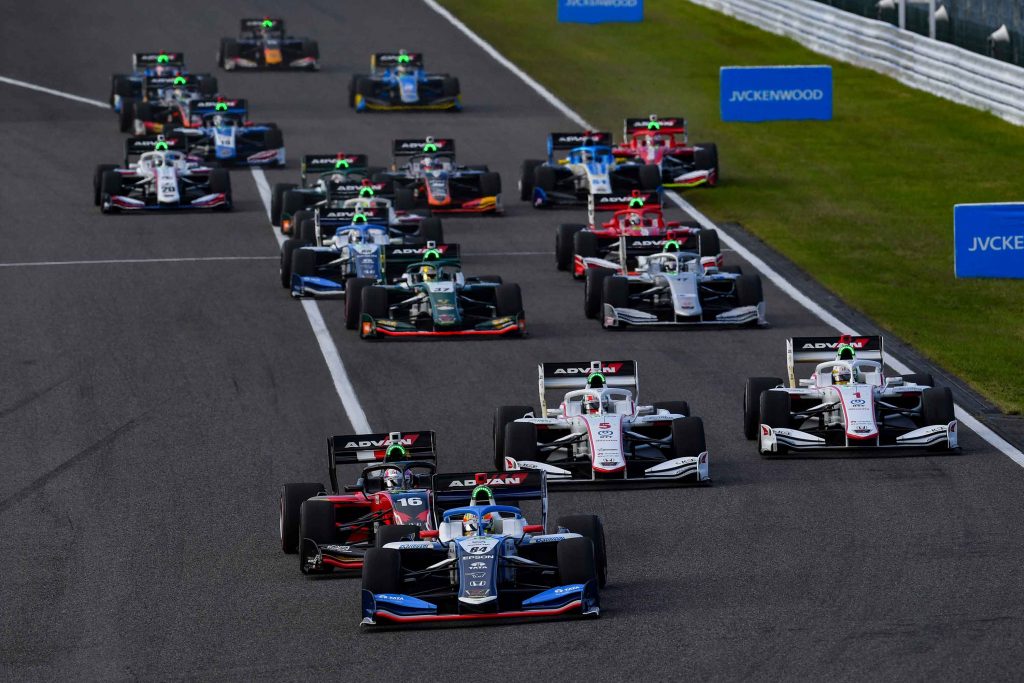 Nick Cassidy passed Nirei Fukuzumi on lap 2 to take over P4. Nick, who was on soft spec tires, began to put the heat on Yamamoto, who was running on mediums. He was able to overtake Yamamoto in the chicane on lap 3.
Palou remained the race leader throughout 6 laps, but Nojiri began to pressure him, as Nick was less than a second off Nojiri.
Yamamoto pitted on lap 8 to change to soft tires. Several of the other cars also went in for the mandatory tire change on that lap. Nojiri was able to overtake polesitter Palou on that lap, but Palou soon headed to the pit. So the top cars at that point were Nojiri, Nick, Yuhi Sekiguchi, Hiroaki Ishiura, Juri Vips–who was in his first Super Formula race.
Nojiri kept in control of the race with a 2 sec lead over Nick. It appeared Nick's strategy was to build up the gap between himself and the other cars behind him, in particular Yamamoto. The question was then, when would Nick pit?
Lucas Auer, whose car stalled out at the race start, recovered to P7 by lap 13. Both Nojiri and Nick had clear air to work with as they separated themselves from the other cars.
On lap 16, Fukuzumi began to battle Palou for P8 by using his OTS. They went at it through 2 corners, as Palou held him off. But on the next lap, Fukuzumi got around Palou. It was now Nojiri P1, Nick P2, Sekiguchi P3, Ishiura P4, Vips P5, Yuichi Nakayama P6.
Kazuki Nakajima's tires went off track momentarily on lap 18–causing him to come in contact with Harrison Newey's car. But after going off course, Newey was able to gain back control of his machine, keeping the yellow flag from coming out.
During lap 20, Yamamoto did his best to overtake Palou. But Yamamoto went too wide. However in the 130° R of lap 21, Yamamoto was finally able to pass Palou. Tsukakoshi also got around Palou, which made it obvious that there was some type of problem with Palou's machine. Palou pitted for the 2nd time in the race on lap 29.
On lap 30, Sekiguchi also pitted. He was able to come back out onto the track in front of Fukuzumi. But Fukuzumi was able to pass him. So it was Nojiri P1, Nick P2, Ishiura P3, Yamamoto P4, Auer P5.
On lap 33, Nojiri's team began preparing for a tire change. He pitted on lap 34–handing the temporary lead to Nick, who had yet to pit. Nick decided it was his time to get fresh tires, so he went in on lap 35. He had a good pit stop and was able to re-enter the race behind Nojiri. Nick tried to heat up his fresh medium spec tires the best he could, as Fukuzumi quickly approached. Nick used his OTS to fend off Fukuzumi, as Nick inched closer to winning the season championship. In the end, it was Nojiri who won the Rd. 7 race, as Nick finished in P2. Fukuzumi was P3, Sekiguchi–who was up 11 spots from a P15 start was P4, Yamamoto P5, In P6 was Ishiura–who moved up 14 places from a P20 start.
With a P2 finish in this race, Nick Cassidy was able to capture the 2019 Driver's Championship title. Alex Palou won Rookie of the Year Honors.
P.1 Tomoki Nojiri(TEAM MUGEN)&Shinji Nakano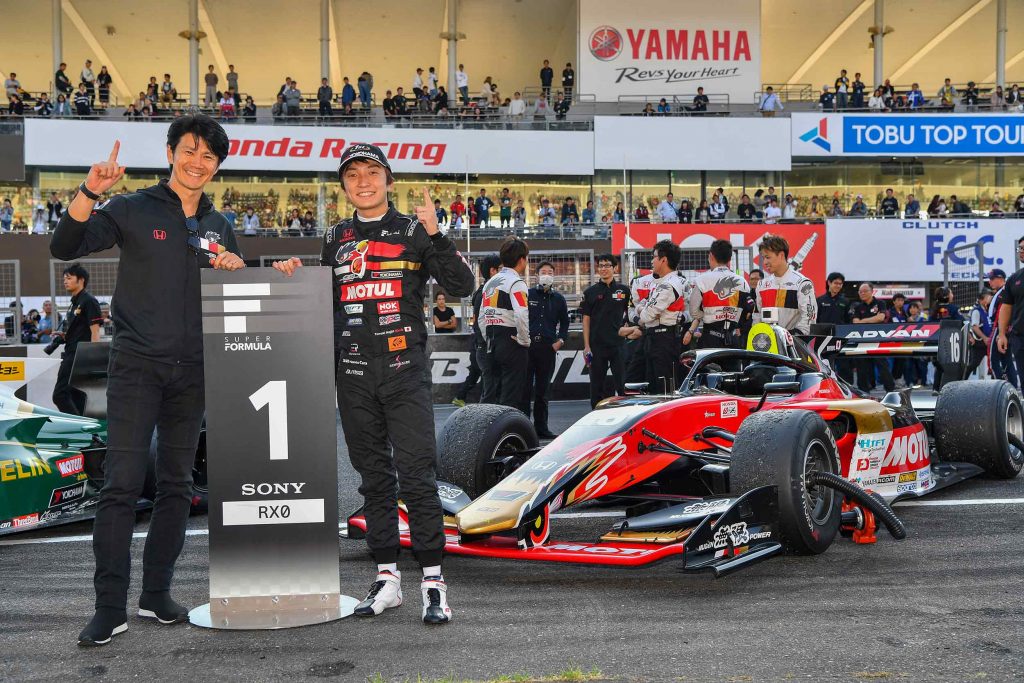 P.2 Nick Cassidy(VANTELIN TEAM TOM'S)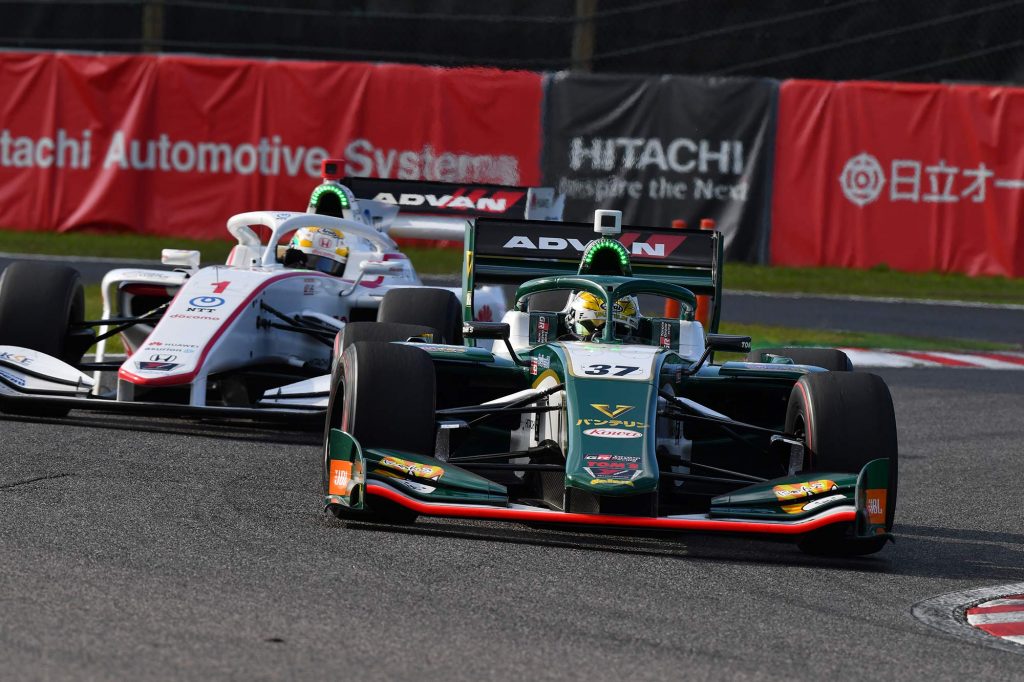 P.3 Nirei Fukuzumi(DOCOMO TEAM DANDELION RACING)