2020 Super Formula Rd. 1 at Motegi Preview
2020年8月26日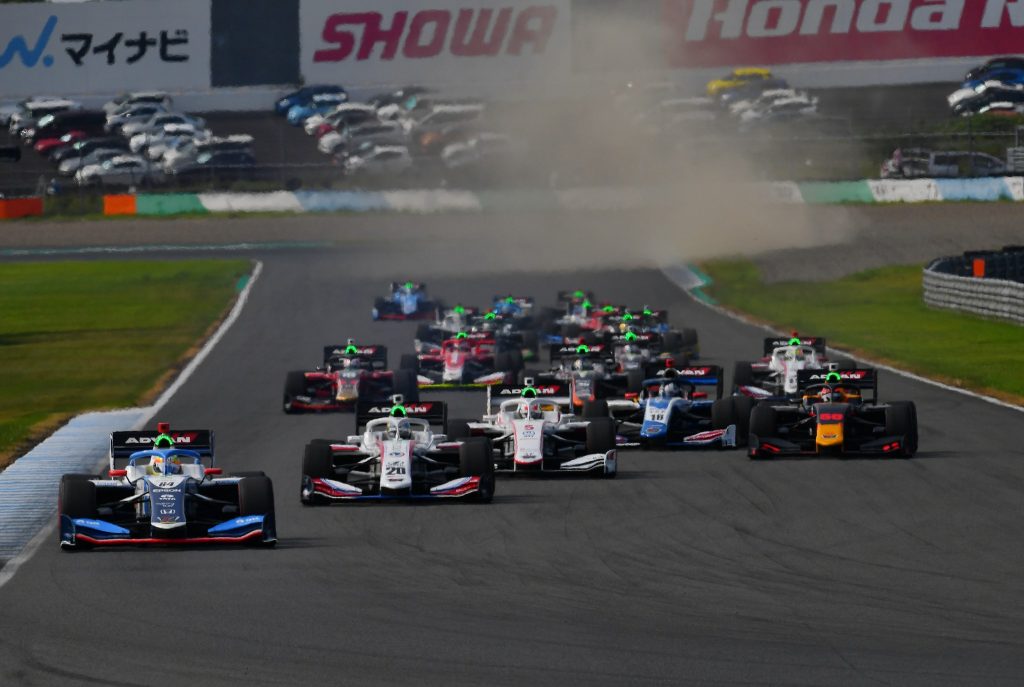 The 2020 Super Formula season will get underway at Twin Ring Motegi on August 29-30. Due to only one pre-season test being held thus far because of COVID-19 wreaking havoc on the schedule, a test will be held at Motegi on Friday, August 28th from 1-3 p.m.
In 2019, Ryo Hirawaka captured his first Super Formula victory in the Rd. 5 race at Motegi, which was held under hot conditions Until the introduction of the SF19 chassis, Motegi was not known as a course for overtaking maneuvers, but that all changed in 2019. This season, only one spec of tires, aside from wet tires of course, will be used in races. There will be no mandatory tire changes, and no re-fueling during races. Accordingly, race distance will be shortened. For this year's season opener at Motegi, the Race will be 35 laps (168 km) with a cap of 1 hr 40 minutes if a red flag(s) comes out. The conditions at Motegi are almost always extremely hot and humid, usually normally temperatures close to 40° C with extremely high humidity, so tire management on the winding but short course will be a must.
Also due to COVID-19, Saturday will be used for 2 practices sessions, with none scheduled for Fridays. Which means Qualifying and Races will be held on Sundays. It should be extremely fun to see how the teams and drivers cope with having Qualifying on Sunday, fixing damaged cars, or changing the set-up before its time to race. In addition, for Qualifying in Rd. 1, drivers will be broken up into A Group and B Group in Q1 to keep traffic to a minimum. In regard to championship points, they will be taken from the five best finishes out of 7 rounds in Qualifying and Races, but that system is only slated to be used for this season.
Nick Cassidy(VANTELIN TEAM TOM'S)

Tadasuke Makino(TCS NAKAJIMA RACING)

Sacha Fenestraz(KONDO RACING)

Kamui Kobayashi(carrozzeria Team KCMG)

Kenta Yamashita(KONDO RACING)

Sho Tsuboi(JMS P.MU/CERUMO・INGING)

Nirei Fukuzumi(DOCOMO TEAM DANDELION RACING)

Naoki Yamamoto(DOCOMO TEAM DANDELION RACING)

Kazuki Nakajima(VANTELIN TEAM TOM'S)

Hiroaki Ishiura(JMS P.MU/CERUMO・INGING)

Ryo Hirakawa(ITOCHU ENEX TEAM IMPUL)

Yuhi Sekiguchi(ITOCHU ENEX TEAM IMPUL)
Nick Cassidy, who won the Season Championship in 2019, proved very strong in Motegi last year. With Alex Palou leaving for IndyCar, Tadasuke Makino has big shoes to fill, but will surely live up to the added pressure on his shoulders. Sacha Fenestraz, the 2019 Japanese Formula 3 Champion will be racing for the first time in Super Formula, but he is hungry, very hungry. So big things are expected from him in 2020. Kamui Kobayashi is still looking for his first win in Super Formula, and almost pulled it off at this circuit last season. Let's also not forget the speedy Kenta Yamashita, who has shown signs of brilliance at times over his first 3 seasons in Super Formula. He should prove to be a nemesis to former teammate Cassidy, who will be looking to 2-peat this season before moving on to FormulaE. Sho Tsuboi, who did well in his rookie season in 2019, is expected to finish even stronger this season. As is Nirei Fukuzumi, who is right on the brink of a win. Once he gets his first win in the books, it may be a huge confidence boost to Fukuzumi and lead to more victories. Fukuzumi's teammate Naoki Yamamoto, who is known for owning Suzuka because of all his wins there, is always a threat for a high finish in a race, too. Let's not forget Kazuki Nakajima, a great champion in his own right, as well as Hiroaki Ishiura, who could both finish well in this race. Hirakawa's teammate, veteran Yuhi Sekiguchi, will also certainly bring his "A" game to Motegi. Tatiana Calderon will be making her debut in Super Formula with one of the two new teams that will be on the grid in 2020.
It will be great to finally get the season underway! Jsports and BS Fuji will carry race coverage in Japan and motorsport.com, as well as The Race on YouTube will have live streaming of the Race in English. In addition, broadcasting partner in Canada, REV TV will also provide live TV coverage.