2020 Super Formula Rd. 1 Qualifying
2020年8月30日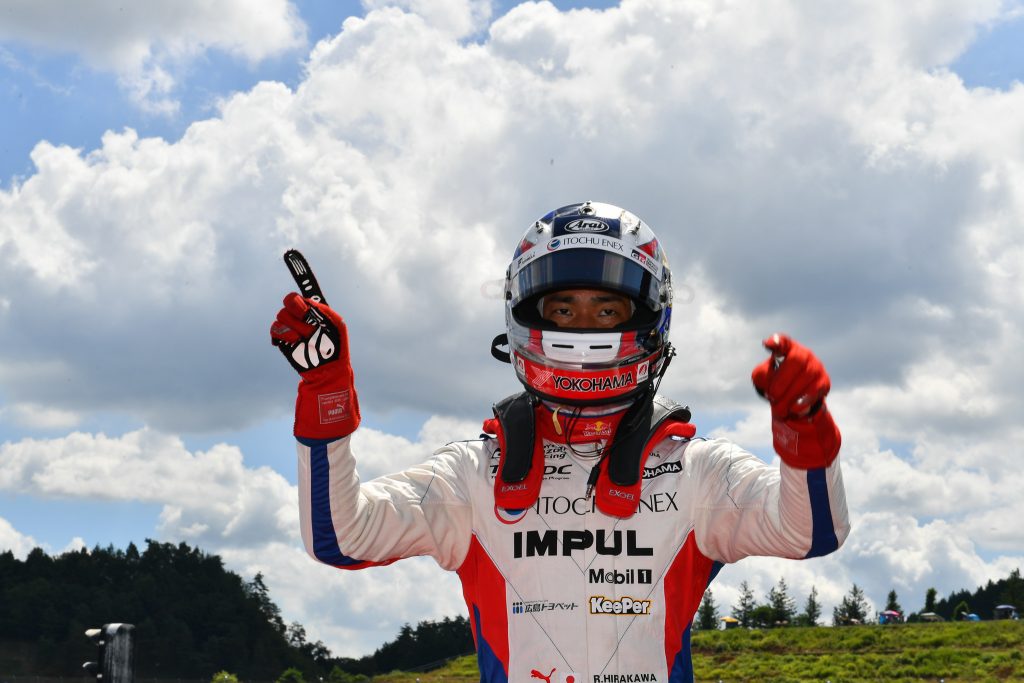 The 2020 Super Formula Rd. 1 Qualifying at Twin Ring Motegi, was held under 34℃, 41℃ track conditions. For Q1, the 19 drivers for this Qualifying were divided into Group A and Group B to avoid on-track traffic. The top 14 moved on to Q2. And the top 3 spots in Q3 will be awarded with points–P1 3 points, P2 2 points, P3 1 point.
Naoki Yamamoto was the first driver out on the tarmac in Q1, but he competed only an out lap and headed back to his pit. With only about 4 minutes remaining in the 10-minute session, most of the cars came out onto the track. Then with 1 minute on the clock, Yuji Kunimoto, a former SF Champion, was in the top spot. Followed by Kenta Yamashita and Yamamoto. As Yamamoto was trying to do a hot lap, he ran into a bit of traffic–but ended up posting a 1'31.877 lap. Shortly afterward, Sho Tsuboi, who is now in his 2nd year in the series, posted a 1'31.877. Yamashita finished in P3, and reigning Champion Nick Cassidy was P5.
In Group B, Nirei Fukuzumi and Kamui Kobayashi were the first 2 on the track. At the 5 minute mark in the session, most of the cars left their pits. With just over a minute remaining, last year's winner at this venue, Ryo Hirakawa was in P1. But rookie Sacha Fenestraz completed a lap time of 1'31.577 to temporarily take over P1. Hirakawa then bettered that, then Fukuzumi completed his fast lap in 1'31.440 fashion. Tatiana Calderon, in her first SF Qualifying, finished in a respectable time of 1'33.227, but did not move on to Q2.
In the 7-minute Q2, Naoki Yamamoto and teammate Nirei Fukuzumi were the first to leave their pits, but returned after just one lap. Most of the cars got out onto the track with about 4 minutes left on the clock. With 14 cars on the track, finding a gap to do a hot lap was crucial.
Sacha, the 2019 Japanese F3 Champion, was the first to begin a fast lap. He set a time of 1'31.281. But Hirakawa set a new course record in a time of 1'31.096 to take P1 in the session. Kenta Yamashita finished in P3 behind Sacha. Both Nick Cassidy and Naoki Yamamoto were shockingly knocked out of the Qualifying.
With just 8 cars on the track, the drivers had a bit more room to breathe in Q3. In the 7-minute session, Sacha and Hirakawa were the first two to get out onto the track. Sacha finished in a time of 1'31.396, but Hirakawa broke his own course record with a time of 1'31.083. Sacha's teammate, Yamashita finished P3, once more behind Sacha. In P4 was Toshiki Oyu, P5 Kazuki Nakajima, P6 Hiroaki Ishiura, P7 Yuhi Sekiguchi, and in P8 Kamui Kobayashi. That is how they will begin today's Rd. 1 35-lap Race.