"SUPER FORMULA NEXT 50" Project Start Announcement
Japan Race Promotion, Honda, and TOYOTA are the core members of a newly formed mobility & entertainment technical development partnership
2021年10月25日
The promoter of the All Japan SUPER FORMULA Championship "SUPER FORMULA," Japan Race Promotion, Inc. (JRP), has started the SUPER FORMULA NEXT 50 (SF NEXT GO) project in order to build a sustainable motorsport industry from the 2022 season and beyond.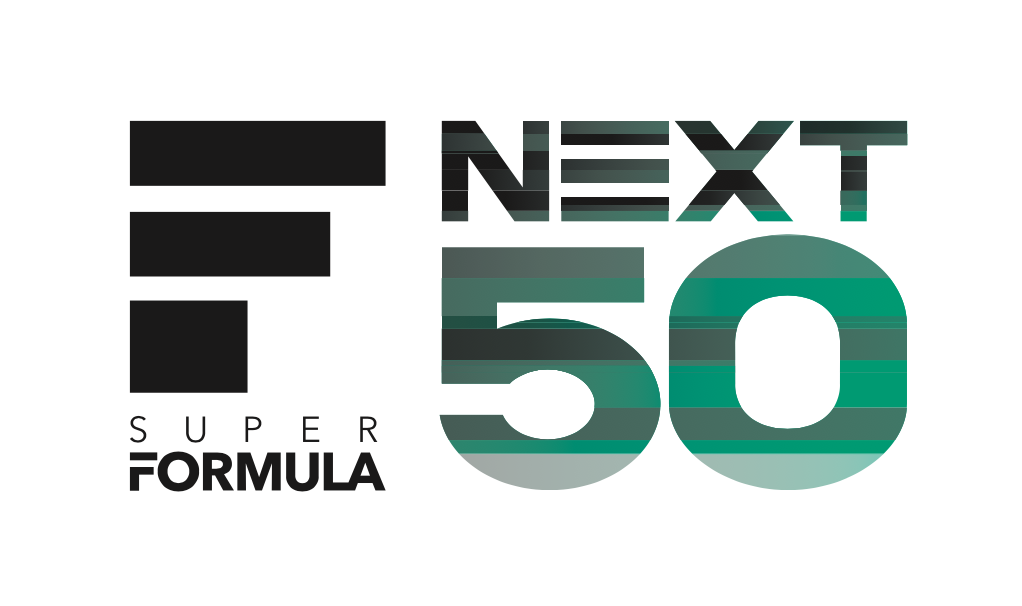 Sustainable Development Goals and the call for a change to a carbon neutral society, in addition to the COVID 19 pandemic, have deeply impacted the automobile industry, as well as the motorsport industry and brought it to a significant turning point.
In 2022, Japan's top formula racing category will enter its 50th season (All-Japan F2000 Championship began in 1973). In order to take on the need for environmental change, JRP, through "SF NEXT 50" will build upon what has been learned over the past 50 years in top formula racing, including "aspiration for speed," "enjoyment through competition," "the thrill to win," will mount an effort to build on the appeal that top formula racing has, while at the same time create the type of motorsport that is being called for in society.
1.Drivers First "SF NEXT 50" Vision
As Japan's pinnacle of formula racing, SUPER FORMULA has produced some of Japan's top racing drivers, who have gone on to compete around the globe. SUPER FORMULA has also given drivers from around the world a challenging series to race in. We want to build upon the cornerstone of the series and raise the bar higher to make it one in which drivers from both Japan and around the globe will want to compete, and make SUPER FORMULA a series in which children will look up to as the top destination in Asia for racing.
<1978 Suzuka F2>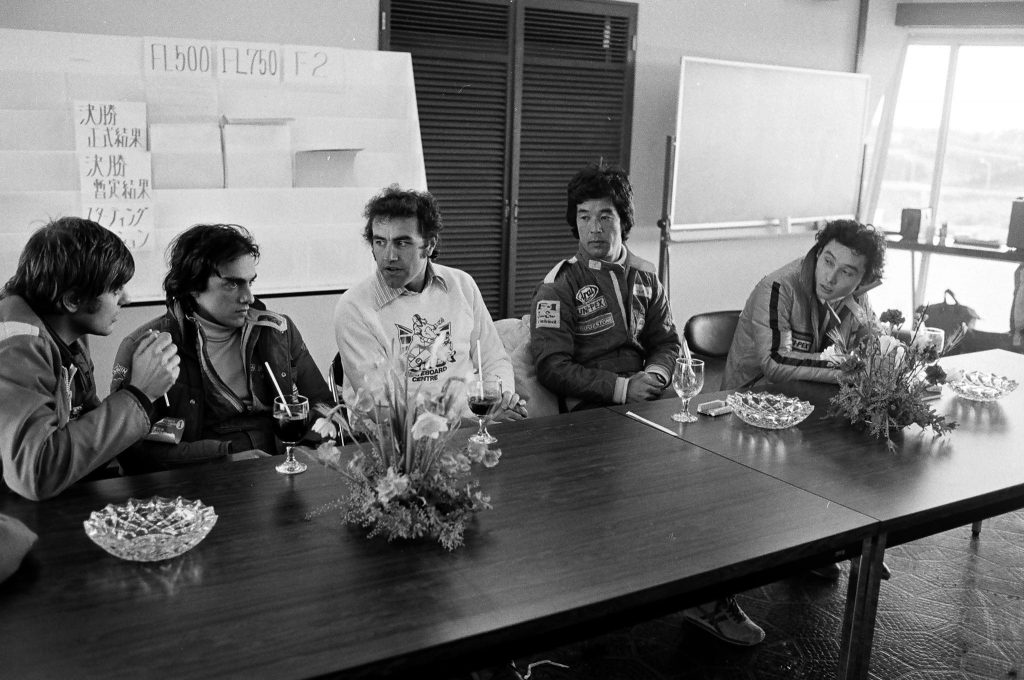 <2017 Pierre Gasly>
<2021 Champion Tomoki Nojiri>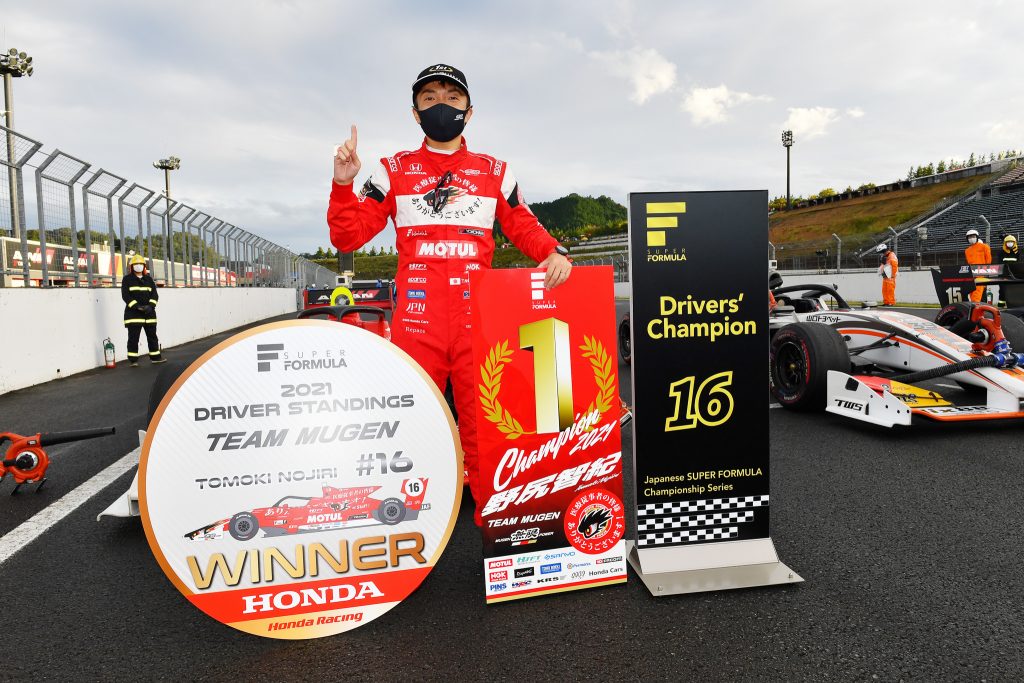 In order to achieve that, we need to have SUPER FORMULA, one of the top racing series in the world, be a series in which motorsport fans around the world will be captivated by and want to cheer for. From the 2022 season on, we will begin making changes to how we release information and make it even more enjoyable for fans to come out to circuits to watch races.
2."SF NEXT 50" Partnerships for a Mobility and Entertainment Testing Ground
The cars used in motorsport have evolved with the times, with enhanced engine developments and improved tire technology contributing greatly to creating more speed, especially in the realm of formula cars. However, in recent years, the move to a decarbonized society to provide environmental change on a global scale brings with it a new challenge of having to find new, innovative technical developments for both the pursuit of more speed and further enhancements to racing cars.
With the influx of digital content in the market, SUPER FORMULA fully recognizes that we must dramatically improve the way we do things on an entertainment level to be able to appeal on a wider range to those around the globe.
In order to provide that appeal, from the 2022 season on, SUPER FORMULA will be a "mobility and entertainment testing ground." In accordance with the "SF NEXT 50" initiative, we will run test cars equipped with technology that is still in development, and use the series as a testing ground for the support and development of new technology. That process will be on display for the entire world to see, as we search for solutions needed to make the motorsport of tomorrow.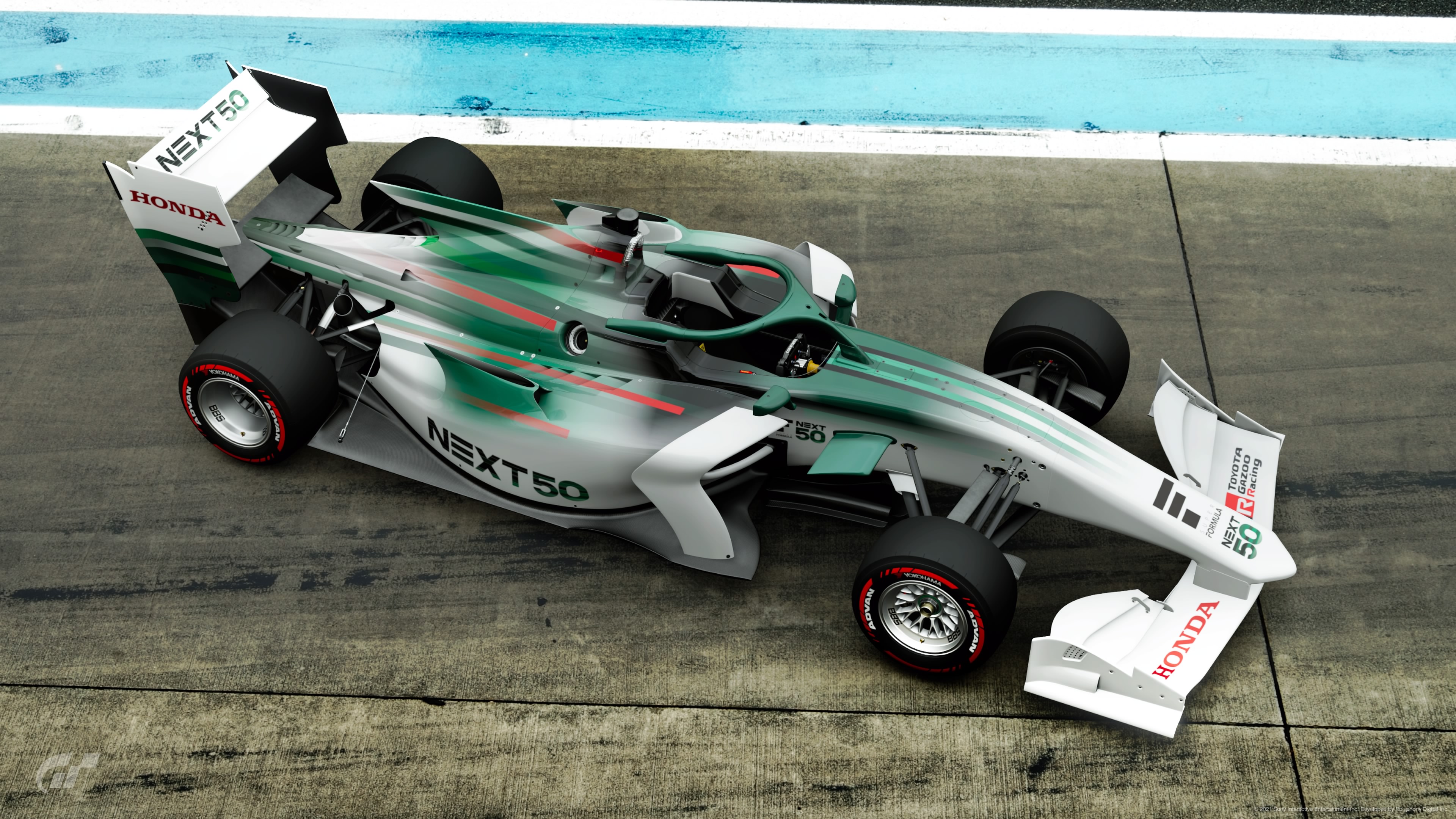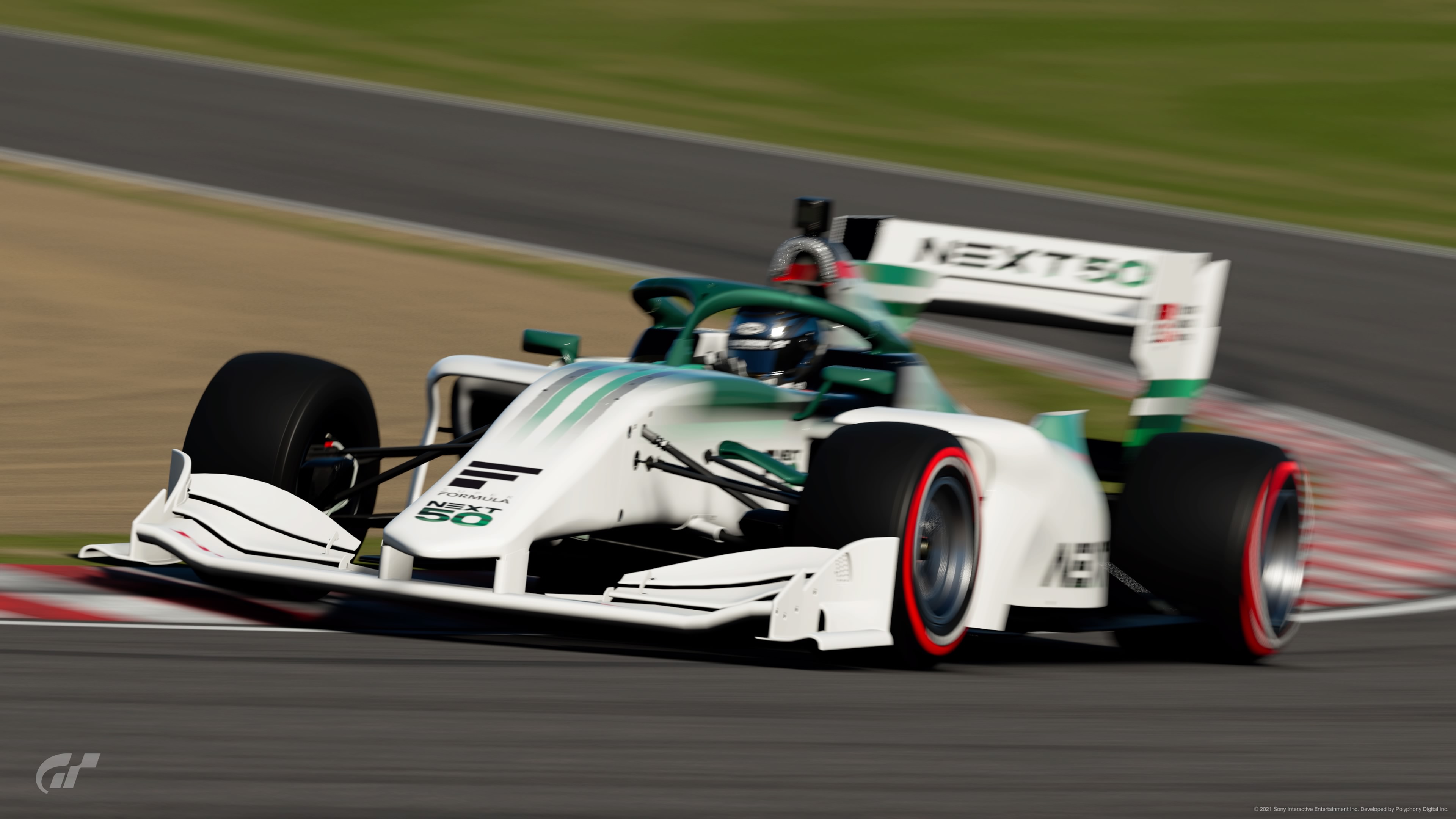 *SF NEXT 50 Test Car Image
© 2019 Sony Interactive Entertainment Inc. Developed by Polyphony Digital Inc.
In terms of mobility, along with both Honda and TOYOTA, we will test new power trains, chassis, tires, new materials, fuel-solutions, and the like, as a part of the efforts to a carbon neutral shift. These tests will also be beneficial for cars that both manufacturers sell. Specifically, e-fuel and biofuel, as well as bio-composite chassis derived from plants and other natural materials will be tested from 2022 on. As further technical developments are made for other items, and tests are conducted, we will look to be able to include them in the next generation of formula cars.
SUPER FORMULA will use the shift to digital content as the base for how we provide entertainment to our fans. Video, music, data, telecommunications, AI, games, animation, will be just a few of the technologies that we tap into to provide an all new type of motorsport entertainment experience as only Japan can deliver to the world.
Through "SF NEXT 50," JRP hopes to make these efforts a reality. Both auto manufacturers Honda and TOYOTA have supported SUPER FORMULA throughout the years, and they will be at the forefront of our new endeavors as "SF NEXT 50 Partners" in hopes of building a sustainable motorsport industry for the future.
We will also welcome Deloitte Tohmatsu Financial Advisory LLC as a strategic partner for the "SF NEXT 50" project. As a partner, the expertise in the various fields that the company is involved in will be one of the driving forces behind this project.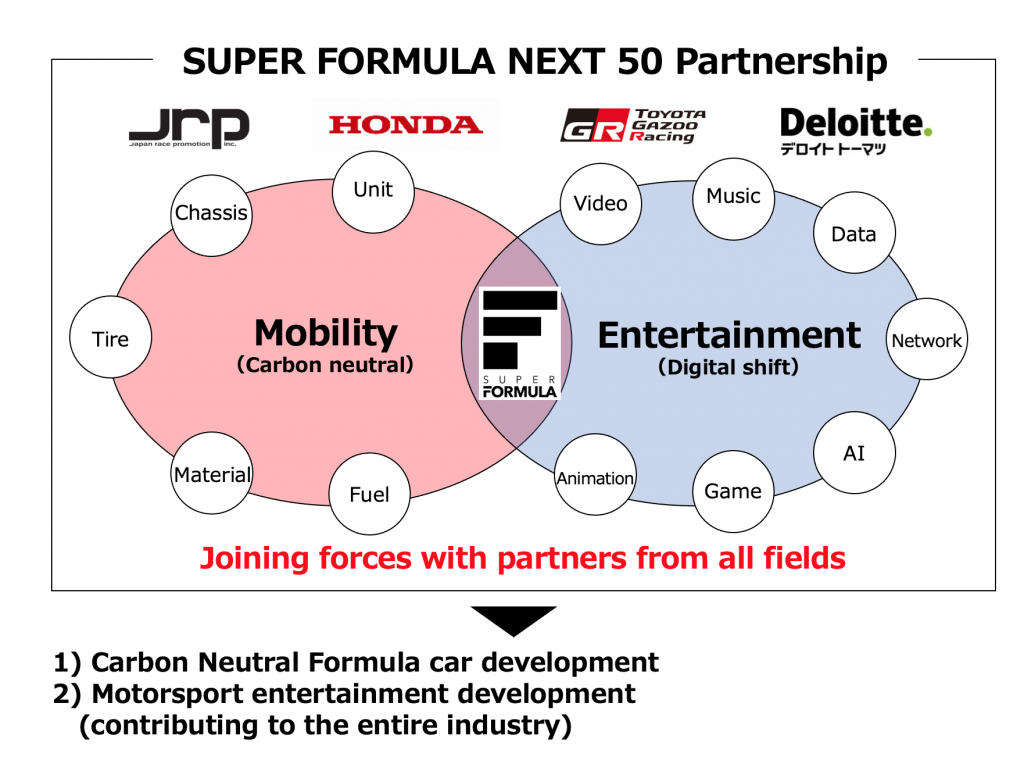 3.Digital Shift -Giving Fans an All New Motorsport Experience-
As outlined above, in order to add increased entertainment value to SUPER FORMULA, beginning 2022, we will make the shift to digital, and change how we communicate with fans. We will introduce a SUPER FORMULA digital platform designed for smartphones, which will allow fans to watch the content they want anywhere, anytime.
The digital platform will allow user to not only watch just "live" races, but they'll be able to view on-board video of all drivers, car telemetry data (speed, current location, remaining amount of OTS, etc.), and listen to drivers' radio communications. This will allow fans to select their favorite drivers to follow, while comparatively analyzing different cars, adding to the overall fan experience.
In addition to the above, on non-race days, fans will be able to enjoy more video content, and the app will also provide them with a place to interact with drivers and teams. We will give fans the place to voice their opinions, and add on new functions step-by-step.
*An announcement regarding the digital platform is planned for January 2022
<Various Ways to Enjoy the Digital Platform>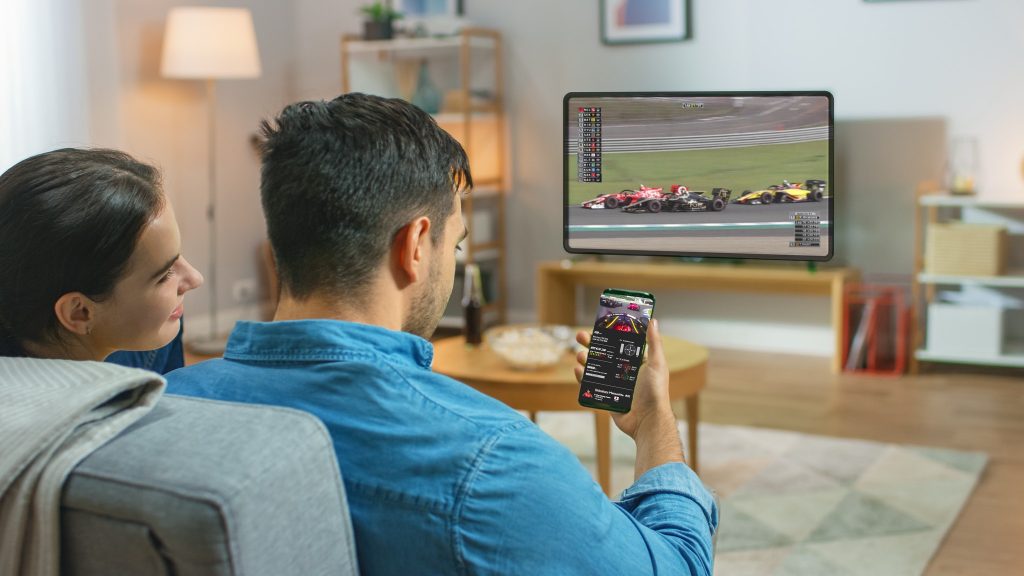 <Digital Platform UI Image>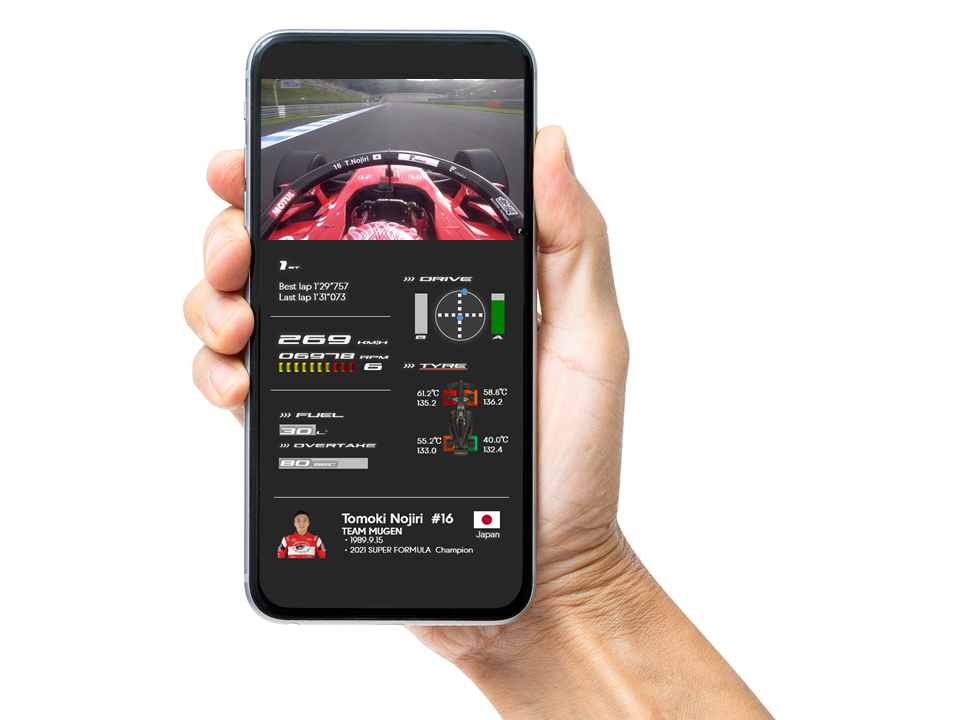 Through "SF NEXT 50," JRP hopes to contribute to the sustainability of the motorsport industry, while at the same time adding to the appeal of SUPER FORMULA for motorsport fans around the globe to experience.
Comment from Satoru Nakajima, Chairman, Japan Race Promotion, Inc.
The top class of formula racing debuted in 1973. That same season, I also began my professional racing career. There have been many changes over these 50 years for racing drivers, but we've been able to continue racing because of the support of the automobile industry, the motorsport industry, and also because of our dedicated fans. I would like to take this opportunity to share my appreciation for their support.
The "SF NEXT 50" is a project that will help carry on our beloved motorsport, while at the same time continue to provide the allure of the sport to children long into the future. We must not be concerned with what the sport has been, but listen to the what it could be by including the progress that has been achieved in various fields. Together with Honda, TOYOTA, and our other partners, as well as our fans, we will build a new SUPER FORMULA for the future.
Comment from Koji Watanabe, Chief Officer for Brand and Communication Operations, Honda Motor Co., Ltd.
Pierre Gasly, who races in Formula One, the winner of this year's INDYCAR SERIES Alex Palou, 24 Hours of Le Mans champions Kamui Kobayashi and Kazuki Nakajima, in addition to many other drivers have left their mark while competing in SUPER FORMULA and have gone on to race on the world stage.
I am extremely delighted that we will be part of "SUPER FORMULA NEXT 50," a project that will help to produce even more drivers in Japan's top formula category in which fans from around the world will cheer for.
Honda will continue to give support to racing drivers so that they may compete in top categories around the world. And through our racing efforts, we will also continue to help produce top-level race engineers, mechanics, and other professionals involved in motorsport. We hope for your continued support as we do so.
Comment from Koji Sato, GAZOO Racing Company President
I'd like to share my sincere gratitude to our wonderful motorsport fans, and those countless others who provide their support. SUPER FORMULA is an extremely important series that is a drivers' race, with its participants being absolute "motorsport athletes." Motorsport is also an extremely valuable testing ground where new technology is forged in the search for a faster, better car with a very limited lead time to solve problems and improve performance. We are very happy to be part of this new project with JRP, Honda, and our other partners.
TOYOTA GAZOO Racing will also go on with its challenge, as we continue to support our athletes who go on to race throughout the world, and as we try to build a sustainable motorsport industry through "SUPER FORMULA NEXT 50." We hope that you will continue to show your support.