Fukuzumi Wins Rd. 7 Race
2021年10月31日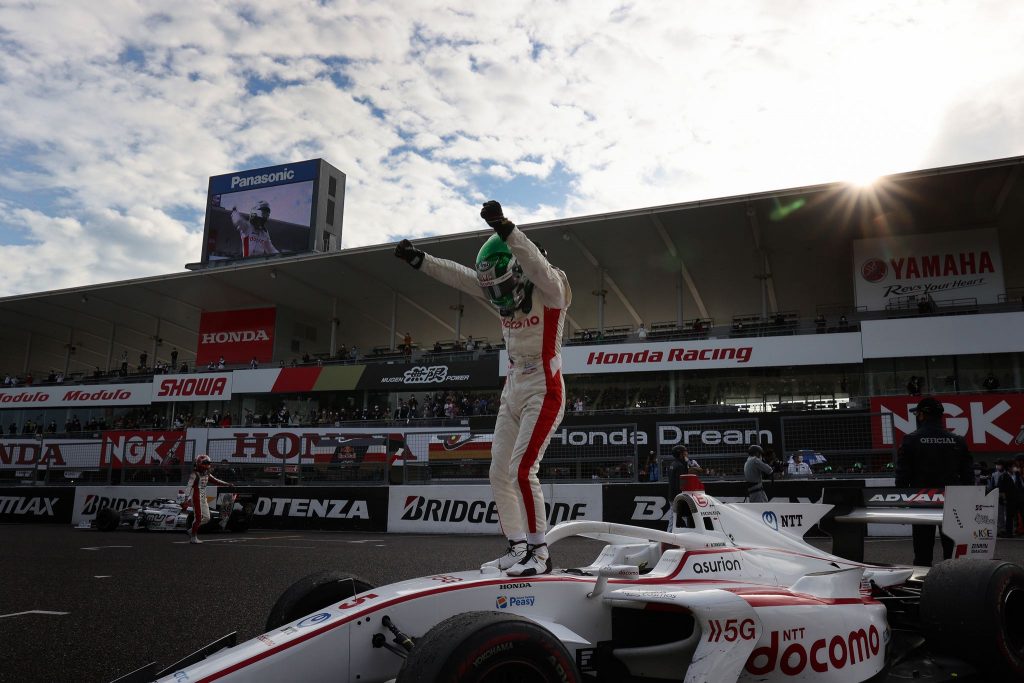 The 2021 Super Formula Rd. 7 race, the final bout of the season, was held at Suzuka Circuit as part of the 20th JAF Grand Prix Suzuka. It was wet conditions for FP2 in the a.m., causing concern for the 30-lap race scheduled for a 2 p.m. start. Although rain did fall slightly on parts of the track at the start of the race, the weather did not come into play.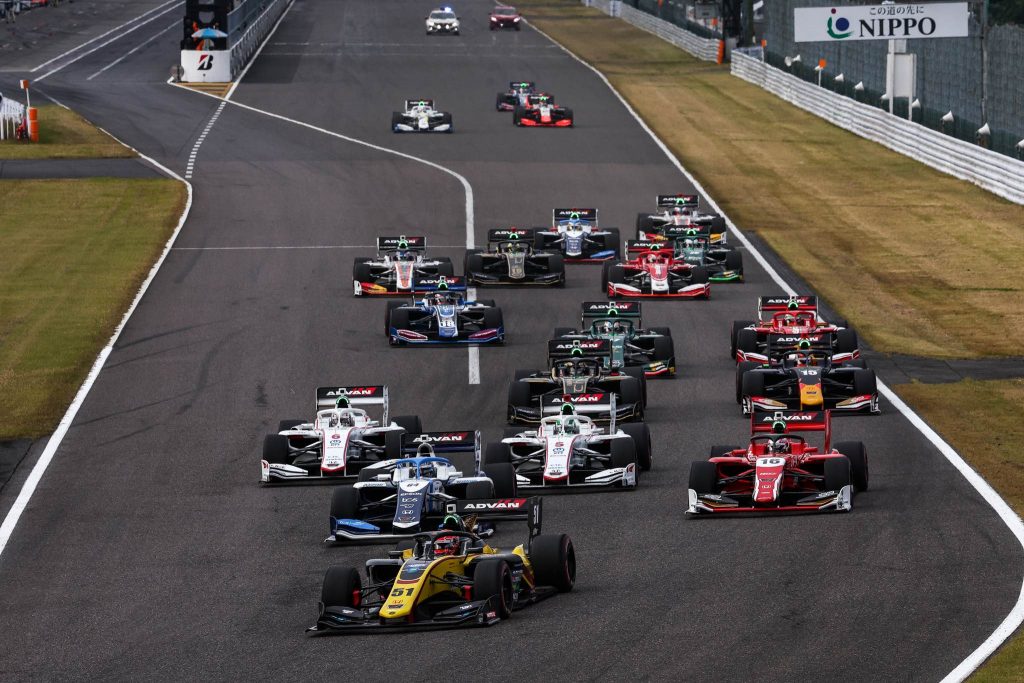 Nobuharu Matsushita was the pole-sitter for the race. He maintained his P1 spot when lights went out, as Tomoki Nojiri moved past Nirei Fukuzumi. On lap 2, Nojiri battled it out side-by-side with Toshiki Oyu, the P2 starter for the race. Matsushita got hit with a pit drive-thru penalty for a jump start at the beginning of the race. He headed to the pits on lap 6/30 to serve that penalty, which dropped him all the way down to P19. Nojiri was also hit with a penalty (5-second penalty) for dangerous driving during the on-track battle with Oyu.
On lap 7/30 Nojiri, who was crowned Season Champion last race at Motegi, was in P1. He was followed by Nirei Fukuzumi in P2, Ryo Hirakawa in P3, Hiroki Otsu in P4, Tadasuke Makino in P5, Sacha Fenestraz in P6, and Oyu, who dropped down 5 spots to P7.
Fukuzumi pitted for the mandatory tire change on lap 12/30 trying to get the undercut on race leader Nojiri. Then on the following lap, Nojiri pitted. At that point in the race, it was Ryo Hirakawa in P1, teammate Yuhi Sekiguchi up from a P14 start in P2, followed by Yuji Kunimoto in P3, and Kazuya Oshima in P4. But none of the top 4 had yet to change tires.
Hirakawa had a solid pit stop on lap 15/30 of 7.1 seconds, which helped him to come out of the pits ahead of Fukuzumi. But he was a sitting duck for Fukuzumi, who was on warm tires, giving him plenty of grip to get past Hirakawa. Sekiguchi remained the leader of the race until lap 28/30 when he pitted for fresh tires. His pit stop was extremely good at just 6.7 sec. Sekiguchi came out of the pits in front of then P4 runner Hiroki Otsu, who was fresh off a win in Rd. 6, but somehow Sekiguchi was able to fend off Otsu even though Sekiguchi had on cold tires.
Hirakawa kept closing the gap between himself and Fukuzumi, but Fukuzumi was just too much for him this day, helping him to win his 2nd Super Formula race this season–the 2nd of his career. Hirakawa finished P2 behind Fukuzumi, Nojiri P3, Sekiguchi P4, Otsu P5, Kenta Yamashita P6, Sacha Fenestraz P7, Giuliano Alesi P8, Naoki Yamamoto P9, and Tadasuke Makino P10.
Fukuzumi sealed up 2nd place for the season behind champion Nojiri, as Yuhi Sekiguchi finished 3rd. Hiroki Otsu was crowned Rookie of the Year. carenex TEAM IMPUL won the Team Championship title, thanks to the results in today's race by both Hirakawa and teammate Sekiguchi.
Nirei Fukuzumi said after the race "I was 3rd in qualifying yesterday, and really wanted to make up for that, and for also not being able to win from pole here at Suzuka in Rd. 2. I feel very happy that I was able to win today."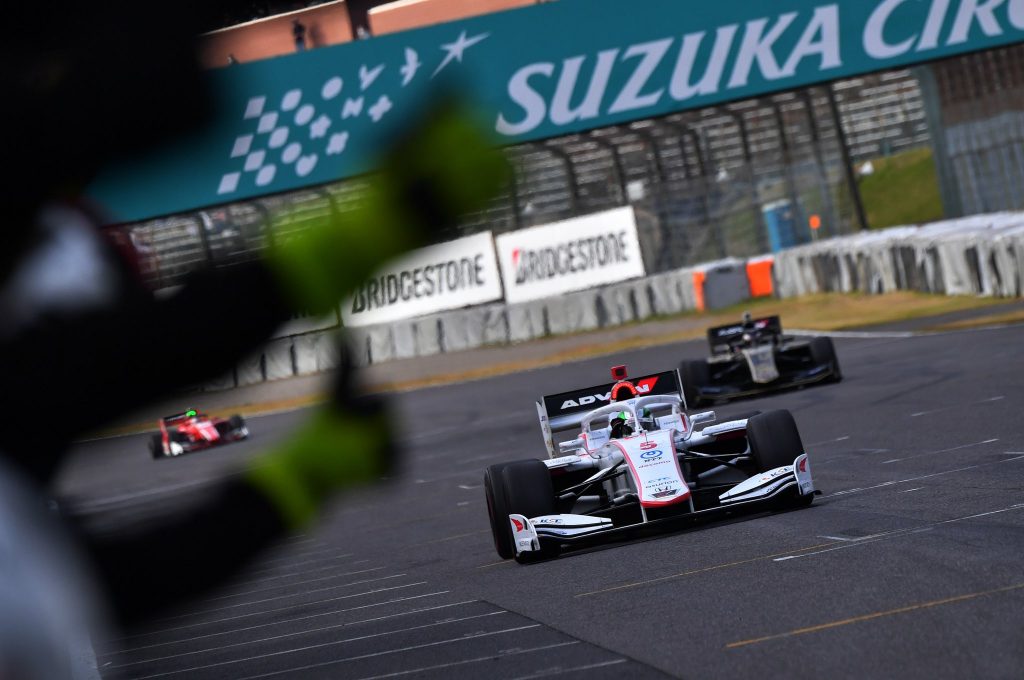 Race P.1 Nirei Fukuzumi(DOCOMO TEAM DANDELION RACING)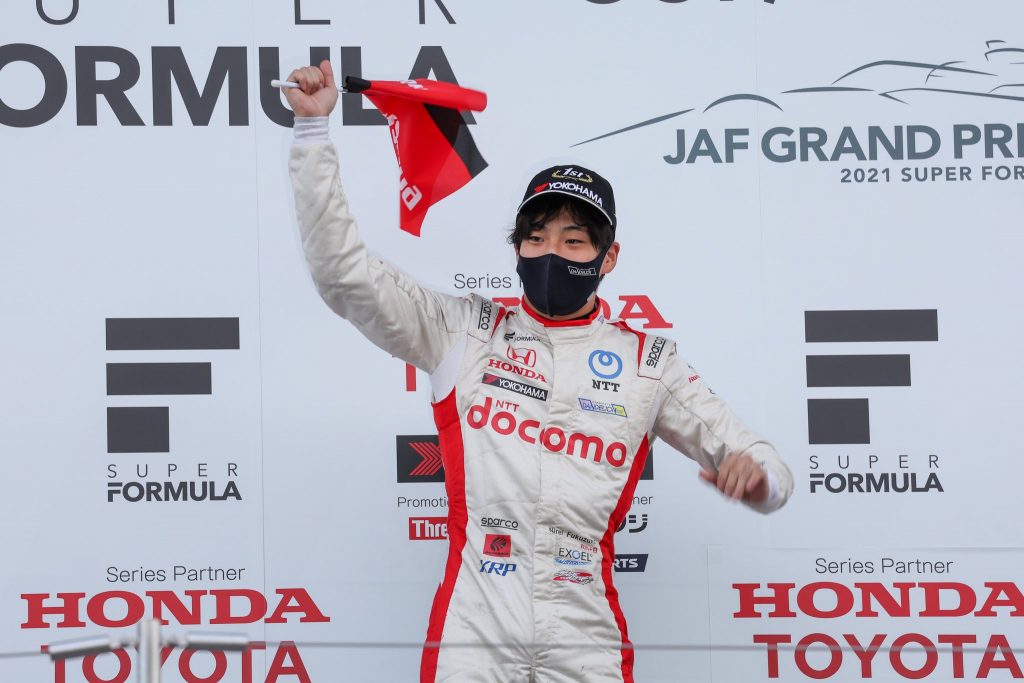 Race P.2 Ryo Hirakawa(carenex TEAM IMPUL)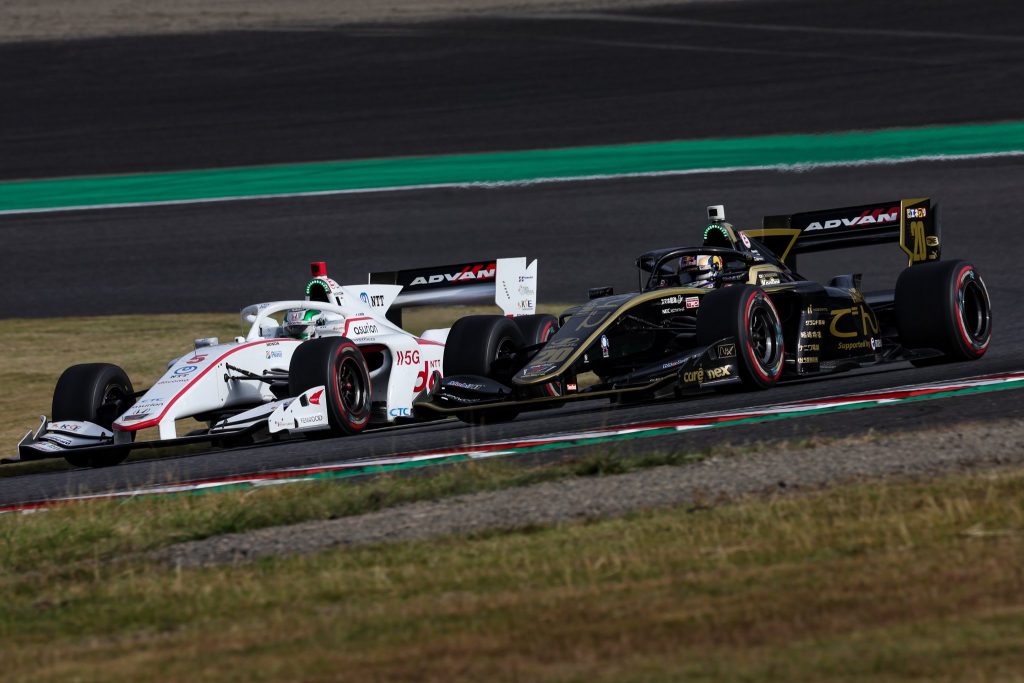 Race P.3 Tomoki Nojiri(TEAM MUGEN)