Oyu Finishes 2 Days of Testing on Top
2021年12月13日
Toshiki Oyu(TCS NAKAJIMA RACING)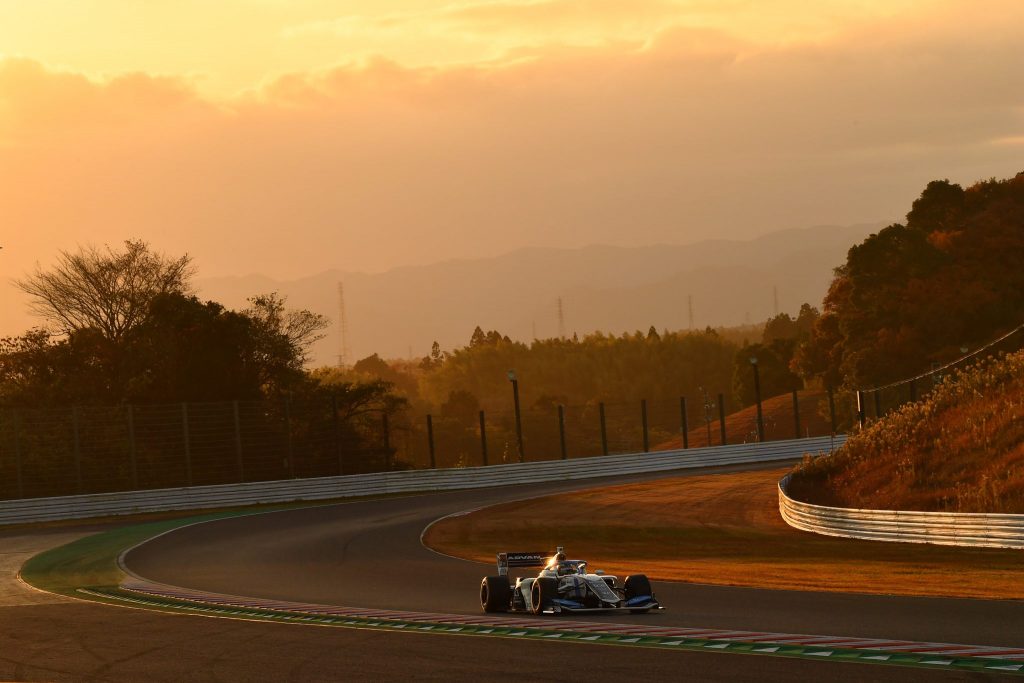 The rainy conditions from Day 1 of manufacturer and rookie tests at Suzuka Circuit changed to windy, winter-like skies for Day 2 of testing on Wednesday, December 8th. Due to the rainy conditions cutting short full-length testing the day before, testing this day was extended for 30 minutes. When the dust cleared after 4.5 hours, it was once again Toshiki Oyu (TCS NAKAJIMA RACING) who finished in the top spot.
Session 3 got underway at 08:30 under cloudy, still wet conditions with the wind howling from the last corner through the first corner. The machines had on wet boots for the start of the session. Naoki Yamamoto and teammate Oyu switched machines to compare how they drove. Atsushi Miyake was in the cockpit for this session in place of Yuji Kunimoto (KCMG), and Kazuki Nakajima took the driving role over for Kazuya Oshima (Rookie Racing). It would be the last drive for Kazuki in a Super Formula car, after announcing his retirement from racing.
Kazuki Nakajima(ROOKIE Racing)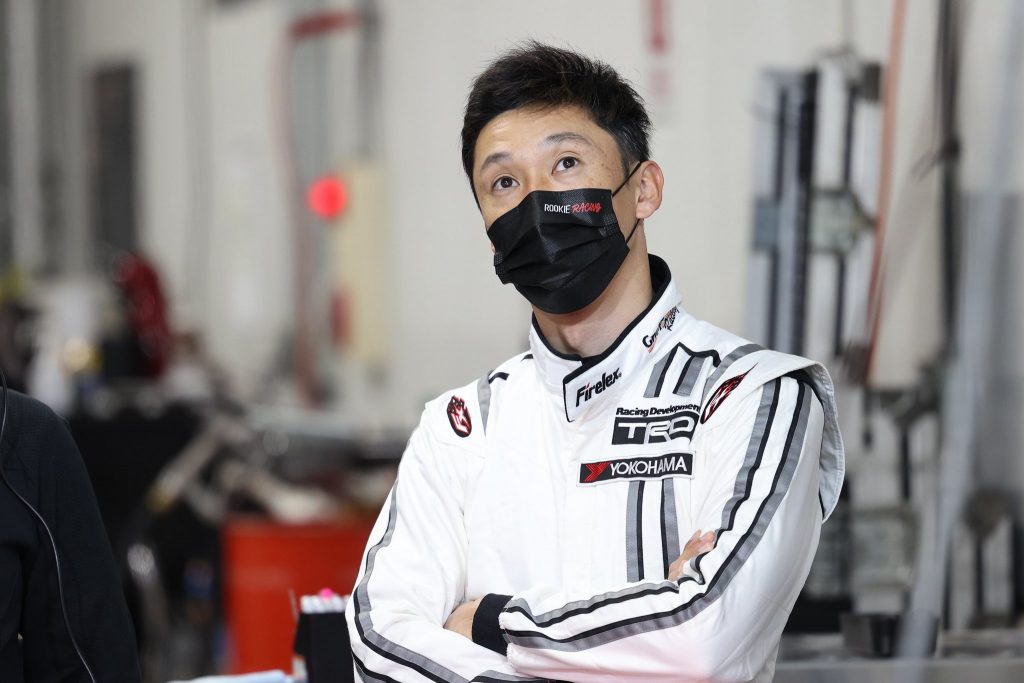 With wet spots still on the track, Ryo Hirakawa (TEAM IMPUL) set the mark at that point in the session with a time of 1:45:951, after 5 laps, that time dropped to 1:45:050. After 20 minutes into the session Giuliano Alesi (VANTELiN TEAM TOM'S) went lower than Hirakawa with a time of 1:44:117. In the ride Oyu used during the season, Yamamoto set a time of 1:44:158. Oyu, Sacha Fenestraz (KONDO RACING), and Sena Sakaguchi (INGING MOTORSPORT) ensued with times in the 1 minute 44 second range.
At about 40 minutes into the session, the track started to dry out. So, out came the slicks. Each team was given 6 sets of 2021 spec tires, as well as a set of new spec tires for next season, which have improved endurance features in the rear tire. With 7 sets of tires, there was no doubt that there would be lots of fast laps recorded. Even though conditions remained a little slippery, both Fenestraz and Alesi pushed hard to take their times down into the 1 minute 39 second range. Rookie Miyake showed what he could do, also recording a lap in the same range. 2021 champ Tomoki Nojiri (TEAM MUGEN) also joined them.
Sacha Fenestraz(KONDO RACING)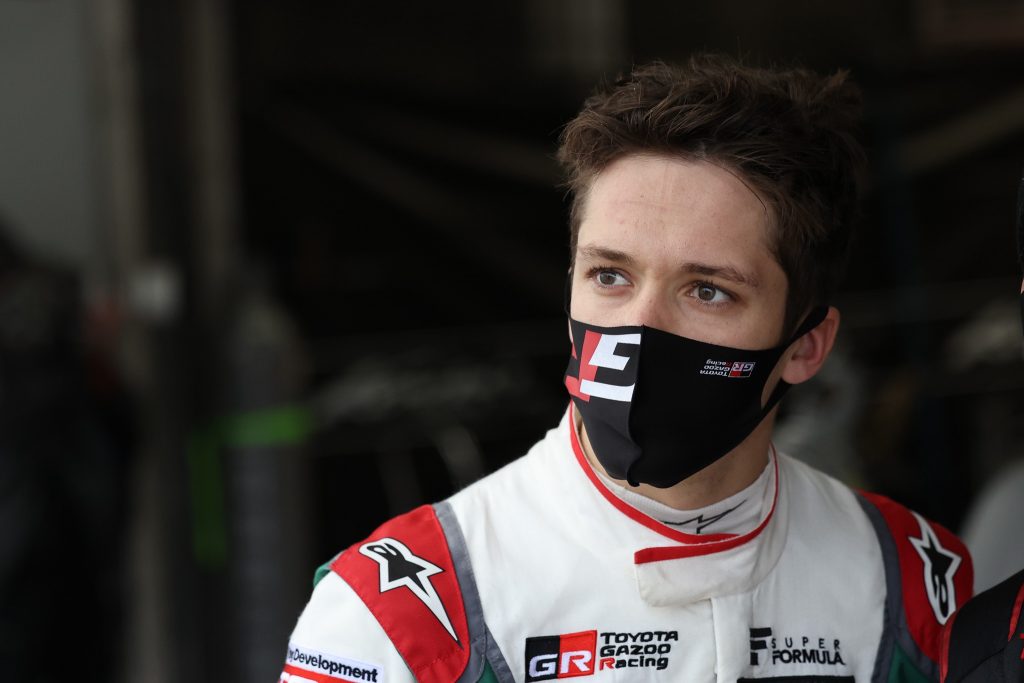 Giuliano Alesi(VANTELIN TEAM TOM'S)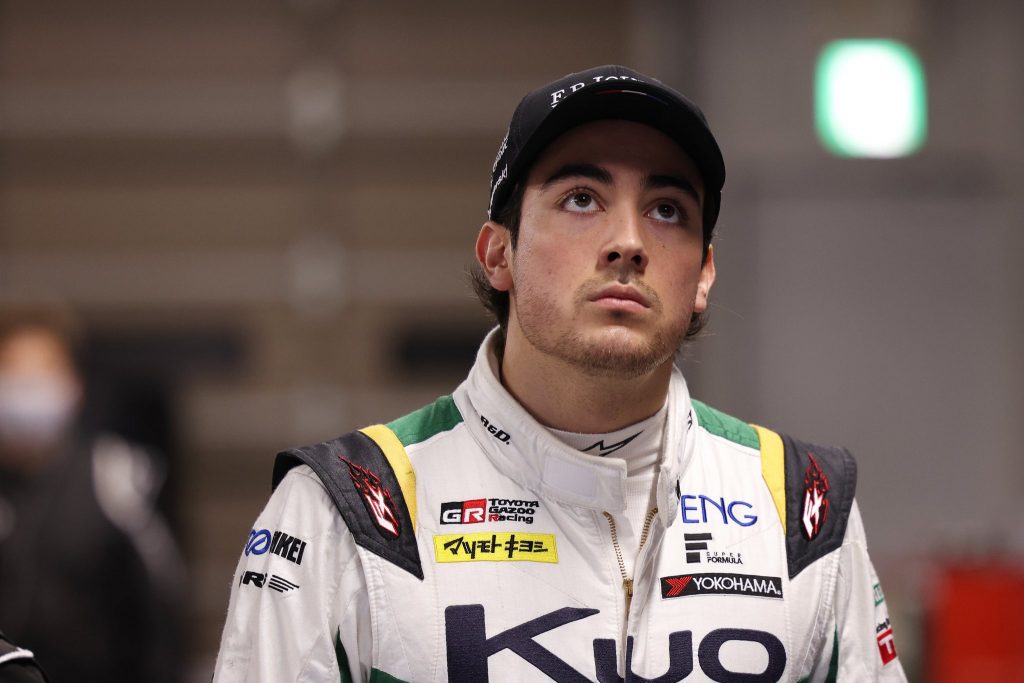 About an hour into the session, the road surface condition improved further. First, Fenestraz put down a 1:38:656 lap. Then Hirakawa came in at 1:37:989. Then it was Nojiri's turn with a 1:37:364 and Fenestraz again took the time down lower with a 1:37.232 lap.
Another 20 minutes further into the session, the sun came out fully. Kenta Yamashita (KONDO RACING) lowered the bar again with a lap of 1:37:144. At one point, he had the lead, but when the remaining time in the session was 35 minutes, Oyu had a lap of 1:37.003, and 5 minutes later, Nobuharu Matsushita (B-MAX RACING TEAM) came in with a 1:36.920 lap. Hiroki Otsu (DOCOMO TEAM DANDELION RACING) took the lead when the remaining time was about 10 minutes. Otsu's time was 1:36.818. Following that, it was full out fast laps, as the cars went to new tires. Yamashita then re-emerged to the top with a time of 1:36.734, but Otsu's time with 3 minutes on the clock was 1:36:658, which eventually became the top time of the session. Immediately before the checkered flag came out Alesi set a P2 time of 1:36:691. Yamashita was P3 in the session followed by, Oyu, Matsushita, Makino, Nojiri, and Ritomo Miyata (Kuo VANTELIN TEAM TOM'S).
Hiroki Otsu(DOCOMO TEAM DANDELION RACING)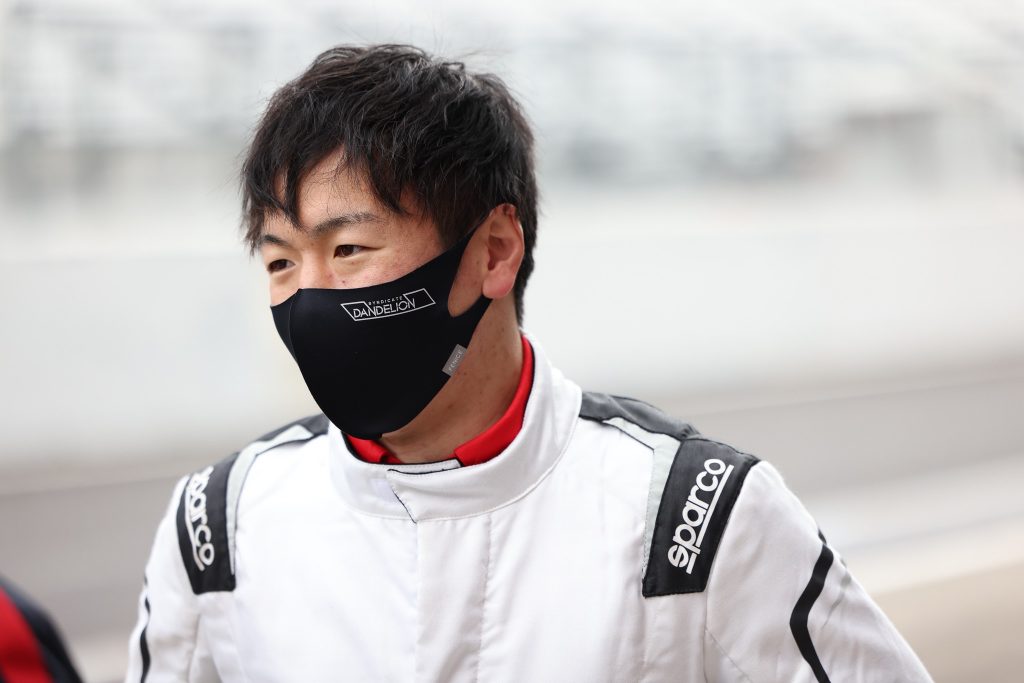 After a three-hour interval, the final test session began at 2 pm, as originally planned. In the first half of this session, Nojiri and Ren Sato (Red Bull MUGEN Team Goh) switched machines for a comparative machine test. Oshima took over the wheel for Kazuki and Kunimoto slid back behind the wheel in his car.The drivers began to work on their assigned test menus. At 35 minutes into the session, Oyu put his foot down, resulting in a 1:36:120 lap. After that, about an hour in, Yamashita and Tadasuke Makino (DOCOMO TEAM DANDELION RACING) brought their times into the 1 minute 36 second range.
With 40 minutes left on the clock, some of the drivers began to put on fresh new boots. At 3:24 pm, a red flag came out, disrupting the session when Alesi went off course at the Dunlop corner. His machine was recovered and the session resumed at 3:36 pm. A 10-minute extension was announced, and the checkered flag was scheduled to come out at 4:10 pm.
From that point, the drivers put on new tires one after another to finish out the test. Many of them had on the new tires scheduled for use next season.
No other driver was able to take their time lower than Oyu, except himself, who lowered his time to 1:36:092. He finished out in P1 in both the first and second days—a great way to end 2021. Following this was Otsu, who greatly increased his personal best time just before the end of the afternoon session. Otsu had a lap time of 1:36:978 in the middle of the session, but went even lower with a 1:36:358, which was good enough for P2 overall. It was Fenestraz, Hirakawa, Matsushita, Yamashita, and Makino who finished behind Oyu and Otsu. On his final lap, Yamamoto finished P8 overall with a 1:36:855 lap. And with that, the manufacturer part of the three days of testing was a wrap.
Day 2 P.1Tosiki Oyu(TCS NAKAJIMA RACING)