2022 SUPER FORMULA Season Outline – Creating a Next Generation of Motorsport Entertainment Experience in Conjunction with our SF NEXT 50 Partners –
2022年1月31日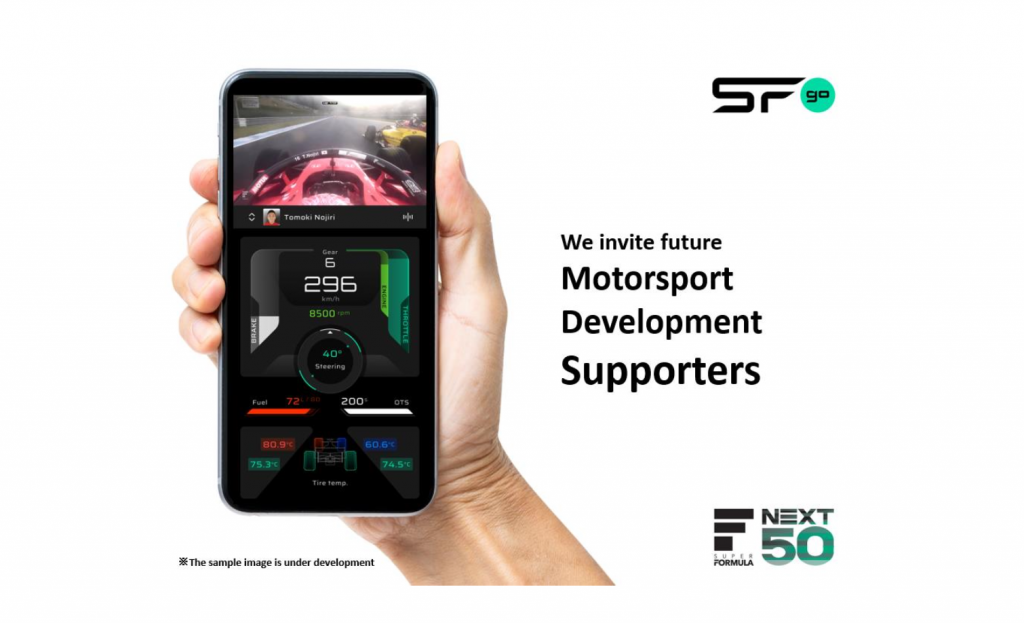 With the start of the season rapidly approaching, series promoter Japan Race Promotion, Inc., (JRP) announces the 2022 SUPER FORMULA season outline, as well as services scheduled to be provided.
As part of "SUPER FORMULA NEXT 50" (SF NEXT 50), which we announced along with Honda and TOYOTA at the end of October last year, we have had on-going discussions with both companies regarding how to keep the motorsport industry sustainable for the next 50 years. We have also held discussions with teams, circuits and other related companies on this subject. 2022 will be the initial season of the SF NEXT 50 project, and it will be "a year of experimentation," and through our "Driver's First" vision, we, along with our partners in and out of the industry, will take on many challenges through mobility, entertainment, and also through events.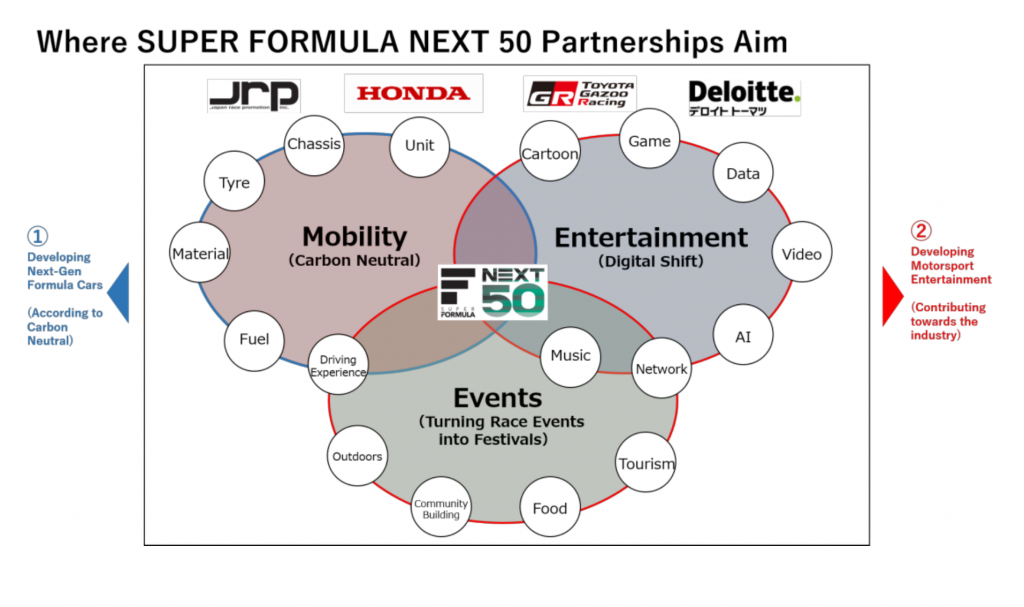 To give drivers more opportunities to race, while simultaneously giving fans more to cheer for, during the 2022 season, 3 event weekends will feature Qualifying and Race on both Saturday and Sunday. This will be 3 more Qualifying and Races than in the previous season, for a total of 10 races to be held over 7 event weekends. By cutting down qualifying to just 2 sessions, instead of 3, the sessions will go faster, while at the same time creating an even more tense atmosphere. For 2 Qualifying and 2 Race event weekends, free practice sessions will be held on Fridays.
As a result of these changes, there will be fewer tire usage by teams, helping to lessen the burden on the environment. At the same time, these changes will give fans all the more chances to enjoy racing at its best.
2022 Race Schedule
2022 Team & Driver Lineup
2. The Influx of Digital Information
From the 2022 season, in order to fully convey more about our top-tier SUPER FORMULA drivers and the appeal of each, we will add to the amount of information we will disseminate digitally. Specifically, we will launch "SFgo," and increase the amount of content on our YouTube channel.
"SF go," will allow users to not only enjoy official race content, but also watch on-board footage from all drivers, view car telemetry data, listen to team radio transmissions, helping to add to the overall fan experience. In the future, we plan to allow users to communicate with drivers and teams, and increase the amount of content. Fujitsu Limited and M-TEC Co., Inc, the company behind the MUGEN brand, have partnered with us on the development of "SFgo."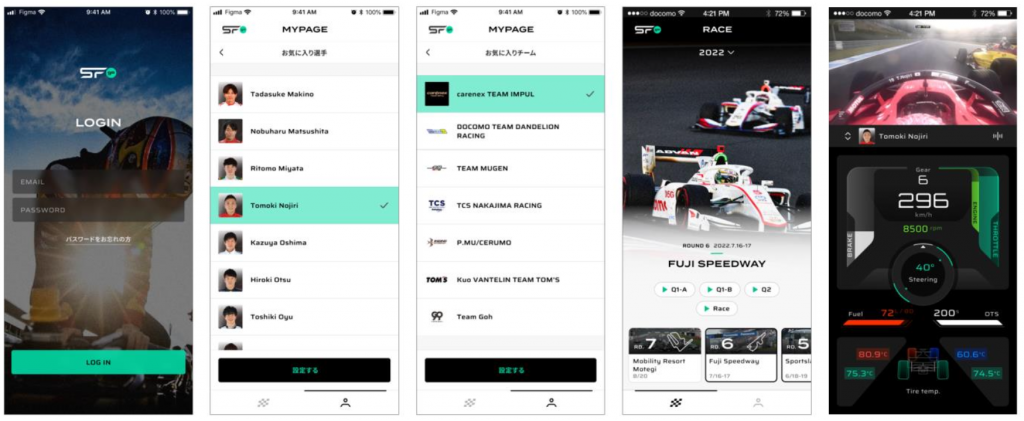 As we are still in the developmental stages of some of our technology, we are inviting 300 fans to become "SFgo Development Supporters." (5,500 yen per year, tax included) These supporters will help make improvements to "SFgo" through user interface each race, conduct operational checks, and through their monitoring assistance, cooperate with us on overall development. Supporters will take part in "SFgo symposiums," and other meetings, and will be able to observe developmental testing of our next generation formula cars at future events in a special area, as official "SF NEXT 50" project members.
*Application for the "SFgo Development Supporters" is limited to the residents of Japan.
Also in 2022, we will expand the membership of our official YouTube channel so that fans can enjoy SUPER FORMULA races and other content. With the conventional free content, fans will be able to view "LIVE" free practice sessions, official testing, race digests, as well branded content. We will also begin two types of premium-based memberships. With the entry plan (90 yen per month), fans will be able to watch both qualifying and races "LIVE." We will also offer a premium membership (490 yen per month), where members can watch on-board videos of all drivers via "SFgo," specially edited full race reviews, and heritage footage of races of the top category of racing from the 1972 season and beyond.
*Specifics on the YouTube channel are planned to be released in late March
3. Event Partnerships with Those in the Industry
We plan to hold events for fans and their families to enjoy beyond anything we've held in the past. These events will be based on the following 3 themes:
① SF NEXT 50 Village
All SUPER FORMULA teams, Honda, and TOYOTA, as well as JRP will participate together to showcase our drivers, show the allure our races have, and also how to enjoy our cars.
② Mobility Kids Park
This park will provide an unprecedented experience to nurture future motorsport and car fans. Based on the theme of mobility, "body movement," "hand movement," "head movement," will be just three of the things featured at the park.
③Carbon Neutral Square
This square will support the activities based on those of companies and organizers who are implementing various environmental initiatives.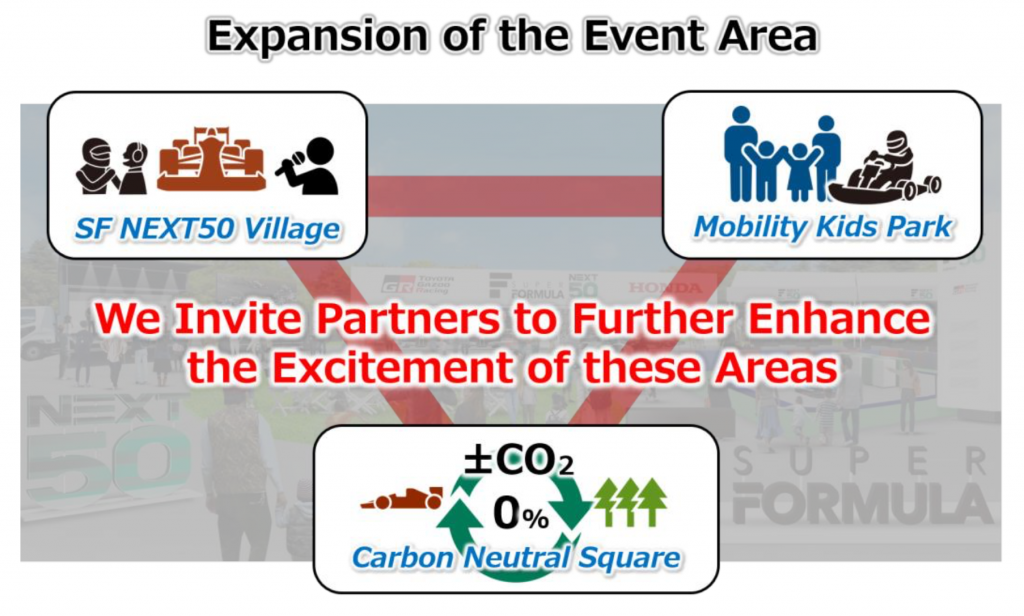 Beginning today, we are inviting submissions from companies interested in providing support in the Mobility Kids Park and Carbon Neutral Square areas. We welcome companies, groups, and government organizations who are interested in further expansion of the automotive and motorsport industries.
Additionally, we will be offering fan seats in team specific areas at races, which will also come with merchandise to show their support for their favorite teams and drivers. We would also like our fans to enjoy the types of outdoor activities that each circuit has to offer, so that they will want to come out to SUPER FORMULA races. We will continue to add different types of services at select times. Details on this will be made available when tickets go on sale at each circuit.
Through these various efforts, we hope that as many people as possible can enjoy SUPER FORMULA. We will continue to explore with our fans and partners other motorsport entertainment initiatives worthy of the world's top class of racing.