Real and virtual – a two-sword athlete in motorsports! Japanese-Brazilian Driver – Igor Fraga
Appointed as "SUPER FORMULA e-Motorsports Ambassador"
2022年10月26日
Japan Racing Promotion (hereinafter referred to as "JRP") is pleased to announce that athlete Igor Fraga, a world-class driver in both the virtual motorsports world (hereinafter referred to as "e-Motorsports") and in the real motorsports' scene, has been selected as the new SUPER FORMULA e-Motorsports Ambassador.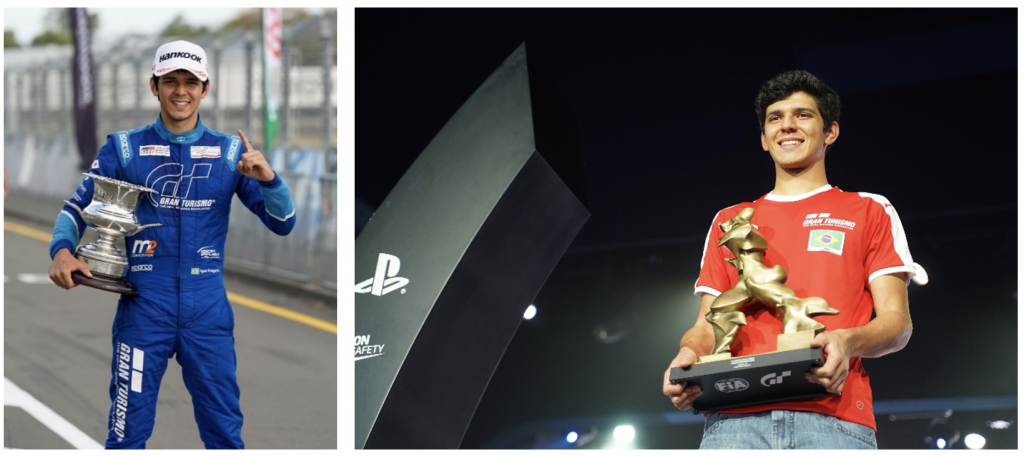 <Igor Fraga at the Toyota Racing Series in 2020> <Igor Fraga at the "FIA Gran Turismo Championships 2018″>
Igor Fraga (full name: Igor Oomura Fraga), a Japanese-Brazilian born in Japan, started competing in karting in Japan at the young age of 3, winning 7 national Go-Karting titles. In 2008, Igor Fraga competed in the Karting Asian Championships held in 4 different countries and successfully won the Championship.
Igor Fraga then won the F3 Brazilian Championship in 2017, followed by four wins in the F3 European Championship in 2019 finishing third in the Series, and in 2020, Fraga went on to win the Championship in the Toyota Racing Series in New Zealand, defeating Yuki Tsunoda, the Japanese racing driver currently successfully competing in Formula 1.
Igor Fraga, on the other hand, has also been passionate about racing games since his childhood, and in 2018, Fraga became the world champion in the "Gran Turismo SPORT" a software for PlayStation®4 (*) in the "FIA Gran Turismo Championships" Nations Cup (individual competition).
In 2019 and 2021, Fraga went on to win the World Manufacturers' Championship with Team TOYOTA in the Manufacturers Series of virtual motorsports competition.
Igor Fraga's career continues to excel globally, both in the e-Motorsports world as well as on the racing track. Fraga stands in a unique "two-sword" position. Fraga is a racing driver who proceeds to comfortably steer both the real and the virtual worlds of motorsports.
On the other hand, JRP is determined to continue to work actively in cooperating and strengthening the ties with the e-Motorsports industry which includes also the "SUPER FORMULA NEXT50 (GO) Project,". One of the major JRP goals is focused on the entire system's sustainability and thus on supporting the creation of a sustainable and strong motorsports industry.
By appointing Igor Fraga, who is globally active both in the real and the virtual racing world, as the SUPER FORMULA Ambassador, our goal is also that e-Motorsports players around the world will become more aware of the exclusive value and power that characterize our one and only SUPER FORMULA series. JRP is determined to support and promote the unique and prized "two-sword" concept that is: " from the virtual e-Motorsports world to a successful racing driver on track".
JRP will closely follow and support the dream of many e-Motorsports players which is to through the e-Motorsports approach and in a step-by-step manner, one day become a real racing driver.
*"PlayStation", "Gran Turismo" and "GT" are registered trademarks of Sony Interactive Entertainment Inc.
© 2022 Sony Interactive Entertainment Inc. Developed by Polyphony Digital Inc. Manufacturers, cars, names, brands, and associated imagery featured in this game in some cases include trademarks and/or copyrighted materials of their respective owners. All rights reserved. Any depiction or recreation of real-world locations, entities, businesses, or organizations is not intended to be or imply any sponsorship or endorsement of this game by such party or parties. All rights reserved.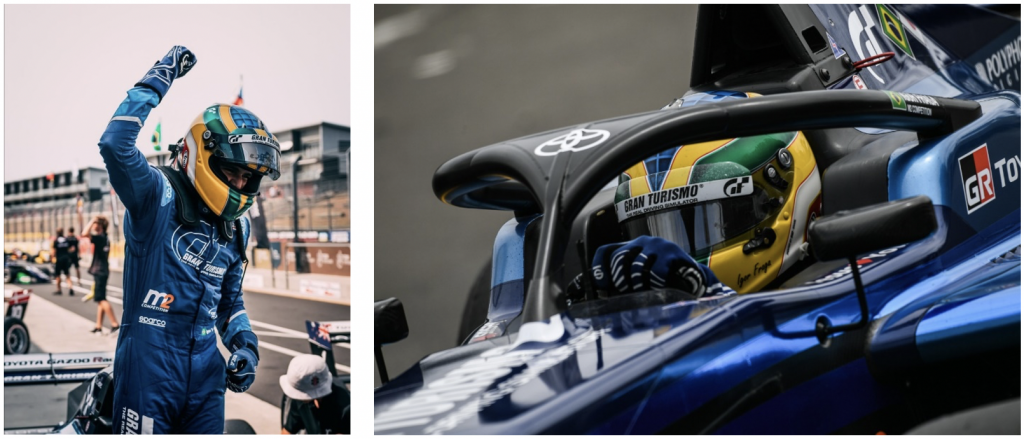 <Moments captured during Igor Fraga's career in the Toyota Racing Series in 2020>