In the 1950s, the Fédération Internationale de I'Automobile (FIA) launched the Drivers'Championship to find the world's fastest formula car drivers – the purest form of racing machine. That ethos was passed on to all FIA national member organizations. Top-level formula motor racing has been held in Japan in various forms since 1973, when Formula 2000 was first launched. The competition morphed into Formula Two in 1978 and then Formula 3000 in 1987. Japan Race Promotion, Inc. (JRP) was established in 1995 and continued carrying the competition torch in 1996 under the name of Formula Nippon. In 2013, the name of the competition was changed again to Japanese Championship SUPER FORMULA and a bold plan was implemented to upgrade the race cars and lift the profile of the competition with the clear aim of spreading the appeal of SUPER FORMULA from Japan throughout other parts of Asia. It also had high hopes of transforming the series into a third great open-wheel racing competition to go along with Formula One and Indy Car. The competition's name was changed again in 2016 to Japanese SUPER FORMULA Championship. In 2017, BS Fuji began broadcasting live SUPER FORMULA races, giving many motorsport fans the chance to watch championship races on free-to-air television.
Satoru Nakajima

Michael Schumacher

Eddie Irvine
 In the early days, formula racing in Japan was led by top drivers such as Kunimitsu Takahashi, Kazuyoshi Hoshino and Satoru Nakajima, who later competed on the global stage in Formula One. During the Formula 3000 era, Michael Schumacher competed in Japan, as did his brother Ralf Schumacher, Eddie Irvine and Toranosuke Takagi who competed in Formula Nippon. All of them were tenacious drivers aiming to make it into Formula One.More recently, drivers such as the 3-time winner of the 24 Hours of Le Mans Andre Lotterer, Benoit Treluyer, Loic Duval and Kazuki Nakajima have been winners of the Japanese Championship. In 2015, Kamui Kobayashi, who competed in Formula One until the previous season, made a triumphant return to Japanese circuits, mesmerizing spectators with his driving skills.Stoffel Vandoorne, who was the GP2 2015 Champion, competed in the 2016 SUPER FORMULA series, while the GP2 2016 Champion Pierre Gasly raced in the 2017 series. Both drivers went on to make their debuts in Formula One. Swedish driving sensation 2-time F3 Macau Grand Prix Champion Felix Rosenqvist also drove in Super Formula in 2017 against the likes of Gasly. Rosenqvist now competes in IndyCar in the U.S. All of these top class drivers racing in Super Formula has spurred even greater interest worldwide in the series in recent years.
Andre Lotterer

Kazuki Nakajima

Kamui Kobayashi

Stoffel Vandoorne

Pierre Gasly

Felix Rosenqvist

 In the 2019 season, SUPER FORMULA welcomes many new promising drivers who have competed overseas, such as 2-time F3 Macau Grand Prix winner Daniel Ticktum, Alex Palou, Artem Markelov and Tadasuke Makino, clearly showing how SUPER FORMULA is now seen as an increasingly important step in becoming one of the world's top drivers. From the 2014 season, SUPER FORMULA used the SF14 chassis, which was manufactured by Italian company Dallara Automoboli. Toyota and Honda supplied 2.0 liter turbo-charged inline-4 direct injection engines (NRE engines) and introduced technical innovations to deliver ongoing improvements in fuel efficiency and power output. The SF14 and NRE package lifted race competition levels, leading to very close races fought over the tightest of margins. This season, SUPER FORMULA will introduce an even safer next-generation Dallara made chassis in the form of the SF19. All cars will again be fitted with a fuel restrictor system. In addition, the overtaking system (OTS) from last season has been further enhanced. Previously, drivers were allowed to activate their OTS up to 5 times per race for 20 seconds each use. In 2019, drivers will be free to decide how long to use their OTS for a total of up to 100 seconds per race. From the 2016 season, Yokohama became the competition's official tire supplier, marking its return to top level formula racing after a hiatus of nearly 20 years. The company supplies its ADVAN racing tires, which are known for safety and for being highly competitive. Two compounds of tires have been developed for use in Super Formula races, which has added to the overall thrill for fans. This year's SUPER FORMULA series will be fought over seven rounds. A knock-out format will be used for qualifyings, and championship races will in principle be run over 250km. Teams will be required to use both soft and medium compound tires during each race. Excluding the engines, SUPER FORMULA racing cars are essentially single-manufacturer machines, meaning qualifyings and races are fought over extremely tight margins of less than 1 second. The outcome of each race comes down to pure competition between drivers and a battle of wits between engineers working to get the most out of the cars. SUPER FORMULA races are run on world championship tracks such as Suzuka Circuit, Fuji Speedway and Twin Ring Motegi. Races are also held on old-style circuits such as Sportsland Sugo, Okayama International Circuit and Autopolis, where even the smallest errors are punished, making them popular among overseas drivers due to the narrow margins involved.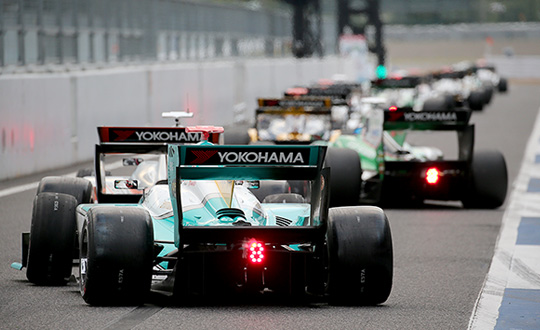 SF19 key specifications
Chassis
Manufacturer
Dallara Automobili S.p.A. (Italy)
Length
5,233mm
Wheelbase
3,115mm
Width
1,910mm
Height
960mm
Minimum weight
670kg
Gearbox
Ricardo 6-speed gearbox with paddle shift
Brakes
Brembo calipers, Brembo carbon discs
Steering system
KYB electric power steering system
Front suspension set up
Pushrod, torsion-bar spring
Rear suspension set up
Pushrod suspension
Safety standards
Complies with 2016-17 FIA F1 safety regulations
Engine
Manufacturer / Supplier / Model
Honda Motor / M-TEC / HR-417E
Toyota Motor / TRD / TRD 01F
Displacement
2,000cc
Type
Inline-four, direct injection
Supercharger
Garrett turbocharger
Minimum weight
85kg
Power
405kw (550ps) and above
Limiter
Fuel flow restrictor
Tires
Manufacturer
Yokohama Rubber Co., Ltd.
Size
Front: 270/620/R13 Rear: 360/620/R13