The second round of the 2011 Japanese Championship Formula NIPPON series took place on June 4 and 5 at Autopolis circuit in Oita, Kyushu. In the qualifying, Koudai Tsukakoshi in car No. 41 (DOCOMO TEAM DANDELION RACING) won his first Formula NIPPON pole position. In Sunday's race, the 13th-place qualifier Kazuki Nakajima in car No. 37 (PETRONAS TEAM TOM'S) emerged victorious with his first Formula NIPPON win.

Qualifying
2011-06-04 Weather: Fine | Course: Dry

Tsukakoshi grabs his first pole position. Nakajima staggers in 13th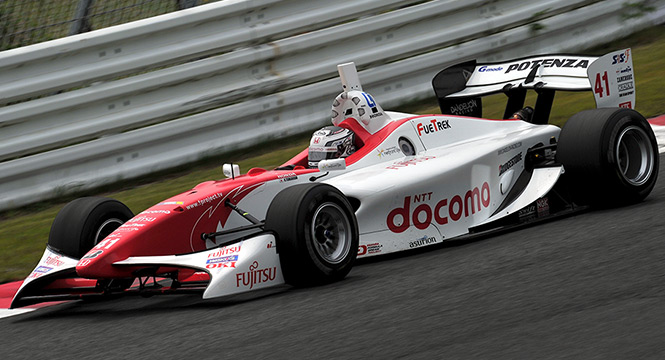 No.41 Koudai Tsukakoshi

The Formula NIPPON qualifying is run in a 3-stage "knock-out" format. Recording the top time in all three sessions to win his first pole position was Koudai Tsukakoshi in car No. 41 (DOCOMO TEAM DANDELION RACING). Qualifying 2nd was Kazuya Oshima (Team LeMans). This put two young drivers in their early 20s on the front line for the race.
In contrast, Kazuki Nakajima in car No. 37 (PETRONAS TEAM TOM'S), who raced in F1 with the Williams team before returning to Japan to compete in Formula NIPPON this season, failed to move beyond Q1, the first round of qualifying knock-out. This was his second consecutive qualifying failure and forced him to start from 13th position on the grid. But, having watched him qualify 14th and still finish the race 3rd in the last round, both Nakajima and his team were confident he would sage a comeback in the race this time as well.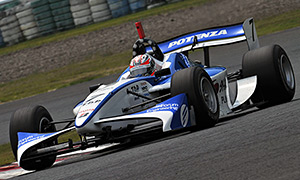 No.7 Kazuya Oshima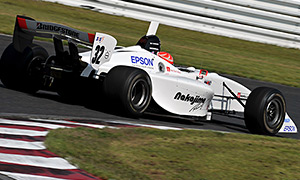 No.32 Takashi Kogure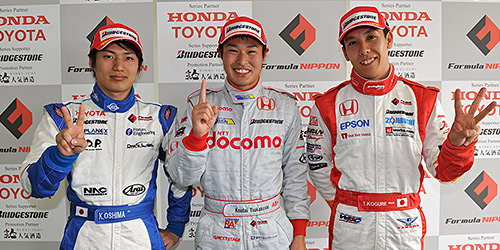 No.7 Kazuya Oshima / No.41 Koudai Tsukakoshi / No.32 Takashi Kogure

Race
2011-06-05 Weather: Cloudy | Course: Dry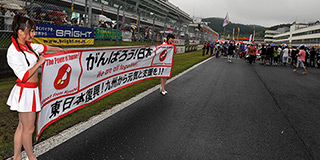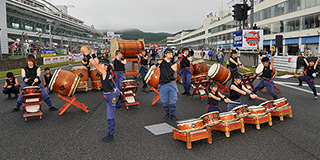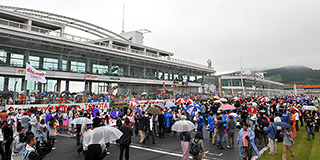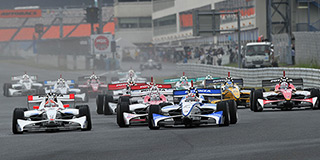 Confusion on a drying track just after the start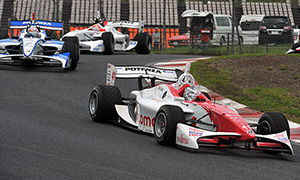 Unlike the fair-weather qualifying, it rained fairly hard on the morning of race day. But, before noon the weather began to clear. When the race's formation lap began at 2:30 in the afternoon, the rain had stopped completely and the track was beginning to dry out. However, all the drivers still had rain tires on their machines at this point.
When the race started, it was the 2nd-position starter Kazuya Oshima (No. 7, Team LeMans) and 3rd-position Takashi Kogure (No. 32, NAKAJIMA RACING) that moved quickly to the front, but on the first curve Kogure was sandwiched in between Tsukakoshi and Oshima, causing the two machines on the outside to lose speed slightly and allow Koudai Tsukakoshi (No. 41, DOCOMO DANDELION RACING) on the inside to defend his position in the lead.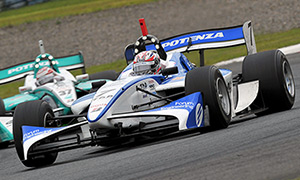 No.7 Kazuya Oshima Things really started change quickly when Oshima and Kazuki Nakajima (No. 37, PETRONAS TEAM TOM'S), Yuji Kunimoto (No. 33, Project μ/cerumo·INGING) and Daisuke Nakajima (No. 31, NAKAJIMA RACING) returned to the pit at the end of the first lap and changed to slick tires. At the end of the next lap, Hiroaki Ishiura (No. 8, Team KYGNUS SUNOCO) and Takuto Iguchi (No. 36, PETRONAS TEAM TOM'S), Andrea Caldarelli (No. 3, KONDO RACING), and at the end of lap three Tsukakoshi and Joao Paulo Lima de Oliveira (No. 1, TEAM IMPUL), Naoki Yamamoto (No. 16, TEAM MUGEN), Alexandre Imperatori (No. 18, SGC by KCMG) and Takashi Kobayashi (No. 10, HP REAL RACING) all made pit stops to change to slick tires. On this same lap, Kogure, now in the lead, spun out on the second hairpin turn. This became the first major upset of the race as he turned off his engine and retired from the race.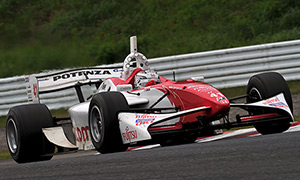 No.41 Koudai Tsukakoshi By the time all the machines had changed to slick tires, Oshima stood in the lead. He was followed by Kazuki Nakajima, Ishiura, Oliveira and Daisuke Nakajima. Behind them, Iguchi and Tsukakoshi were locked in a head-to-head battle. On the first corner of lap seven when Tsukakoshi pulled even with Iguchi, Iguchi's left front hit Tsukakoshi's right rear. The collision caused damage suspension that forced him to return to the pit. Just as this was happening, Daisuke Nakajima ran off the track on the first corner and dropped out of the race. Then Ishiura, running in third position at the time, began to lose speed from around lap ten and fall back in the pack. Still set up for rain, Ishiura couldn't hold pace as the track dried out.
The next major development came when on the 20th lap. Oliveira, running in third at the time, and Caldarelli in 8th-position both returned to the pit to refuel. At the end of lap 24, Kohei Hirate (No. 2, TEAM IMPUL) also made his pit stop to refuel while running in 6th position.

Oshima and Nakajima in a breath-taking match race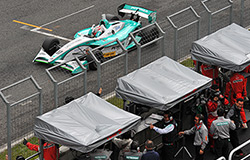 From that point on, none of the teams appeared to be making any moves to refuel as the race wore on. It had been thought that their fuel economy was a weak point, but in fact all the remaining teams were gambling on making it to the finish without a refueling stop. As a result, all the action from the middle stages of the race were happening out on the track instead of in the pits. That was especially true with the two leaders, Oshima and Kazuki Nakajima and the battle for 4th between Yamamoto and Oliveira.
As his tires appeared to be losing performance, Oshima saw his 4-second lead evaporate to less than one second by the end of lap 33. Nakajima began to close in on Oshima and on the first corner of lap 42 he finally passed Ohshima to take the lead.
Meanwhile, the battle for 4th had been a tail-to-nose chase for more than 20 laps, with Yamamoto doing all he could to block Oliveira. As Yamamoto's machine's balance began to deteriorate, however, Oliveira was finally able to lock on at the last turn of lap 46. On the first corner of lap 47, Oliveira took the inside and moved ahead of Yamamoto.
In the closing stages of the race the battle 3rd also heated up. Continuing to lose speed after being passed by Nakajima, Oshima now had Tsukakoshi closing in on his tail. With five laps remaining Tsukakoshi was locked on Oshima's tail. But, as the two battled on making frequent use of their overtake buttons, Oshima was able to defend his position to the end.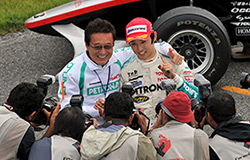 At the end of the 54-lap race, the first to take the checkered was Kazuki Nakajima. It was a rewarding first victory in just his second race since coming to Formula NIPPON. Oshima finished 2nd and Tsukakoshi 3rd. They were followed in order by Oliveira, Yamamoto, Takuya Izawa (No. 40, DOCOMO TEAM DANDELION RACING), Imperatori (No. 18) and Hirate. With his second podium appearance in two races, Kazuki Nakajima moved to the top of the series ranking.
There are a lot of fresh new faces making themselves seen in this season's Formula NIPPON and it makes the prospects all the more exciting for the next round at Fuji Speedway (Shizuoka, July 16 and 17).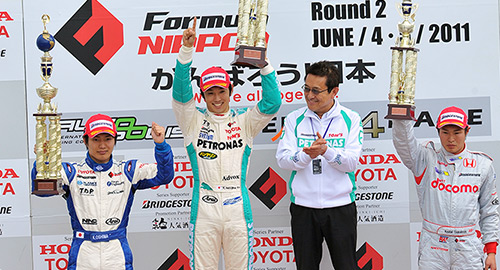 2nd: No.7 Kazuya Oshima / Winner: No.37 Kazuki Nakajima, Nobuhide Tachi (Team Manager) / 3rd: No.41 Koudai Tsukakoshi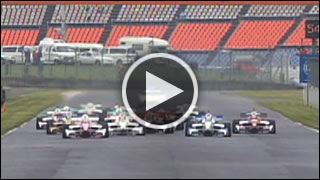 Round2 Autopolis Race Digest [YouTube]

Winner comment
I was able to take the machine all the way to the finish

No.37 Kazuki Nakajima (PETRONAS TEAM TOM'S)
As a Toyota engine user, we had the potential to run the entire race without a fuel stop, and after finishing a disappointing 13th in the qualifying I was in a position where I had to do it. Making the pit stop at the end of the first lap was something we had decided to do, and everything went just as we hoped it would. I thought it would be very difficult to pass a competitor on this track, so I ran for a long time behind Oshima, holding back and holding back with the belief that I could put less wear on my tires and gradually catch him, while watching my fuel gauge as well. I guess Oshima's tires were in worse condition than I had imagined, so I was eventually able to make good use of that advantage. After that, I ran into some delays getting past the back markers, but I was able to take the machine all the way to the checkered. That was the story of today's race.
After I passed Oshima I thought I had a chance to win, so I prepared myself for it. With the exception of the qualifying, everything fell into place very well. This is an experience I haven't had in several years, so I am really satisfied with what I was able to do here today.