Round six of the Formula NIPPON Japanese championship took place at Sportsland SUGO in Miyagi Pref. on September 23 and 24. In the race, drivers' ranking leader Andre Lotterer in car No. 36 (PETRONAS TEAM TOM'S) overpowered the field to take his third win of the season.

Qualifying
2011-09-24 Weather: Fine | Course: Dry

Top time goes to different drivers in each of the three qualifying sessions

No.7 Kazuya Oshima

For this race the three-stage knock out style qualifying format was used again. The young Toyota hope Kazuya Oshima (No. 7, TEAM LeMans) recorded the top time in all three sessions (Q1, Q2 and Q3) to win the pole position. The current drivers' ranking leader Andre Lotterer (No. 36, PETRONAS TEAM TOM'S) looking to win his first championship title this season, qualified second just behind Oshima. Chasing Lotterer in the ranking, defending champion Joao Paulo Lima de Oliveira (No. 1, TEAM IMPUL) ran off the track in Q1 and, although managing to qualify for Q2, failed to make a run and ended up qualifying 12th.


No.36 Andre Lotterer

No.41 Koudai Tsukakoshi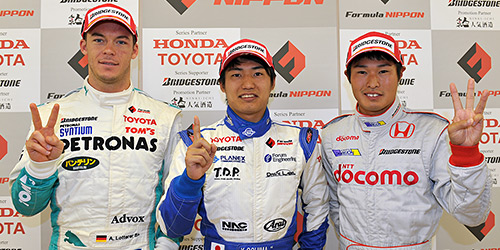 No.36 Andre Lotterer / No.7 Kazuya Oshima / No.41 Koudai Tsukakoshi

Race
2011-09-25 Weather: Fine | Course: Dry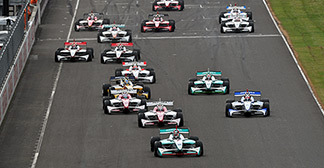 Lotterer and Tsukakoshi stage fierce battle for the lead

No.8 Hiroaki Ishiura Race day was slightly cloudy but a very comfortable early autumn day. The race's formation lap started at 2:30 in the afternoon with the air temperature at 21 degrees C. and the track surface temperature at 25 degrees. After one parade lap the cars returned to their grip positions for the start. Racing off from second position on the grid, it was Andre Lotterer in car No. 36 (PETRONAS TEAM TOM'S) who got the hole shot. The pole starter, Kazuya Oshima in car No. 7 (Team LeMans) suffered a near engine stall and lost ground, ending up in 4th position. In the same way, the 4th grid position starter, Hiroaki Ishiura, got a bad start that dropped him back to 6th position. The drivers who gained positions at the start as a result of this were 3rd-position grid starter Koudai Tsukakoshi in car No. 41 (DOCOMO DANDELION RACING) and 5th-position starter Takuya Izawa in No. 40 (DOCOMO TEAM DANDELION RACING). These two machines moved into 2nd and 3rd positions respectively. Starting from 7th position on the grid, Kazuki Nakajima in car No. 37 (PETRONAS TEAM TOM'S) also moved up to 5th position. Meanwhile, in another mishap farther back in the pack, car No. 10 driven by Takashi Kobayashi (HP REAL RACING) stalled and came to a stop on the track.
By the end of the opening lap there were more developments in the race as Kazuki Nakajima and Andrea Caldarelli (No. 3, KONDO RACING) made early pit stops at the end of lap 1. At the end of lap 2, Kohei Hirate in car No. 2 (TEAM IMPUL) and Satoru Nakajima in car No. 31 (NAKAJIMA RACING) made their pit stops, while De Oliveira and Naoki Yamamoto in car No. 16 (TEAM MUGEN) made their pit stops at the end of lap 3 to change tires and return to the race. As for the top group, Lotterer ran in the lead followed in order by Tsukakoshi, Izawa, Oshima and Ishiura, with the top two machines gradually opening up a gap over the rest of the field. Meanwhile, after their early pit stops, Kazuki Nakajima and De Oliveira were racing at lap times on par with the leaders and slowly beginning to narrow the as yet invisible gap. As the lead group began to make their pit stops, all eyes were watching to see how much ground Nakajima and De Oliveira had gained.


No.37 Kazuki Nakajima Of the top group, Lotterer was the first to make his initial pit stop at the end of lap 22. After a tire change, Lotterer returned to the race with a comfortable margin of lead in tact. On the next lap, Izawa made his pit stop to change tires and refuel as well. On the lap after that, Tsukakoshi and Oshima made their pit stops. Tsukakoshi also refueled and changed tires, but due to a delay in the changing of Oshima's left front tire, the positions of these two machines were reversed when they returned to the race. As a result, when all the lead group had finished their first pit stop, the order was Lotterer in the lead followed by Kazuki Nakajima, De Oliveira, Tsukakoshi and Izawa. Running on a different strategy, Ishiura delayed his first pit stop until lap 33, nearly half way through the race. His crew managed to finish the tire changeand refueling in a fast 13.4 seconds. On this same lap, De Oliveira made his second pit stop, followed likewise by Kazuki Nakajima on the next lap. Both of these cars had tires changed and fuel added. But, having made his stop first, De Oliveira was able to push hard on his first lap out of the pit to end up in front of Kazuki Nakajima when the latter returned to the track. From there, De Oliveira went on to widen his lead over Kazuki Nakajima and push on in hopes of narrowing the gap with Lotterer, who was still out of sight. However, Lotterer's pace remained constant and De Oliveira was hard pressed to close the gap at all.

Ishiura's late-race dash falls short

No.41 Koudai Tsukakoshi The leader, Lotterer, made his second pit stop at the end of lap 47. After changing tires and refueling, he was able to return to the race still comfortably in front of De Oliveira. After that, Izawa and Yuji Kunimoto in car No. 33 (Project μ/cerumo·INGING) made their second pit stops at the end of lap 50, followed by Oshima on lap 51. Then, at the end of lap 54, Ishiura made his second stop. These developments left Lotterer completely alone in the lead. His lead over De Oliveira had widened to more than 13 seconds. De Oliveira had also managed to open up a considerable margin of more than 11 seconds over Kazuki Nakajima. Returning from his second pit stop, Ishiura had managed to move up to 3rd position between De Oliveira and Nakajima. On his second pit stop, Ishiura had both refueled and changed tires, but he had been racing at lap times consistently fast enough to move him up in position by that time. On a good set of tires now, Ishiura was running lap times of between 1'08 and 09 seconds and closing the gap with De Oliveira. But, he wouldn't be able to overtake him.


No.33 Yuji Kunimoto At the finish, Lotterer took his third win of the season, far ahead of the competition. De Oliveira had vastly improved on his start position to finish 2nd, while Ishiura finished 3rd. The order from 4th down was Kazuki Nakajima, Tsukakoshi, Izawa, Kunimoto and Oshima.
However, in the post race inspection, the rear wing of De Oliveira's machine was found to be over the height limit and the front wing of Izawa's machine exceeded the overall length limit, causing both cars to be disqualified. As a result, Lotterer remained the winner but Ishiura was moved up to 2nd, Kazuki Nakajima to 3rd, Tsukakoshi to 4th, Kunimoto to 5th, Oshima to 6th, and No. 32 Takashi Kogure (NAKAJIMA RACING) took 7th place and Hirate 8th.
With this win, Lotterer remains the ranking leader with 38 points and Kazuki Nakajima sits in 2nd place with 34 points. Behind them, De Oliveira has 25 points and Tsukakoshi 23. These four drivers will go into the final round of the series with a chance at the title. That last round will be held on November 5 and 6 at Twin Rings Motegi and we will surely see Lotterer and Kazuki Nakajima leading the charge for the season title.

Winner comment
It was a perfect race

No.36 Andre Lotterer (PETRONAS TEAM TOM'S)

There were no problems in this race and the important thing was that I was able to get a good start. Our strategy this time was to start out with a full tank and only do a tire change at the first pit stop. That worked out as we planned and I was able to stay in control of the race the entire time. The machine was performing well and I was able to enjoy driving it, and I was also able to give the team a great result. So, it was a perfect race. I wish I had a little more of a point advantage going into the final race at Motegi. I didn't compete at Autopolis (round 2) and I lost 2 or 3 points just from the qualifying. I definitely have an advantage at this point, but with two races and bonus points for each one, it is not going to be easy. The race itself will surely be a tough one too.