[SUPER FORMULA Rd.7 MOTEGI] LIVE STREAMING info. / Session Shedule
2023.08.08
There're only 3 more races to go for the rest of the season of 2023". SUPER FORMULA Rd.7 will be held at Mobility Resort MOTEGI on Aug.19th-20th.
2023 SUPER FORMULA Rd.7 MOTEGI [Session Schedule]  *JST/UTC+9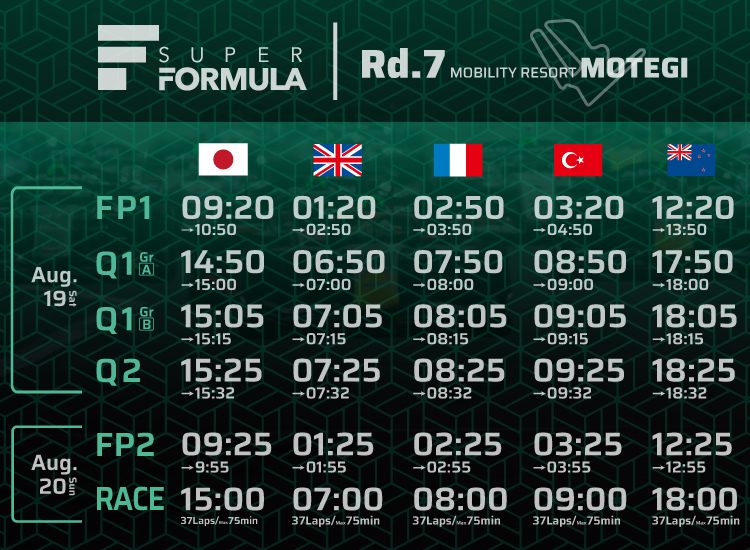 SUPER FORMULA Rd.7 will be broadcasting on LIVE as below.
 

1.SFgo

2.Motorsport.tv*1
3.S Sport Plus


(🇹🇷only)

FP1/2

○ (Japanese)

 ○ (Japanese)

–

Qualifying

○

○

○

RACE

○

○

○

Radio/




Telemetry Data

○

–

–
*FP1/2 will be in Japanese only
<1> SFgo https://sfgo.jp (need subscription)
New official digital platform by SUPER FORMULA, available in iOS, android/web browser.
Allows to watch SUPER FORMULA on live, previous race archives, telemetry data, and even team radio to enjoy!!
<2> Motorsport.tv  https://motorsport.tv/ (Free)
Some regions are not available, check your status by accessing web site
<3> S Sport Plus https://www.ssportplus.com/ (need subscription)
Available only in TURKEY, subscription required
[ DRIVER STANDINGS as of Rd.6 ]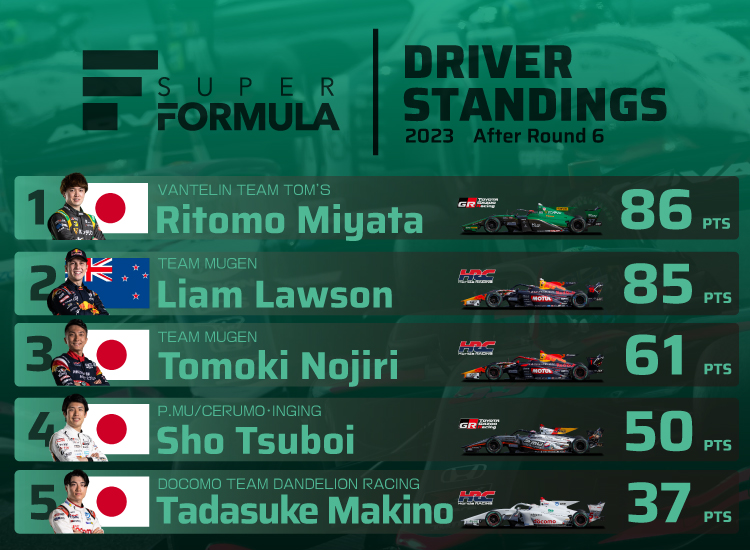 Current leader Ritomo MIYATA is just 1pt away from 2nd Liam LAWSON. Since POLE TO WIN makes 21pts (pole position 1pt, race win 20pts), never know what can happen in next 3 races!!