[ENG] New digital platform for SUPER FORMULA
Introducing "SFgo" Paid Service Early Registration Trial Campaign
2023.03.03
The organizer of the Japanese SUPER FORMULA Championship (hereinafter "SUPER FORMULA" with Head Office located in Chiyoda-ku, Tokyo; President: Yoshihisa Ueno; hereinafter "JRP") announces the start of paid service and "Early Registration" trial campaign for new digital platform "SFgo," which started its service on 12 Jan 2023.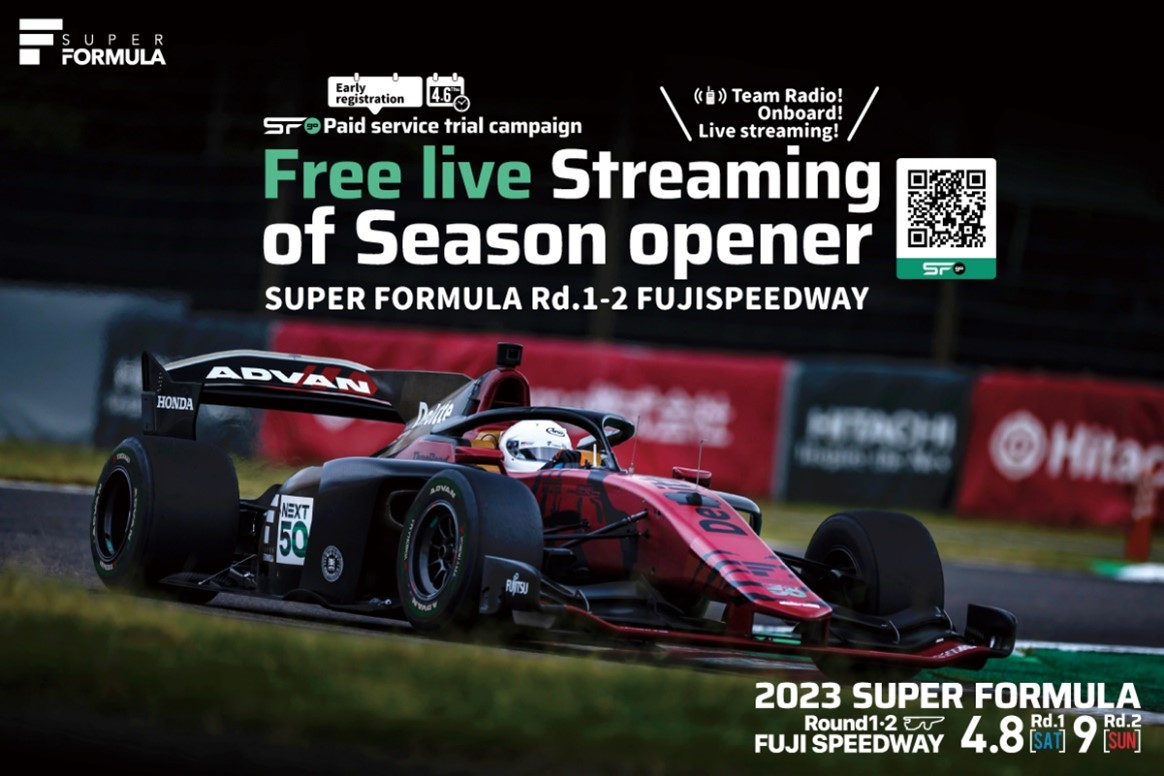 "SFgo" is the original application, which is useful to experience the world of SUPER FORMULA beyond borders. Users enjoy live streaming, of course, and each driver's onboard and telemetry data of each car. Its high precision GPS system, team radio (between driver and team) during race, and more information make SUPER FORMULA more interesting and enjoyable. 
It is applicable for not only smartphone, also tablet and PC. Users can share one account with 2 different devices at same time. So that family can enjoy live streaming on big screen, meanwhile, they can watch each favorite driver's onboard on their smartphones.
Starting from Sat, 8 Apr, "SFgo" will start paid service that includes live streaming. For those who register for paid service in early period (Thu. 3 Mar – Thu. 6 Apr), the trial campaign is available. Users can enjoy "SFgo" paid service for free of charge between Thu. 3 Mar – Thu. 20 Apr, and that includes Rd.1-2 FUJI SPEED WAY Sat. 8 Apr – Sun. 9 Apr.
We'd love you all to register "SFgo" and enjoy SUPER FORMULA on this occasion!
/1: "SFgo" Paid Service Early Registration Trial Campaign info.
During the campaign period, users, who register "SFgo" paid service, can enjoy paid service including livestreaming of RD1-2 FUJI SPEED WAY (Sat. 8 Apr – Sun 9 Apr) for free of charge till Thu. 20 Apr.
| | |
| --- | --- |
| Campaign period | Thu. 3 Mar – Thu. 6 Apr  |
| Free of charge period*1,2,3      | Thu. 3 Mar – Thu. 20 Apr  |
*1 After free trial period, account will automatically move to paid service
*2 Monthly plan 1480yen/month or Annual plan 11,880yen/year (appx. 990yen/month) tax included
 ※Annual plan is 33% reasonable compare to monthly plan
*3 During free trial period, paid service can be canceled at any time
/2: What is "SFgo"?
1  Live streaming, also archives from last season is available
2  More variety to enjoy by using two screens at same time (ex. smartphone*4 and TV*5)
3  Available to enjoy all drivers' eyes through onboard streaming
4  Team radio is available, so that users can enjoy the race in many ways
5  By highly precise GPS, racing line and location of each driver is available for users
6  Available to share favorite/impressive scenes on SNS by recording screen (within 30sec)
 *4 iOS14 or later version for iPhone, OS10 or later version for Android necessary
 *5 Recommend latest version of either Chrome / Safari / Edge, limited functions are available on browser
// "SFgo"  English available //
// To enjoy "SFgo," check our sites below //