2016 SUPER FORMULA
Round1
Suzuka Circuit
Qualifying 04-23 sat / Race 04-24 sun
Suzuka Circuit : 5.807 km

Race
Pole to win for No.16 Naoki Yamamoto (TEAM MUGEN)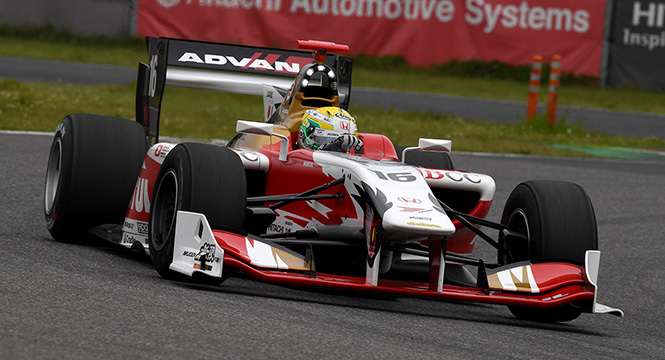 No.16 Naoki Yamamoto
Sunday, March 24th- a very warm day for racing at the Suzuka Circuit. 32,000 fans gathered at the circuit to watch the first SUPER FORMULA race of the season. Most teams and drivers chose not to change their sets of tires as a strategy for the very first race using Yokohama Tyres. The driver to constantly mark stable times and take home the win was No.16 Naoki Yamamoto (TEAM MUGEN). Yuji Kunimoto (P.MU/CERUMO · INGING) who started from the front row ended up second on the podium, a podium ever since Round 5 Autopolis in 2014. Following Kunimoto was No.41 Stoffel Vandoorne who made a good start from 4th position on the grid. Vandoorne finished 3rd on the podium, a spectacular result for his first debut race in the series. This is comparable to Andre Lotterer who finished second in 2003 on his debut race, and Loic Duval who won at the Suzuka Circuit in 2006 at Round 2.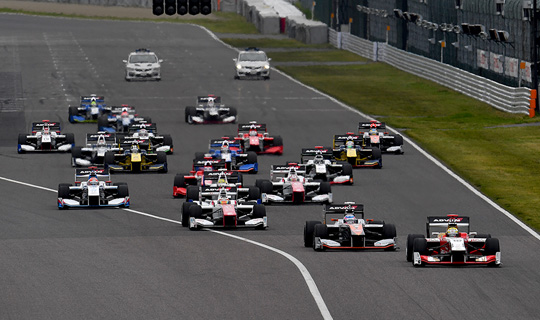 Saturday was rainy after qualifying at the Suzuka Circuit, but by Sunday morning the sun was back. As time for the race got closer, clouds started to gather around the sky and cold winds were blowing at the final corner. The temperature was 24 degrees celsius, course temperature 34 degrees celsius. Formation lap for the race started at 3:15 pm as planned. But here No.20 Yuhi Sekiguchi (ITOCHU ENEX TEAM IMPUL) has an engine stall. The team's mechanic restarted the engine before all of the other machines passed him.
After one lap around the course, all machines lined up in their grid order. As the lights went out, every driver started their 43 lap race towards the goal. Yamamoto who started from pole got the hole shot, followed by Kunimoto and Vandoorne. Sekiguchi drops one position, followed by No.34 Takashi Kogure (DRAGO CORSE), No.40 Tomoki Nojiri (DOCOMO TEAM DANDELION RACING), No.36 Andre Lotterer (VANTELIN TEAM TOM'S), and No.3 James Rossiter (KONO RACING).
Yamamoto pushes hard after holding on to his position, and widens the gap between Kunimoto. After 5 laps, the time gap between the two was around 3.3 seconds. On the other hand, Sekiguchi who had been in 4th place has to go through a 10 second pit stop penalty due to his engine stall at the beginning of the race. Sekiguchi had to pit in after 7 laps, which dropped his position down to the very bottom.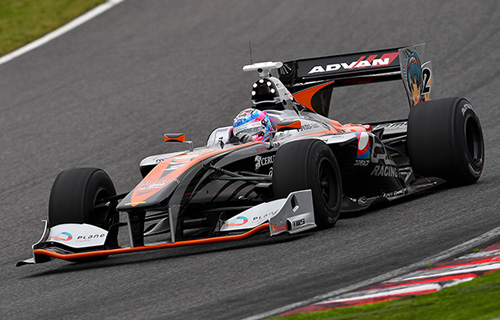 No.2 Yuji Kunimoto
More moves in the race after 10 laps- No.11 Takuya Izawa (REAL RACING) who was at 15th place goes into the pits for refueling. No.14 João Paulo de Oliveira (ITOCHU ENEX TEAM IMPUL) also comes in for a pit stop. Oliveira changes his tires along with refueling and goes back into the course. His pit stop was 15.3 seconds, 7.3 seconds slower than Izawa who didn't change his tires. But after Izawa finishes his outlap, he spins at the second corner, and Oliveira passes him at this point.
At the spoon corner in the 14th lap into the race, No.8 Kamui Kobayashi (SUNOCO TEAM LEMANS) pushes to pass Rossiter but loses balance, and No.65 Beltrand Baguette (NAKAJIMA RACING) goes in front. Kobayashi who gets back on track uses his overtake button to go after Baguette, but fails and stays behind. Kobayashi goes into the pits after 18 laps, for refueling and new tires. However his right rear wheel nut was loose, and slows down right after getting back in the course. He tries to bring the car back into the pit lane, but his right rear tire comes off at the Chicane. Also, his team mate No.7 Narain Karthikeyan pits in after 23 laps but has a miscommunication with the team; unready for a pit stop. The mechanics quickly starts the pit stop procedure, but this time the left front wheel nut is left loose, and the driver courses out at the first Degner Curve. Karthikeyan's race ends here.
Drivers in the top group start to come in for pit stops- Tsukakoshi at 5th position does a pit stop after 25 laps. The team refuels and changes the tyres in just 13 seconds and goes back into the course. Followed by Nojiri, Kogure, Yamamoto, Vandoorne, and Lotterer. All of these drivers refueled without tyre changes and went back on track. Kunimoto, Rossiter and Baguette did a pit stop for refueling after 32 laps as well.
The top 5 doesn't change, and it's still Yamamoto followed by Kunimoto, Vandoorne, Kogure and Tsukakoshi. Nojiri doesn't have a good pace and drops a position, and instead comes in Lotterer followed by Rossiter. But Lotterer has a problem with his right front upright and Rossiter uses his overtake button in the 38th lap to go in front. Nojiri tries to defend his 8th position, but when Baguette lines up next to him at the Chicane on the 40th lap, he fails to stop and takes a shortcut. Nojiri was forced to hand over his position to Baguette.
While this was happening, Yamamoto makes a gap over 10 seconds from the others and is by himself in the top position. He continues to finish his race with a first win of the season. For Yamamoto, this was his first win in the series besides a round with two races. Kunimoto also defends his 2nd position from Vandoorne with a wide enough gap not to be overtaken. Vandoorne also finishes 3rd with a consistant race. Kogure finishes 4th, followed by Tsukakoshi, Rossiter, Lotterer, Baugette. These were the drivers who earned their points. Nojiri, who dropped his position toward the end of the race ends up 9th. In 10th place was Oliveira who started from the last grid. Although Oliveira finished without points, he marked times under 1'42 after his pit stop and successfully makes an undercut.

Round 2 will be held on Saturday, May 28th - Sunday, May 29th at the Okayama International Circuit. Who will be next to take home the trophy? It's something to look forward to after such an interesting race in the first round.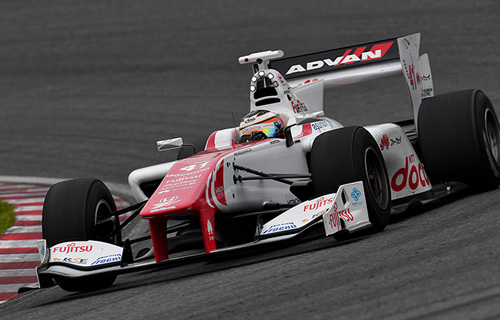 No.41 Stoffel Vandoorne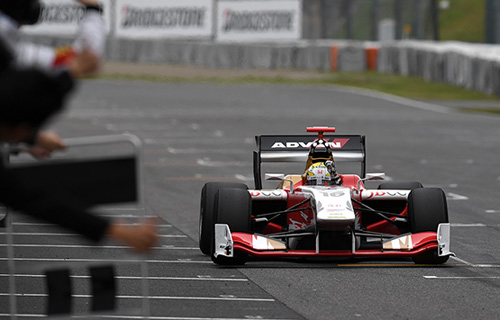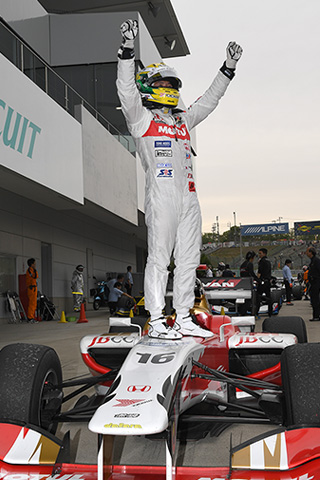 TOP 3 comments
Everything went the way I wanted to including the strategic parts

Winner
No.16 Naoki Yamamoto (TEAM MUGEN)

I am so happy to finally be able to win a full round. On Friday, when I got on the machine, I honestly didn't feel like we had the full performance to fight for the pole position and win. But I believe that this is a result of TEAM MUGEN and Honda staff not giving up over the course of the weekend. I think everything went perfect including our race strategy with the new Yokohama tires. On Sunday morning during free practice, we did everything but the machine just wasn't right. But at 8 minutes left to go before the race, we changed the machine set up and the team looked over the car. Thanks to this, when I was able to make a 4 second gap after 10-15 laps, I felt confident about the race. But to be honest it was the first race of the season, and you never know what's going to happen so I was nervous throughout the race. It was the last 10 laps that I finally got to relax and concentrate on finishing the race. The machine was stable enough that I had moments to think about how to drive the machine faster. I'm sure this will help me in the next round at Okayama.
I am thankful for being able to race at a time like this when Kyushu is struggling. I also know that there are a lot of fans cheering me on from Kyushu who are having a hard time. I wanted to do my best for them, and I think by succeeding in a pole to win race, I was able to gift them something. It's going to be a long battle, but I will try my best. I hope you will continue to support me.

I am thankful for the team for preparing a car with a potential to finish 2nd

2nd place
No.2 Yuji Kunimoto (P.MU/CERUMO · INGING)

I am happy that I got to finish 2nd. I aimed for the top position at the start, but Yamamoto was so fast... He made a big gap in the coming laps, but I pushed hard without mistakes. I knew Stoffel was behind me but we our paces were about the same, so unless I made a mistake I knew I would be fine. At the last 5 laps, I was told through the team radio that I still had the overtake system left.
The reason why I used the button at that point was because I wanted to see how fast I would go when I have a machine behind me, and the breaking points. So I didn't use it because he was catching up to me. It might have been a boring race for the audience but it was a really tough race for us drivers because we are always pushing until the limit. We didn't know about the Yokohama tires but we managed to finish the race without changing the set, and so I think the tires are really good. The team prepared me a machine with a potential to finish off 2nd so I am very thankful.

It's really good that I was able to leave a good result in the first race of the season

3rd place
No.41 Stoffel Vandoorne (DOCOMO TEAM DANDELION RACING)

In my first race in the SUPER FORMULA series, I was able to finish off 3rd, so it was a great race week. I am very satisfied to have been able to leave a good result in a completely new series with lots of experienced drivers around. In the off season testing, there were times when the machine was both good and bad, but I believe the team came together and did a fabulous job to fight for the win. Especially during qualifying, we used new tires in Q1, Q2, Q3 and the feeling of the grip was fresh. I was able to fully enjoy that feeling and attack. As a result, I ended up 4th on the grid, and I was able to race without mistakes. It's great to finish off with a good result at the Suzuka Circuit. The circuit is hard to overtake, so the fact that I placed myself in a good position on the grid, and made a good start was the key. I pushed hard to try to get in front of Kunimoto, but he didn't make any mistakes either. I am just happy to be able to start a season so well, and am thankful for the team. I also think that two Honda machines ending up on the podium was good too.



Naoki Yamamoto and the team left a great race in our memories

Winning Team Director
Nagataka Tezuka Team Director (TEAM MUGEN)

I just have to say that I am really happy with this result. In the last race of last season, we were able to finish with a pole to win wearing Bridgestone tires, and this time in the first race of the season wearing Yokohama tires. I think Naoki Yamamoto and the team carried out a great race that will be remembered. It wasn't easy for us to come this far, so it's important to remember the hardships and the process it took us, and try our best to win the upcoming rounds.