2016 SUPER FORMULA
Round4
Twin Ring Motegi
Qualifying 08-20 sat / Race 08-21 sun
Twin Ring Motegi : 4.801 km

Preview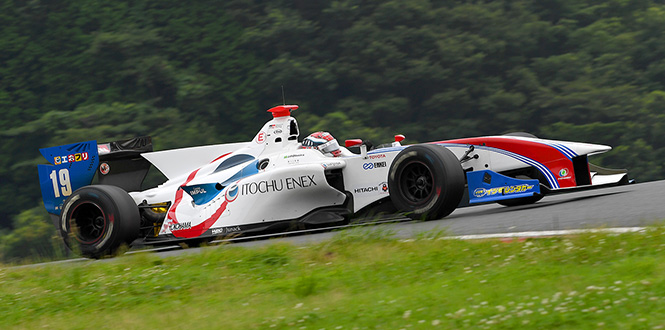 The Key to Victory is the Tires

It's August now, so we're at the halfway point in the seven race season for Super Formula. It's been a month since the last race at Fuji Speedway. Twin Ring Motegi in Tochigi Prefecture will play host to the next event on August 20th (Sat.) and 21st (Sun.). The race in Motegi is known for being held under the hottest conditions of each season. So it will pay a heavy toll on the stamina of the drivers.
No. 16 Naoki Yamamoto (TEAM MUGEN) took the checkered flag at the opening race in Suzuka this season. The defending champion from last season No. 1 Hiroaki Ishiura (P.MU/CERUMO INGING) won the second race at Okayama International Circuit under bad weather conditions where the race took place and ended with the safety car on the track. And in July at Fuji Speedway, it was No. 19. J.P. de Oliveira (ITOCHU ENEX TEAM IMPUL) who held off No. 37 Kazuki Nakajima (VANTELIN TEAM TOM'S) in a head-to-head race to be crowned the winner. But none of the drivers have fared particularly well in all of the first three races thus far, so the points race is really tight. Right now, it is Yamamoto with 13 points that has a slight lead, followed by Oliveira with 10 points, No. 2 Yuji Kunimoto (P.MU/CERUMO INGING) with 9.5 points, Ishiura and No. 10 Koudai Tsukakoshi (REAL RACING) with 9 points, Kazuki Nakajima with 8 points, No. 36 Andre Lotterer (VANTELIN TEAM TOM'S) sitting at 7.5 points. No. 41 Stoffel Vandoorne (DOCOMO TEAM DANDELION RACING) and No. 3 James Rossiter (KONDO RACING) both have 7 points. So with four rounds remaining, no doubt Motegi will be a very important one. Whether the points race will continue to be tight, or whether one of the drivers will pull away is yet to be seen.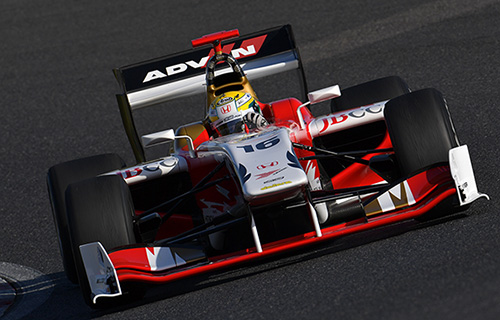 No. 16 Naoki Yamamoto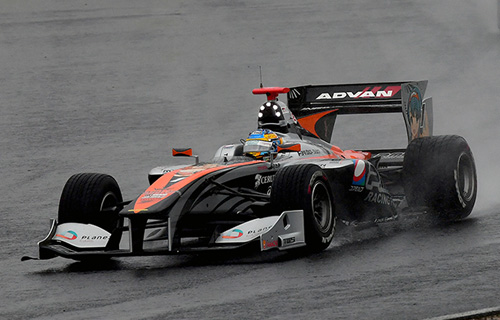 No. 1 Hiroaki Ishiura
The biggest focus on the race at Motegi will definitely be the use of two tire specifications. In Super Formula, the crème de la crème in formula racing in Japan, there has been only one tire specification used per race. But with the cooperation of Yokohama Tire, the manufacturer that provides tires for this year's series, two tire specifications will be used: soft and medium tires. Each team will be provided with two new sets of soft and medium tires, and both types of tires must be used during the finals. The teams stayed on an additional day after the race at Fuji Speedway to take part in soft tire tests. During those tests, a time of a little over 1 second faster than that of medium tires was recorded. So at Motegi, on average, times are expected to be over 1 second faster. As the characteristics of the soft tires are similar to medium tires, the teams don't expect to change set-ups that much.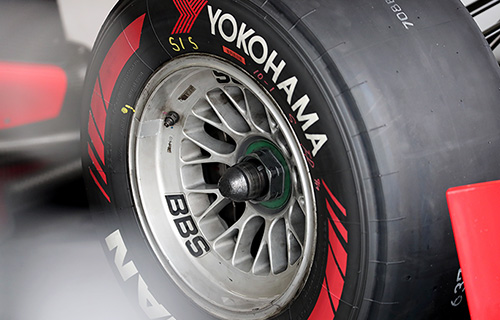 "New specification" soft tires
In theory, one would think that for qualification 1 and qualification 2, soft tires would be used. And for qualification 3, medium tires would be the norm. Either way, if there is an entire 1 second difference between the two types of tires, it is probably not likely that the way the teams use them will differ much. But during the final round, how the tires are changed in the pits could prove to be the difference in the race. Even though both soft and medium tires have to be used during the finals, there is no stipulation in the rules that say how many laps need to be run with each type of tire on. It is possible that medium tires could only be used for only one lap. It may depend on starting positions, but the drivers could begin with soft tires, run the entire race with soft tires on, and change to medium tires on the last lap. On the other hand, they could possibly begin the race with medium tires, and come in for a change to soft tires, and finish the race with soft tires on. Because Twin Ring Motegi is known to be a hard course to use the overtake on, it is normally tough for drivers to take over the lead of the race. So the above type of tire strategy is a possibility. But that strategy would probably go out the window if the safety car is called out onto the track. So, no one really knows what type of strategy will be used until the race actually gets started. Either way, how mechanics have their teams change tires will no doubt be the key to victory.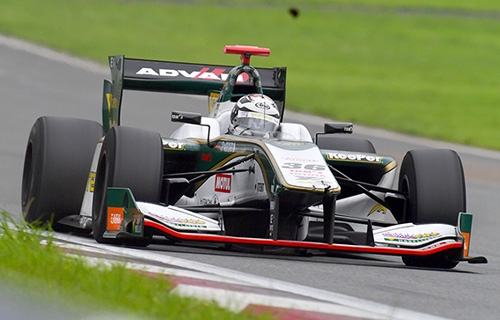 No. 36 Andre Lotterer
For this race, Oliveira and Lotterer seem be the ones to watch. That is because they have put on some good showings at Motegi in the past. Oliveira's team, (ITOCHU ENEX TEAM IMPUL) is traditionally good at Motegi, so he will probably have the upper hand. And his teammate No. 20 Yuhi Sekiguchi (ITOCHU ENEX TEAM IMPUL), who made his way to the podium for the first time after a hard-fought race at Fuji Speedway is also expected to do well. Since Motegi is Honda's home course, driver's ranking 11-13, No. 34 Takashi Kogure (DRAGO CORSE), No. 11 Takuya Izawa (REAL RACING), No. 40 Tomoki Nojiri (DOCOMO TEAM DANDELION RACING) are all probably looking to pick up some big points in this race. No. 8 Kamui Kobayashi (SUNOCO TEAM LEMANS) doesn't have any points thus far this season, but is another one of those drivers that you can't leave out of the calculation.
Who will be the winner in the heat of Motegi? The qualifications on Saturday will also surely be something you won't want to take your eyes off of.

No. 34 Takashi Kogure