2016 SUPER FORMULA
Round4
Twin Ring Motegi
Qualifying 08-20 sat / Race 08-21 sun
Twin Ring Motegi : 4.801 km

Qualifying
No. 20 Yuhi Sekiguchi (ITOCHU ENEX TEAM IMPUL) Captures His Very First Pole Position!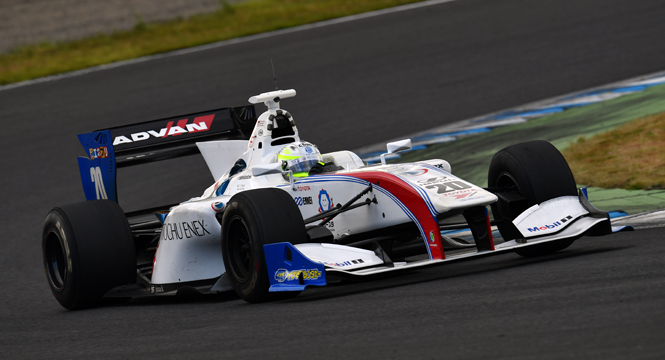 No.20 Yuhi Sekiguchi
On the morning of Saturday, August 20th the practice session took place with wet tires on at Twin Ring Motegi Circuit due to extremely unstable weather conditions. Fortunately, the weather suddenly began to get better, so the qualification sessions were held under dry conditions. Soft tires are being used for the first time in this event in addition to pre-existing medium tires, but ITOCHU ENEX TEAM IMPUL was the only team to try to beat the clock in Qualification 1 with medium tires on. And that strategy played out perfectly. In Qualification 3, No. 20 Yuhi Sekiguchi held off the rest of the pack to capture his very first pole position! No. 1 Hiroaki Ishiura (P.MU/CERUMO・INGING) finished the Qualifications in second, and in third place was No. 40 Tomoki Nojiri (DOCOMO TEAM DANDELION RACING), who finished in front of the other HONDA engine equipped machines while challenging the course in Q3 with medium tires on. No. 36 Andre Lotterer (VANTELIN TEAM TOM'S) with a truly valiant effort after his machine was damaged after coming in contact with another car, finished in fourth--which is his best of the season. Lotterer was followed by No. 2 Yuji Kunimoto (P.MU/CERUMO・INGING), who is currently second in points, No. 64 Daisuke Nakajima (NAKAJIMA RACING) in sixth, No. 3 James Rossiter (KONDO RACING), and No. 16 Naoki Yamamoto (TEAM MUGEN), who currently sits atop of the points rankings.
Qualification 1 began at 2:10 pm in 33℃ heat (track temperature of 38℃), with 19 cars. Only 14 of them could move onto to the next round under the knock-out qualification format. At 5 minutes before the start of Q1, some of the machines were already lined up and ready to go at the pit exit. Due to the wet conditions in the morning, all of the cars were equipped with new medium tires. But it was Sekiguchi who posted the top time of 1:33.670. His team found that it was possible to finish Q1 with medium tires on, so they changed their strategy. With 7 minutes remaining in Q1, the other drivers headed to the pit one by one to try to get better times, thus changing to soft tires. With 5 minutes left, Sekiguchi and teammate #19 J.P. de Oliveira (ITOCHU ENEX TEAM IMPUL) headed back onto the track, just as the other cars were on their out lap. No. 41 Stoffel Vandoorne (DOCOMO TEAM DANDELION RACING) was at the head of the pack of the cars that had changed to soft tires early. Vandoorne wanted some space to attack the track, so he suddenly slowed down in the V corner. This caused a traffic jam behind him in the back straight. As a result, the drivers knew they couldn't record the times they wanted, so they headed to the pits in order to try to prepare for even faster times on lap 3. Accordingly, Vandoorne was able to best Sekiguchi's time, then Ishiura recorded one even better. But just before taking the checkered flag, Oliveria and Sekiguchi recorded yet better times, respectively.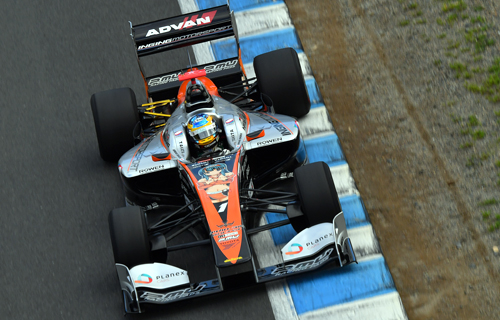 No.1 Hiroaki Ishiura
Qualification 2 began at 2:40 pm after a 10 minute interval. Only 8 of the 14 cars would move on to Q3. The conditions had gotten a little cooler because it was cloudy, so all the cars began Q2 with soft tires on. Daisuke Nakajima recorded a time of 1:33 seconds. Oliveria also recorded a 1:33 lap, but his brakes locked up, which caused him to not be able to best his Q1 time. The other drivers continued to record good times, but Sekiguchi recorded the best time of all of 1:33.214. He was followed by Kunimoto, Nojiri, Yamamoto, Lotterer, Ishiura, and James Rossiter.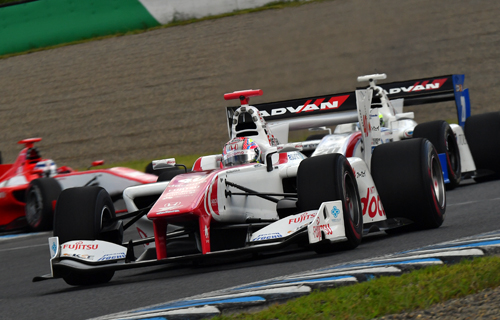 No.41 Stoffel Vandoorne
After another 10 minute interval, at 2:57 pm, Q3 began to determine the top 8 starting grid positions for the Round 4 finals. The only driver left with a pair of new soft tires was Sekiguchi. The rest of the drivers choose between medium and soft tires. Daisuke Nakajima recorded a time of 1:33.877. Lotterer then bested that time. And then Nojiri, with medium tires on recorded an even faster one. Sekiguchi used his new soft tires to his advantage to record a time of 1:33.002 to capture his very first pole position. Ishiura finished in second, and Nojiri in third.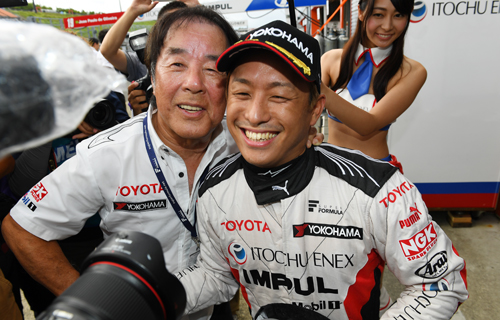 Qualifying TOP 3
The Key was Choosing Medium Tires in Qualification 1. I Had the Upper Hand in Qualification 3

Pole Position
No. 20 Yuhi Sekiguchi (ITOCHU ENEX TEAM IMPUL)

Soft and Medium tires were being used in this race, so the team had a bunch of different strategic options to choose from, and using medium tires in the qualifications was one of them. That really helped me. I ran Q1 with medium tires on, used them in Q2, which left me in the best position for Q3—meaning that I could use new soft tires. So the best answer to the equation was choosing medium tires for Q1.
This will be my first pole position, but I didn't finish the day with the best time, so I only feel about half as happy as I could have.
Our original strategy was to begin Q1 with medium tires on then change to soft. But the team suddenly changed that strategy and told me we were going with only medium tires. I felt a bit nervous about that. Our team used that strategy for both our cars, and we were the only team to do so, but it worked out for the best. If they would have asked me which tire to choose, I would have said soft. So I am grateful to my team. Motegi is not a circuit that you can pass on. Cars with a lot of down force in particular can't pass well at Motegi, so the start and the first lap are especially important. I think that will be 70% of the worry for the race, so I will concentrate on that.

There Was a Huge Gap Between Me and the Top, So it Was a Disappointing Qualification

Second Place Finisher
No.1 Hiroaki Ishiura (P.MU/CERUMO・INGING)

We totally changed the set up for my car for the qualifications. We also put every possibility that we had into Q3, and believed the tire test results from Fuji Speedway. So that is why we decided to go with used soft tires. We were unsure how to use medium tires for this race, and felt soft tires would give us faster results. So with thoughts of both faster times and good balance in mind, we felt confident about using soft tires. We knew that medium tires in Q3 wouldn't yield faster results, so we didn't think twice about not going with medium tires. We did what we could, but there was a huge gap between me and the top, so it wound up being a disappointing qualification.

I Had Confidence for Q3 and Wanted to Put Everything I Could Into it

Third Place Finisher
No. 40 Tomoki Nojiri (DOCOMO TEAM DANDELION RACING)

We used soft tires for Q2 and finished in third, but we had already decided what settings to go with on my machine, so I wanted to put everything I had into Q3. On the other hand we didn't want to use used soft tires. Simply because we didn't feel we'd get the time we wanted. With used soft, you don't get the grip feel that you need, and if they get cold, they would be the same as medium tires anyway. So we went with medium tires. But we didn't get the grip from them that we wanted. The top two drivers both had soft tires, and I was the top driver with medium tires on, so I did the most with what I had to work with. Tomorrow's weather is unpredictable, but at any rate I will do my very best.