2016 SUPER FORMULA
Round4
Twin Ring Motegi
Qualifying 08-20 sat / Race 08-21 sun
Twin Ring Motegi : 4.801 km

Race
No. 20 Yuhi Sekiguchi (ITOCHU ENEX TEAM IMPUL) Makes a Commanding Statement as He Gains First Victory!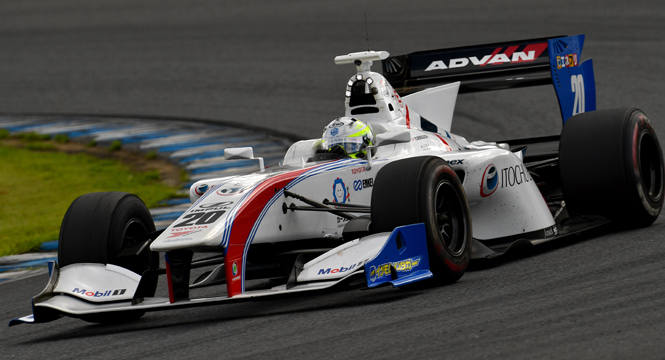 No.20 Yuhi Sekiguchi
The weather conditions were expected to be wet for the finals that took place at Twin Ring Motegi on Sunday, August 21, 2016. But from the morning hours, it was extremely humid, dry track conditions which lasted all the way throughout the finals. No. 20 Yuhi Sekiguchi (ITOCHU ENEX TEAM IMPUL), who won his first ever pole position in the qualifications on the previous day, got off to a superb start to the finals, and kept the lead all the way to the checkered flag. No. 36 Andre Lotterer (VANTELIN TEAM TOM'S) finished second, which was his first finish in the top three this season. And No. 1 Hiroaki Ishiura (P.MU/CERUMO・INGING) finished in third place.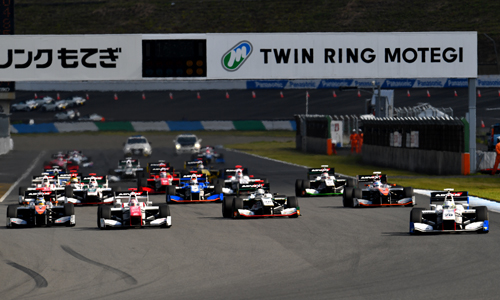 The formation for the finals got underway at 3 p.m. under 33℃ temperatures (Track temperature 40℃). Medium and soft tires had to be used according to the rules for this race, but 2/3 of the cars had soft tires on for the start. 10th grid starter No. 19 J.P. de Oliveira (ITOCHU ENEX TEAM IMPUL), 11th grid starter No. 37 Kazuki Nakajima (VANTELIN TEAM TOM'S), 12th grid starter No. 10 Koudai Tsukakoshi (REAL RACING), 13th grid starter No. 4 William Buller (KONDO RACING), 14th grid starter No. 8 Kamui Kobayashi (SUNOCO TEAM LEMANS), No. 15 grid starter No. 65 Bertrand Baguette (NAKAJIMA RACING) were the only 6 cars to begin the race with medium tires on.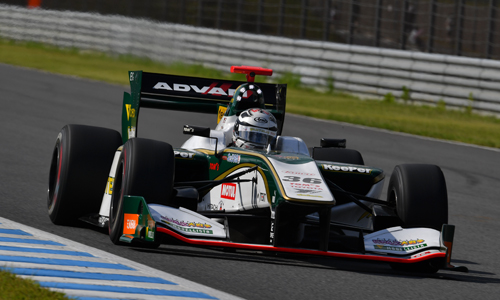 No.36 Andre Lotterer
Pole position starter Yuhi Sekiguchi said at the post race press conference that he had worked a lot on starts, but still had worries going into the race finals. But those worries soon went away, as he got off to a superb start. Ishiura, normally known for his great starts, didn't begin this race in usual fashion. So No. 40 Tomoki Nojiri (DOCOMO TEAM DANDELION RACING) and Lotterer took advantage of that as they passed Ishirua. But Nojiri's brakes locked up on him as he made his approach into corner one, which helped Lotterer to jump up into the second spot. Nojiri, Ishirua No. 2 Yuji Kunimoto (P.MU/CERUMO・INGING), No. 3 James Rossiter (KONDO RACING), No. 64 Daisuke Nakajima (NAKAJIMA RACING), and Kazuki Nakajima, who made his move at the start of the race, all followed in pursuit of Sekiguchi and Lotterer. No. 16 Naoki Yamamoto (TEAM MUGEN) got off to a good start, but slightly ran into the car in front of him. As he tried to pick up speed again, he tried a little too hard, and ended up going off of the course.
Sekiguchi continued to pick up the pace and distance his car from the others. After the first lap, he already had a 2.4 second lead over second running Lotterer. By lap 10, he had a full 5 second lead. On the 5th lap, while in 3rd place, Nojiri suddenly slowed down and headed to the pits. He had his steering changed, but that didn't solve the problem, so he exited his machine and the race. It appears it was an electrical malfunction that kept him from being able to change gears. Oliveira was plagued by the same exact problem as Nojiri, so he too headed for the pits. And he too was left no choice but to exit his vehicle. Because of this unlucky turn of events, Ishiura was able to move up to the 3rd spot, and by lap 15, he closed what was a 4 second gap to only a 1 second gap between his car and Lotterer's.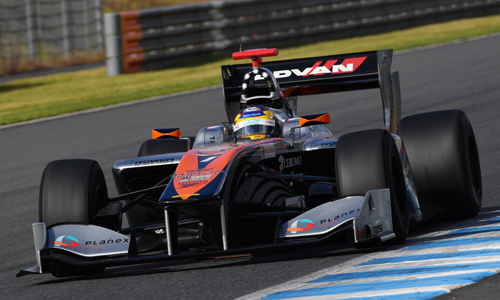 No.1 Hiroaki Ishiura
The other car drivers started to head to the pits as part of their usual routine. No. 7 Narain Karthikeyan (SUNOCO TEAM LEMANS) did so on lap 12. Kazuki Nakajima, Tsukakoshi, Takashi Kogure (DRAGO CORSE) went into the pits on the next lap. Karthikeyan's team had a rough time getting the nut off on his left front tire, which caused a big time loss. Nakajima and Tukakoshi changed their tires from medium to soft. And Kogure changed from soft to medium. Nakajima was the driver whom was able to record the fastest time with medium tires on. He continued to record good times with soft tires on, but wasn't able to move up in the race because of the congestion in front of him.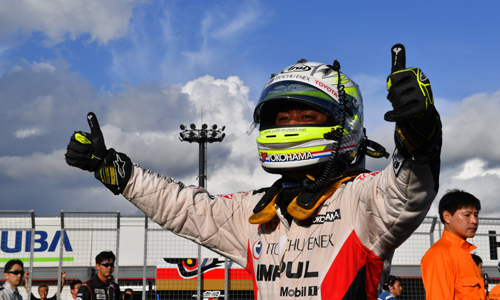 No.20 Yuhi Sekiguchi
On lap 27, Yamamoto went to the pits. The team work in the pits was remarkable, so he was able to have his tires changed to medium and fuel added in just 12.3 seconds. This gave him the possibility of finishing the race in the top 6.
Sekiguchi headed to the pits on lap 34. He had over a 10 second lead over Lotterer, so the team changed his tires in a manner that helped him to maintain a large lead. Lotterer and Rossiter went to the pits on lap 36. It took Rossiter's team too long to change his left rear tire, so No. 41 Stoffel Vandoorne (DOCOMO TEAM DANDELION RACING) consequently took advantage of that and moved up a spot. On the next lap, Ishiura went to the pits in hopes of come out onto the track in front of Lotterer, but Lotterer crossed the control line first. On lap 39, Rossiter was able to get back out in front of Vandoorne between corners 1 and 2 to move up into 5th.
Sekiguchi continued to command a lead, but his pace slowed down a bit during the last portion of the race. He waved his hand to the crowd in the back straight on his last lap, as he knew victory was his. In just his 4th Super Formula race, he was able to pick up his 1st victory. Lotterer finished 2nd, Ishiura 3rd, Kunimoto 4th, Rossiter 5th, followed by Vandoorne in 6th.
With this victory, Sekiguchi moved up to 1st in the rankings with 11 points for a pole position to checkered flag finish. But the points race is very tight at this point. Lotterer, Ishiura, Kunimoto, Yamamoto are behind Sekiguchi in the rankings, but it is still anyone's for the taking.
TOP 3 comments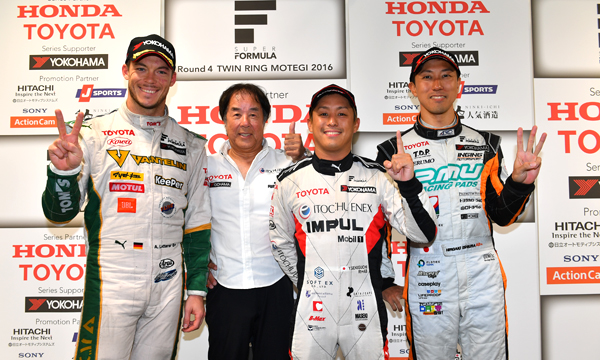 It was an easy win. I am grateful to my team

Winner
No. 20 Yuhi Sekiguchi (ITOCHU ENEX TEAM IMPUL)

The team really helped me beginning from yesterday's qualifications. The team's race strategy and the car was in race condition, so I was able to take pole position. I am not a good starter, but if I got off to a good start, I knew I could hold off the cars behind me like I showed I could do at Fuji Speedway. So I put everything I had into making it first into corner one. And that is what I was able to do. The car was really fast, so I had no worries. So it was an easy win. I am grateful to my team.
Over this weekend, I worked hard on my starts. I put the emphasis on my start, because I knew it would have been tough to make a move after that. The driver's rankings points of course has to do with other drivers, but I knew if I won this one, I could move up to the top of the rankings. If I would have messed up in this race, I would have fallen back into being my usual self. But I didn't want that. I wanted to show the potential that I have. So I kept telling myself that. I said even if I couldn't get off to a great start, a good one would suffice. Ishiura was next to me, so I told myself, that even if we ran neck in neck it would be okay. All I need is just a normal start. But I got off to an even better start than I expected. (laugh)
I moved up all the way from 10th to 1st in the rankings. I want to win the driver's points ranking this season. There are still a few races left, so I will keep my rivals and points ranking in the back of my mind, as I try to win next race. I will start worrying more about the driver's rankings the race before the season finale. If I can maintain a good enough spot, I will start thinking about winning the season championship.

I am happy with 2nd place

2nd place
No. 36 Andre Lotterer (VANTELIN TEAM TOM'S)

First of all congrats to Sekiguchi-san for his first win.He appears to be a really great racer.So it is nice to see good racers like that.Yeah, it was okay for me. I had a good start.I gained one position.Then immediately Nojiri locked up, so I gained another place.And then it was, let's say a bit of a boring race in second place all the way.Sekiguchi-san was quite a bit faster with the soft tires.Obviously they did testing a month ago with these tires, and then knew a bit more about the tires than us. I finished a bit too much with the tires. Towards the end of the first stent, I was beginning to pick up some pace again, but was getting better. But I ran into some traffic. Today was a bit bad with the blue flags, to be honest. Then we pitted a bit earlier than planned, put on medium tires, and was catching a bit. Not too much. Then on the last five laps my tires were done. Then I just had to secure second place. It is good to be back on the podium.

With the overall season in mind I think this was a positive finish

3rd place
#1 Hiroaki Ishiura (P.MU/CERUMO・INGING)

I wanted to get off to a good start. Things went well during practice, but unfortunately, I couldn't get the grip I needed going into the inside part of the first corner. That allowed a few other cars to get in front of me.
My car was really fast. If there weren't any other cars ahead of me, I would have been able to have went even faster. After going into the pit, the time between me and Andre was pretty big, but I was able to bring that down with lap times in the 1:36 second area. So the potential was there. During free practice on Friday, the other cars at the top were running much faster, so I got with my team to figure out how to close the gap. I felt like we were able to do that. With that said, I felt confident going into the finals. We weren't able to use our tires right however. But if we are able to do that, I think the way we finished was on a positive note.
Last year, I took it one race at a time, and that brought me down a bit. But this season, I am not thinking like that, I just want to enjoy racing. So we go into things with no plan. I feel a big difference between my car and the other team's cars, so we need to shorten that difference, and I need to make sure I don't make any mistakes. If we go for the win, I feel we can win a few more.