2016 SUPER FORMULA
Round5
OKAYAMA INTERNATIONAL CIRCUIT
Race 1 & Qualyfing 09-10 sat / Race 2 & Qualyfing 09-11 sun
Okayama international Circuit:3.703km

Preview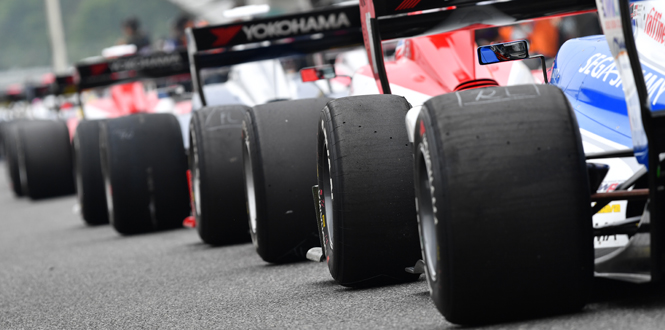 Round 5 Should Prove to be Very Exciting with Races on Two Days

Super Formula Round 5 will be held on Saturday, September 10th and Sunday, September 11th at Okayama International Circuit. This round was originally planned for Autopolis Circuit in Oita Prefecture. But due to the damages suffered because of a devastating earthquake in April of this year, this round will be held in Okayama. Super Formula Round 2 also took place at Okayama International Circuit, but due to heavy rains, it began and ended with the safety car on the track, which was no doubt a disappointment for fans. Round 5 however will feature a special format in which qualifyings and races will be held on both Saturday and Sunday, which is sure to excite viewers and spectators alike.
The special format for Round 5 will include a 1-hour free practice run on Saturday morning, followed later by a 20-minute qualifying. And in the afternoon, a 30-lap race will take place, with no tire change restrictions--which should add to the driver's going all out to capture a victory. Sunday, there will be no free practice run, with only Q1 and Q2 knock-out format qualifyings. The race on Sunday afternoon will be 51 laps, with a mandatory tire change. Friday, no free practice will be held, like has been the case during other rounds this season. Four new sets of medium tires will be supplied for this round.
The focal point for this type of race format will be how the teams use their tires. Okayama International Circuit is notorious for drivers not being able to use their overtake, so finishing positions in the qualifyings will be crucial—especially for the sprint race on Saturday. With that said, it is unlikely that all 4 sets of tires will be used during Saturday's qualifying. Most teams will probably choose to leave 2 sets for the knock-out format qualifyings on Sunday. As the qualifying on Saturday will be a 20-minute timed one, most drivers will probably want to come out with all they've got from the get-go. The out lap from the pit will also be an important portion of the qualifyings, as well. If all 19 cars want to come out with all they've got, it will be extremely difficult for them to get a clear track to run on. So drivers will probably battle it out for the best position in the out lap. Most drivers will probably want to come out with cooled tires and use their overtake. Also, in order to have enough clear asphalt in front of them to work with, a good amount of the drivers will probably line up in the pit exit area 5 minutes or more prior to the start of the qualifying. During that wait, their water and oil temperatures will probably be on the rise, but who gets the best position and how tires get warmed up during the out lap is what to watch for in the qualifying on Saturday, as well as Sunday.

For the race on Saturday, the biggest point to watch for will be the start. Especially for sprint races like this one, a good start or bad one pretty much dictates the end result. The same will hold true for Sunday's race. But the mandatory tire change, the timing of a pit stop, and the length of the stop and the team work in the pit will also be tremendous factors. Because the race on Sunday will also be shorter than usual, no fueling, just a tire change will probably be the norm.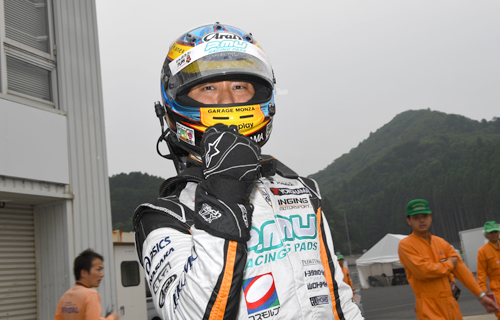 No. 1 Hiroaki Ishiura
In terms of drivers to watch for, the defending champion at Okayama International Circuit #1 Hiroaki Ishiura (P.MU/CERUMO・INGING) is at the top of the list. Because he is so good at this track, Ishiura hasn't lost in more than a year in Okayama. His teammate #2 Yuji Kunimoto (P.MU/CERUMO・INGING), who has scored points constantly this season and No. 20 Yuhi Sekiguchi (ITOCHU ENEX TEAM IMPUL), who won his first pole to checkered flag in Round 4 at Motegi, are also at the top of the list.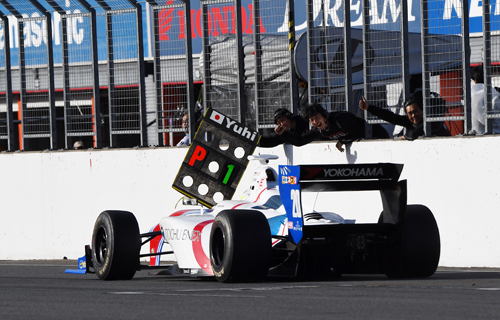 No. 20 Yuhi Sekiguchi
It will be interesting how #19 J.P. de Oliveira (ITOCHU ENEX TEAM IMPUL), who started in the front row at Round 2 in Okayama, comes into this race. Although the past couple of rounds this summer have been tough on them, No. 10 Koudai Tsukakoshi and No. 11 Takuya Izawa, both of (REAL RACING), were really fast in the qualifyings and made their way into the top three last time at this circuit.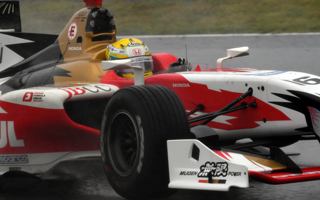 No. 16 Naoki Yamamoto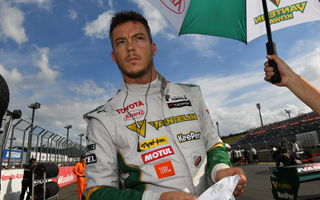 No. 36 Andre Lotterer
The top 5 in the driver's points rankings are only separated by a mere 3 points—so the driver's championship is still anyone's for the taking. No. 36 Andre Lotterer (VANTELIN TEAM TOM'S), who just returned from the FIA World Endurance Championship 6 Hours in Mexico, and No. 16 Naoki Yamamoto (TEAM MUGEN) who is currently ranked 5th in points, are also drivers to keep an eye on. No. 37 Kazuki Nakajima (VANTELIN TEAM TOM'S), who has had some unlucky breaks this season, and No. 8 Kamui Kobayashi (SUNOCO TEAM LEMANS) who just missed out on picking up points last round at Twin Ring Motegi, are surely looking to place high this time around. No. 41 Stoffel Vandoorne (DOCOMO TEAM DANDELION RACING) who will compete in Formula 1 next season, will be taking part in his second race at Okayama, so he will surely show off his speed. No matter who fans will be cheering on, both races will surely be filled with lots of intensity.