2016 SUPER FORMULA
Round7
Suzuka Circuit
Qualifying 10-29 sat / Race1 | Race2 10-30 sun
Suzuka Circuit : 5.807 km

Qualifying
Super Formula Round 7 Qualifying at Suzuka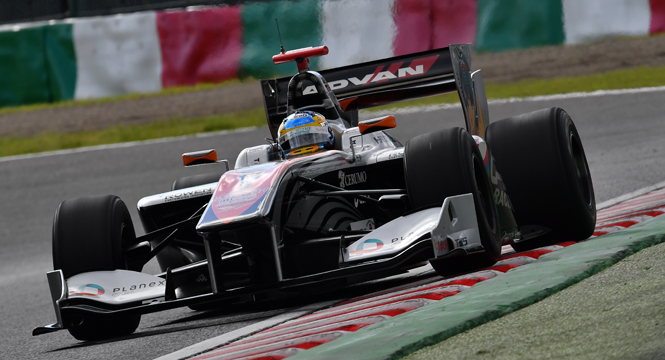 Going into the last Qualifying for the 2016 Super Formula season, of the 19 drivers, 12 were still in the hunt for the Driver's Champion crown—6 of them were possibly able to take it all without having to have some help from other drivers.
Q1
2nd ranked #2 Yuji Kunimoto (P.MU/CERUMO・INGING) was at the head of the pack of the cars waiting to begin the Qualifying. Each of the cars entered the track from the pit road and warmed their tires up. With 10 minutes remaining in Q1, all of the cars were in the pit. #64 Daisuke Nakajima (NAKAJIMA RACING) was the first car to get back on the track, as pit road began to overflow with cars wanting to join Nakajima. #20 Yuhi Sekiguchi (ITOCHU ENEX TEAM IMPUL) gave it a little time before returning to the track. Then it was time for the cars to begin their time attacks, as their tires were warmed up. #41 Stoffel Vandoorne (DOCOMO TEAM DANDELION RACING) was the first to record the fastest time. But #1 Hiroaki Ishiura (P.MU/CERUMO・INGING) came out hot, and was the first car to record a time in the 1 min. 37 sec. range. Kunimoto and Sekiguchi with new tires on were ready to do a time attack, but couldn't record the times they'd wanted because of congestion in front of them. Ishiura's time was just too fast, and he ended the session by winning pole position for Race 1 tomorrow. His teammate Kunimoto will begin from the 2nd grid. Sekiguchi made it through knock-out-format Q1, but will start in 11th. After the checkered flag came out, #8 Kamui Kobayashi (SUNOCO TEAM LEMANS) went off course. He made it through Q1 in 10th position, but wasn't able to run in Q2.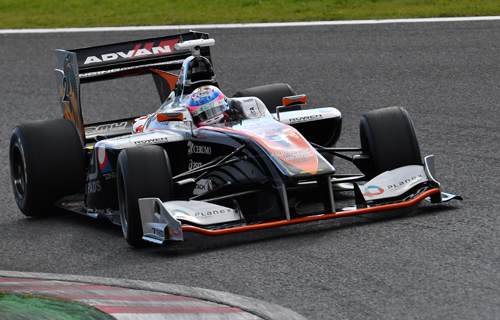 Q2
14 cars were left to compete in Q2 after 5 cars were knocked-out of Q1. Ishiura, the first on the track in Q2, was able to record the fastest lap time. His teammate Kunimoto then bested him. They were followed by Vandoorne and his teammate #40 Tomoki Nojiri (DOCOMO TEAM DANDELION RACING). Sekiguchi wasn't able to record a good time, and gave up on trying to do a time attack on his last lap, so his hope of making it onto the next session vanished. His teammate J.P. de Oliveria (ITOCHU ENEX TEAM IMPUL) also wasn't able to make it past Q2 either. With those results, their team's possibility of a Team Championship could be in jeopardy. #37 Kazuki Nakajima (VANTELIN TEAM TOM'S), and his teammate #36 Andre Lotterer (VANTELIN TEAM TOM'S) were able to finish in 7th and 8th to make it to Q3. As far as teams go, it is 2 cars from P.MU/CERUMO・INGING, DOCOMO TEAM DANDELION, NAKAJIMA RACING, and VANTELIN TEAM TOM'S that were left in the top spots going into Q3. Kunimoto, Ishiura, and Vandoorne finished Q2 in the top 3.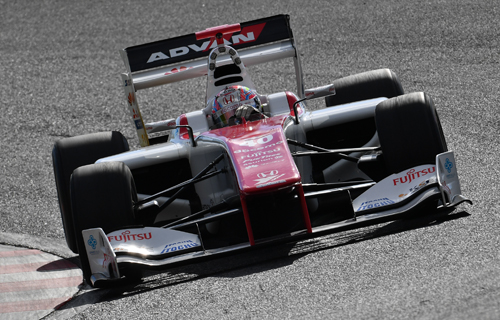 Q3
Out of the 8 cars that moved on to Q3, Kunimoto was the one who immediately got down to business in trying to record the fastest lap. He recorded a pretty good time of 1'37.02, but Ishiura set a blistering time of 1'37.00, which was just a hair faster than Stoffel Vandoorne, who finished 2nd behind Ishiura. 2nd ranked Kunimoto finished Q3 in the 3rd spot, and with his 2nd place finish in Q1, he holds the advantage of possibly becoming this year's Driver's Champion.