2016 SUPER FORMULA
Round7
Suzuka Circuit
Qualifying 10-29 sat / Race1 | Race2 10-30 sun
Suzuka Circuit : 5.807 km

Race
Super Formula Round 7 Race 2 Results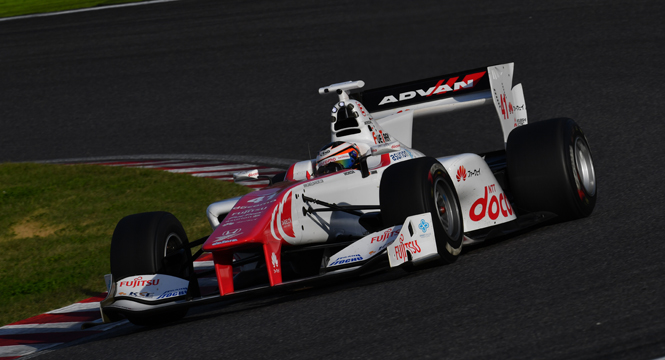 The distance for Championship Race 2 was slightly longer than last season at 203 km (35 laps). There was also a mandatory tire change for this race.
#41 Stoffel Vandoorne (DOCOMO TEAM DANDELION RACING) got off to a tremendous start and was able to jump into 1st place from 2nd grid ahead of pole position starter #1 Hiroaki Ishiura (P.MU/CERUMO・INGING). VANTELIN TEAM TOM'S two driver's #36 Andre Lotterer and #37 Kazuki Nakajima showed their speed as well at the start of the race by jumping up from the 5th and 6th grid to 3rd and 4th. #2 Yuji Kunimoto (P.MU/CERUMO・INGING) with the series Driver's Championship on the line end up dropping down to 6th place.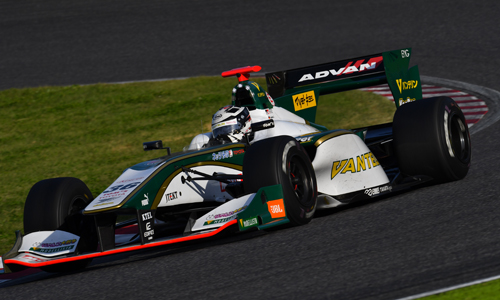 As the teams in the pits began to prepare for the mandatory tire change, Kazuki Nakajima headed to the pit after the first lap. By the middle of the race, 10 drivers had already completed their mandatory tire change, too.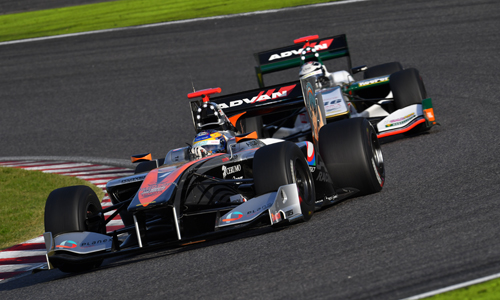 Front running Vandoorne, and Ishiura headed to the pit on lap 16. And both were able to make it out and back on to the track ahead of Lotterer. But Lotterer used his overtake system to try to make it past Ishiura, but Ishiura was successful in holding him off. So at that point in the race, it was Vandoorne in front, followed by Ishiura, then Lotterer.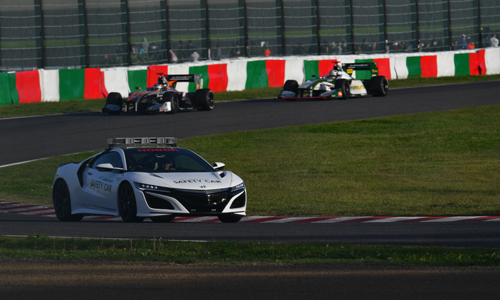 Kunimoto was temporarily in the lead after most of the cars had changed their tires, but he was still yet to head there himself. Then in the spoon during lap 24, #11 Takuya Izawa (REAL RACING) crashed, which brought out the safety car. Kunimoto used that opportunity to head to the pit and change tires, while fueling up. He was in 7th when he returned to the track, so all he could do was concentrate on trying to get some more points to help his chances at winning the crown.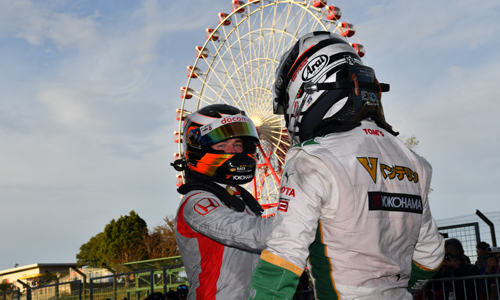 Andre Lotterer needed a win in this race to take capture the series Driver's Championship, but trying to overtake Vandoorne and Ishiura was a tall order. On lap 29 however, #16 Naoki Yamamoto (TEAM MUGEN) and #7 Narain Karthikeyan (SUNOCO TEAM LEMANS) cars' came into contact—bringing out the safety car yet again. Lotterer took full advantage of the situation, and was able to overtake Ishiura after the safety car left the track. He pushed hard to gain on Vandoorne, but in the end, with less than 1 second between them, Vandoorne captured the checkered flag for his 2nd Super Formula win of the year—leaving his fans with warm memories of his 2016 season, and wishing him only the best in F1 next year.
Yuji Kunimoto was able to win the Driver's Championship by picking up much needed points with his 6th place finish. This also helped his team to win the Team Championship for the 2nd year in a row.