On June 27th and 28th, the Japanese Championship Formula NIPPON Round 4 was held at Fuji Speedway (Shizuoka Prefecture). No.31 Loic Duval (NAKAJIMA RACING) got pole position in the qualifying and continued to dominate the rainy race to capture his second win of the season.

Surprising ending for Pole Position scramble by NAKAJIMA RACING duo.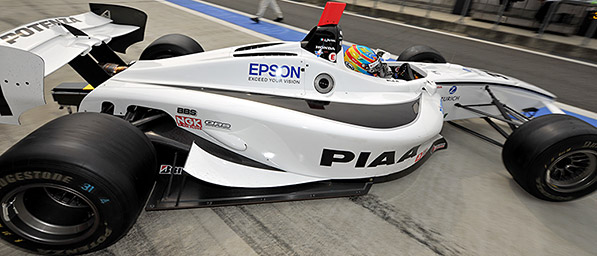 No.31 Loic Duval

Qualifying was carried out in a knock-out system where faster cars stay in through three sessions. The sunny weather kept the track dry throughout the day. Winning the second and third round, NAKAJIMA RACING kept their momentum the day and No.32 Takashi Kogure placed first in Q1 and Q2 and Duval at second. It seemed that Kogure had it all in his hand, but he spun on his first attack in Q3. No significant damage to his car but he appeared to lose his rhythm and could only clock mediocre time when he retried another hot lap and ended at sixth fastest. Contrastingly, Duval perfected his attack lap and captured first ever pole position in his four-year Formula NIPPON career.

The winner of season opener held also in Fuji, No.2 Benoit Treluyer, was knocked out of the contest in Q2, causing an upset in the qualifying.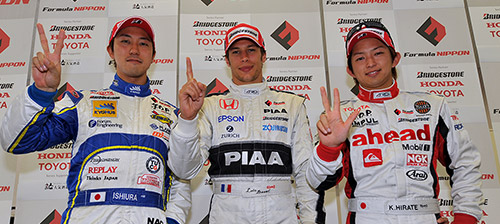 Qualifying Top 3 - 2nd: No.8 Hiroaki Ishiura / PP: No.31 Loic Duval / 3rd: No.20 Kohei Hirate

◊ ◊ ◊

Duval showed unmatched speed in the heavy rain.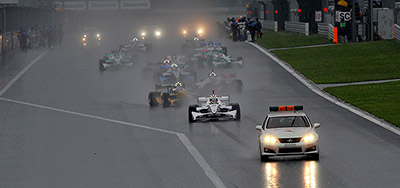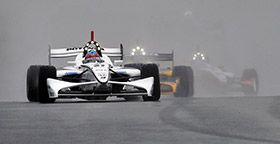 Rain started to pour at around noon on the race day, and the organizer decided to start the race with Safety Car leading the field as a safety measure. Safety Car left the track after three laps to mark the true start.

Starting from the pole, No.31 Loic Duval (NAKAJIMA RACING) maintained his top position and flew at a pace about 1 second faster than anybody on the track. The gap between Duval and No.8 Hiroaki Ishiura (Team LeMans) at second place had expanded to 10 seconds on Lap 13.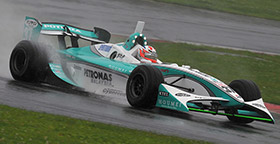 No.37 Kazuya Oshima At the end of Lap 33, Duval had a huge gap against two drivers fighting for the second place, Ishiura and No.20 Kohei Hirate (ahead IMPUL), but No.41 Takuya Izawa (DOCOMO DANDELION) spun on the lap and stopped his car on the track. Safety Car was deployed which forced all cars to reduce their speed.

Duval at the top lost most of the margin he had created due to this. Moreover, almost entire field went in for a pit stop during the Safety Car run except for No.37 Kazuya Oshima (PETRONAS TOM'S) and No.40 Richard Lyons (DOCOMO DANDELION) who decided to go with a no-pit-stop strategy. It looked as though No.36 Andre Lotterer (PETRONAS TOM'S) was also taking the strategy, but he went in to the pit while Safety Car was still on the track which consequently put him behind in the back group. Duval, Oshima, Lyons, Ishiura, and Hirate formed the top 5.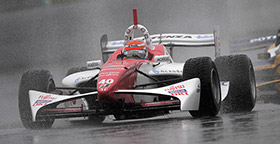 No.40 Richard Lyons Race resumed after Lap 39. Soon after, Duval left the rest of the field behind with impressive laps that were even faster than his runs in the first half of the race. At the end, Duval pulled off a win with an enormous gap of over 40 seconds ahead of Oshima at second place. He now has two wins in the season following his first one in the second round as Suzuka that was also held in rain. Oshima, who decided to stay away from the pit, managed his fuel cleverly and pushed back enormous pressure from Lyons to finish second. Oshima became the first out of the three rookies of the season to be on the podium. Lyons finished third.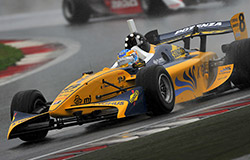 No.8 Hiroaki Ishiura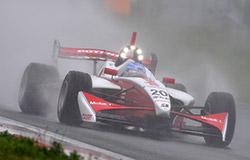 No.20 Kohei Hirate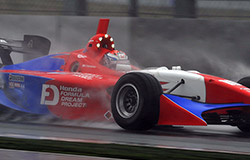 No.10 Koudai Tsukakoshi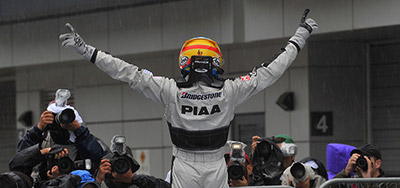 ◊ ◊ ◊
It was a tough race.

Winner No.31 Loic Duval(NAKAJIMA RACING)
It was a very hard day. After getting the pole position in dry yesterday, you would think you have the race in your hands if the race were also in dry, so, in your mind, you would hope to race in dry. But the reality was totally different and the race was tough. Amount of rain drops changed constantly and the track condition changed with it, and I had aquaplane (a phenomenon where cars lose traction due to a thin film of water created between the tires and road) on one lap, but it got better soon after that.... Also, with the Safety Car coming in, I lost the entire gap I had created, so it just made it even harder. But the team prepared a really good car; it was competitive in any kind of conditions, so I'm glad that I was able to win today for my staff as well.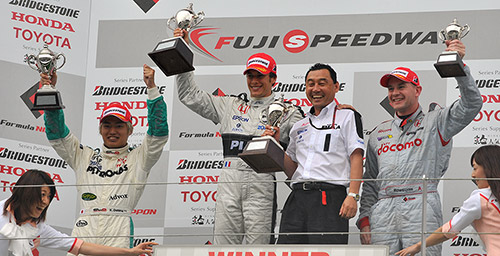 2nd: No.37 Kazuya Oshima / Winner: No.31 Loic Duval & Nakajima (Team Manager) / 3rd: No.40 Richard Lyons