On August 7th and 8th, Japanese Championship Formula NIPPON Round 6 was held at Twin Ring Motegi (Tochigi Prefecture). No.32 Takashi Kogure (NAKAJIMA RACING) snatched pole position. No.36 Andre Lotterer (PETRONAS TOM'S) rocket-started from fifth grid and carried on superbly to grab his first win since August 2007.

NAKAJIMA continues to dominate 1st and 2nd in Qualifying.

No.32 Takashi Kogure

The Knock-out qualifying, a system also adopted by Formula One, turned out to be an internal battle of booming NAKAJIMA RACING with teammates, No.32 Kogure and No.31 Loic Duval (NAKAJIMA RACING), fighting for the pole. Duval topped Q1, but Kogure stood up to control Q2 and Q3 and clinched his second pole position of the season again in Motegi to achieve back-to-back pole position at the circuit since the Round 3. Duval secured second place on the starting grid to complete NAKAJIMA RACING's consecutive 1 & 2 in qualifying from previous round in Suzuka.

Third place on the grid went to the same driver as in the last round, No.8 Hiroaki Ishiura. Tochigi's hometown rookie, Koudai Tsukakoshi (HFDP RACING), placed fourth in qualifying. Lotterer at fifth, and No.2 Benoit Treluyer (LAWSON IMPUL), who is ranked second in the championship, struggled in setting up his car and had to settle with sixth position on the grid.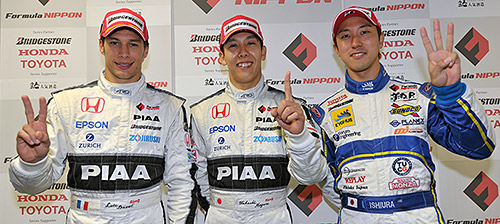 Qualifying Top 3 - 2nd: No.31 Loic Duval / PP: No.32 Takashi Kogure / 3rd: No.8 Hiroaki Ishiura

◊ ◊ ◊

Adversity pulled Kogure back. Treluyer strove at start to grab 3rd.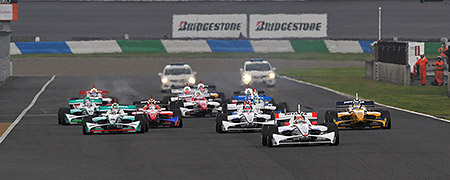 Although few drops in the early stage, expected rain shower held up for the race and the track remained dried for the whole distance. Temperature was 28 degrees Celsius, which was rather low for a usual race in Japanese summer.

No.31 Loic Duval The race started with pole sitter Kogure orderly going through the first corner in the leading position. However, the field behind Kogure was not so orderly with Lotterer making a big leap to the second position from fifth on the grid. Second fastest qualifier Duval lost some ground at the start and allowed not only Lotterer but also Ishiura to get by which put him behind to fourth place for a moment before he quickly gain back a position to complete the opening lap at third place.



No.2 Benoit Treluyer Creating nearly 2 seconds lead over Lotterer at second place in just one lap, it looked like a plain sailing for Kogure. But he was given a drive-through penalty for moving slightly just before the red lights went off at the start, which officials judged as a jump start. The penalty forced Kogure to drop way back to the end of the field, taking him away from the contention in early stage.



No.8 Hiroaki Ishiura Meanwhile, Lotterer at front and Duval at his tail showcased an intensive battle with only 0.4 to 0.7 second separating the two. Contrastingly, Ishiura at third place and Treluyer at fourth were each running solely with some gap created in between.

At around 20 laps into the race, cars started to come back to the pits to satisfy mandatory pit-stop that was regulated for the race in Motegi. Lotterer at top came in for his pit-stop on Lap 24. Duval right behind followed Lotterer into the pit lane, and it was a battle between the team crews. Lotterer and TOM'S finished their work in about 20 seconds while Duval and NAKAJIAMA RACING took a little longer at 24 seconds. Moreover, Duval got back to the track behind another car which held him back all the way in his out-lap, causing the gap against Lotterer to extend to about 7 seconds.

Duval pushed as hard as he can in the remaining laps to shorten the gap. Nonetheless, Lotterer outran Duval rather safely and crossed the finish line first to grab a win that was away from his hands since the Round 6 Fuji held in August, 2007. Duval finished second and retained his lead in the championship.

Dramatic ending awaited for the third place battle. At 2 laps to go, a problem occurred on Ishiura's paddle-shift while he was running third position towards the finish. Left only with the second gear, Ishiura significantly lost his speed which allowed Treluyer to overtake. As a consequence, Treluyer, second in the championship, finished the race at third place to maintain his chance to outstrip Duval in the remaining two races to become the champion.

No. 1 Tsugio Matsuda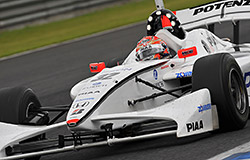 No.32 Takashi Kogure
◊ ◊ ◊
It was just a perfect race. Many thanks to the team.

Winner No.36 Andre Lotterer (PETRONAS TOM'S)
I got a little bit of luck, but, basically, it was a perfect race. I started like a rocket with good reaction and got up to second place. Then Kogure got a penalty which put me to the top, and that was lucky. But Loic was right behind me and I knew his car was very quick and he was going to push me. But my car was very good and I knew how I should drive it. I had a lot of fuel on my car, so I knew my pit-stop was going to be short, and if I got back on the track in front of Loic, then it would be difficult to pass me because Motegi is hard to overtake. I would like to thank my team for preparing me a good car. I'm so happy for the win.