The opening round of Formula Nippon 2010 was held on 18th April at Suzuka International Circuit, Mie-Prefecture, Japan. The Gathering of over 51,500 spectators total for the weekend were attracted and excited to watch the close and heated battles that took place through out a good 37laps.

Takashi Kogure (NAKAJIMA) PP is the highlight of the season's first win!

No. 32 Takashi Kogure

Like spring sunshine fell on April 17 (Saturday), the opening match of the All Japan Championship Formula Nippon 2010, the time has come finally qualifying in Suzuka Circuit. Traditional course record 10 machines in 14 units (140 .560) that contested qualifying updates. Among them, the first pole position this year, but remained 31 № Takashi Kogure playing well in the tests here (NAKAJIMA). The second to 19 № JP de Oliveira (Mobil 1 TEAM IMPUL), the third tier Andre Lotterer 36 № (PETRONAS TEAM TOM'S) followed their lead. 1 № defending champion Loic Duval (DOCOMO TEAM DANDELION RACING) is, Q3 lap crash in the final corner. And will start tomorrow's race from seventh.

◊ ◊ ◊

Takashi KOGURE (Nakajima Racing) Score Upset Victory !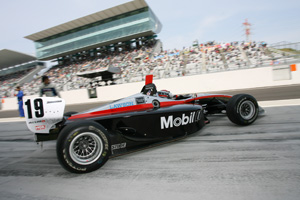 No.41 Takuya Izawa Takashi Kogure (JPN, Nakajima Racing), who dropped his position from pole position down to second in the opening lap, yet succeeded in regaining his initiative by a fantastic pit work which brought him a valuable victory in the opening round, followed by Joao Paolo de Olivereira (BRZ, Mobil 1 TEAM IMPUL), who came back to the championship this year, as 2nd and Andre LOTTERER (GER, PETRONAS TEAM TOM'S) as 3rd. For 4th came Kohei Hirate (JPN, Mobil 1 TEAM IMPUL) who attracted the spectators by showing many thrilling overtaking scenes in the last few laps, for 5th came Tokuya Izawa (JPN, Docomo Team DANDELION), and for 6th came the series champion 2009, Loic Duval (FRA, Docomo Team DANDELION) who joined the new team to win another title in the 2010. .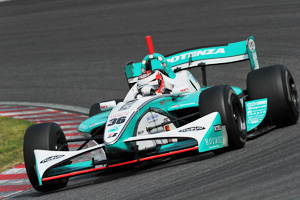 No.20 Kohei Hirate 13:45p.m., a gentle spring sunshine warming up the atmosphere up to 18 Degrees Celsius, Track Temp. of 32 Degrees Celsius, the Formation-Lap for the finals took place on time, in which Kazuya Oshima (JPN, PETRONAL TEAM TOM'S) who qualified in 9th position was left behind due to his accidentally stalling the engine, ending up in rejoining his rivals on the very last grid of the race to start.
The signal blacks out for the opening round and all the drivers rushed into turn 1. Oliveira took over the lead from his 2nd grid, while the pole sitter, Kogure, dropped his position down to 2nd. Lotterer also dropped his position down to 4th due to his wheel spinning on the start, seeing aside Izawa jumping up to 3rd. Kodai Tsukakoshi (JPN, HFDP Racing) and Duval followed. In the latter group, Kei Cozzolino's (JPN, Team LeMans) losing his balance in his turning into the S corners resulted in touching Katsuyuki Hiranaka (JPN, KCMG), which finished the race for them both.
Oliveira gains a gap little by little as he pushes to his follower, Kogure. Behind these top two drivers, Izawa managed to keep his 3rd position despite the fact that he was pushed hard by Lotterer who was lapping faster, but also who was struggling with his losing front down force as the two machines get closer for Lotterer's attempting to overtake Izawa. While Izawa and Lotterer were battling for the 3rd position, Tsukakoshi succeeded to catch up with them and was almost there to join in the heated battle. Behind them, Yuji Ide (JPN, MOTUL team MUGEN), Noki Yamamoto (Nakajima Racing) and Hirate were battling closely for 5th position, which was taken by Hirate by his overtaking Yamamoto in Lap 5 and overtaking Ide in Lap 12. Hirate also benefitted from Tsukakoshi's slowing down due to the paddle shift system's breaking down: Hirate jumping up to 5th.

Among the top 5 drivers, Lotterer decides to come into the pit first among all for new tires and a refuel after his pushing the car for 13 laps. Lotterer's initial race strategy was not to come into the pit so early, but explained later that overtaking Izawa could get have gotten tougher if he had to follow him when he was losing front down force as mentioned earlier. The lap after Lotterer's getting back on the track, Izawa comes into the pit as planned and succeeds to get back on the track in front of Lotterer, yet there was no way Izawa could block Lotterer on his out lap when the tire's were still not warm enough. Lotterer, having passed Izawa in the spoon corner, his next aim was to catch up with the top groups.

For the top two drivers, the situation was not so easy for Kogure, who was chasing Oliveira by three seconds behind, and the gap was increasing as the race went on. After 25 laps, their gaps were as big as four seconds when the race leader, Oliveira, decides to come into the pit. Changing his rear tires only and refueling the gas, there was a silent moment and a second of hesitation among his team crew. Looking at what had happened to Oliveira, Nakajima Racing instantly calls in Kogure for a pit stop. Kogure's strategy then was to change the rear tires only and to refuel the car quickly in order to counter balance the gap by their pit works. Benefitting from his rival's couple of second of hesitation and his flexibly changing the strategy, Kogure succeeds to get back on the track in front of Oliveira, now leading the race by having Oliveira a second behind. Meanwhile, another strong rival for the top two drivers were catching up by lapping one second faster, Lotterer. Having known the threat was not only Oliveira, the race leader, Kogure pushed his car to the limit and run away from the two followers until the checkered flag were woven toward him to praise his victory after a long 37 laps of close heated battle.
◊ ◊ ◊
Winner: No.32 Takashi Kogure (NAKAJIMA RACING)
First of all, I am very happy to have won the race and I want to thank the team. I think we won this race by having a good strategy. It was a great race. It was all managed by the team and I was carrying fuel enough to last even with our optional strategy, "changing 2 tires". Of course, we did not know what Oliveira was going to do and how many tires he was going to change, but I wanted to keep up the pace and the team radio was saying that there was a chance. Therefore, even though I received a flat spot on the front tire and could not push hard enough, I tried to stick with him. After that, the pit stop was absolutely perfect and I was safely back on track. But toward the end of the race, when the fuel was lower, I made another big flat spot at the second corner of the Degner Curve, I was not on my foot knowing the rivals were catching up fast, but yes, I did manage to keep the advantage and I am happy to have won this race.