On July 11th and 12th, Round 5 of the Japanese Championship Formula NIPPON was held at Suzuka Circuit (Mie Prefecture). No.31 Loic Duval (NAKAJIMA RACING) captured pole position in qualifying. A problem struck his teammate, No.32 Takashi Kogure, which gave Duval a lucky win to extend his wins to 3 on the scorecard.

Kogure and Duval go head-to-head again in qualifying.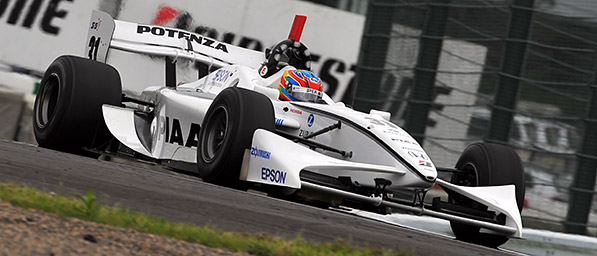 No.31 Loic Duval

Formula NIPPON adopts a "knock-out" qualifying system, the method also carried out in Formula One, where faster drivers survive through three sessions. Although thick clouds covered the sky over Suzuka, no rain dropped on the ground which kept the track surface dry throughout the day. Being a step ahead of any teams in setting up the cars this season, NAKAJIMA RACING's two cars dominated the top positions in the qualifying again, and it was between No.31 Duval and No.32 Kogure fighting for the pole. In Q1, Kogure clocked 1 min 41.697 sec to place him on top. Duval came ahead with 1 min 41.394 sec in Q2. Then came the final session, Q3, but Kogure spun his car around on his first attempt in the hot laps. Contrastingly, Duval marked 1 min 41.214 sec with just one try and snatched top position at the time. Kogure couldn't get on the flow in subsequent tries and failed to surpass Duval's time, which gave Duval two consecutive pole positions.

Formula NIPPON sophomore No.8 Hiroaki Ishiura placed third on the grid and continued to prove his speed that is almost comparable to the NAKAJIMA RAING fleet. Defending champion No.1 Tsugio Matsuda (LAWSON IMPUL) qualified fourth with a speed which could mean the end of his downturn. After spinning his car in Q2, No.36 Andre Lotterer failed to advance to Q3.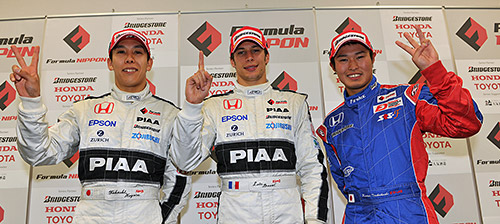 Qualifying Top 3 - 2nd: No.32 Takashi Kogure / PP: No.31 Loic Duval / 3rd: No.10 Koudai Tsukakoshi

◊ ◊ ◊

Kogure struck with misfortune. Treluyer emerged at start to grab 3rd.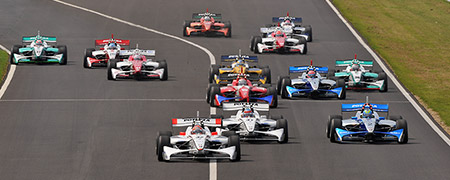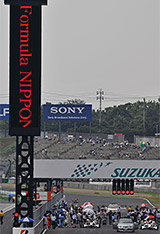 Sky cleared up on Sunday, allowing the race to be carried out in dry condition for the first time since the season opener. Temperature rose to 30 degree Celsius and it was like mid-summer already.
The race started in turmoil with five cars, including No.1 Matsuda, being penalized for Jump-start. Drivers were confused by a slight delay of black-out from red lights on the starting signal. Pole-sitter No.31 Duval was not a subject for penalty, but was a bit slow in reacting to the black-out and allowed his teammate No.32 Kogure, who started from right next to him, to get ahead. Despite the confusion, No.2 Treluyer showed a superb start from sixth place on the grid. He emerged to third place as going into the first corner and trailed right after the two drivers of NAKAJIMA. But Kogure and Duval ran 0.5 to 1 second faster than Treluyer and the rest of the field every lap. The gap against Treluyer, No.8 Ishiura and No.20 Kohei Hirate (ahead IMPUL) in behind was noticeably getting greater in just few laps into the race.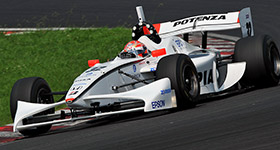 No.32 Takashi Kogure Unanticipated rise of temperature may have been the factor, but many cars started to lose some time on their lap times after Lap 5. Nonetheless, the leader Kogure somehow managed to keep the loss small and extended his lead over second place Duval, who was struggling with over-steering. The gap between Kogure and Duval had grown to 10 seconds by the time when entire field completed their pit-stop that was mandated for the race. Duval and Treluyer were about 30 seconds apart.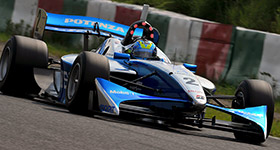 No.2 Benoit Treluyer At 11 laps to go when it seemed like the race was to end as-is, Kogure, who was cruising his way at the top position, suddenly lost his speed. He couldn't get his transmission into any gears except for the fourth gear. His lap time dropped acutely from 1 min 47's to 1 min 52-53 seconds. Obviously, Duval was able to pass Kogure and took over the lead. Conveyed of the trouble through team radios, Treluyer and Ishiura on third and fourth, respectively, picked up their paces. On Lap 37, Treluyer closed in just 5 seconds behind Kogure and it was in anytime that Kogure loses another position. However, the problem on Kogure's machine amazingly resolved. Gaining back his natural speed, Kogure marked the fastest lap of 1 min 45.191 sec on the next lap and delivered a letter of ceasefire to Treluyer and others in behind. Nevertheless, four laps were not enough to catch up Duval at over 10 seconds ahead.



No.8 Hiroaki Ishiura Duval achieved two consecutive pole-to-wins, with teammate's misfortune undeniably playing some parts. He became the leader in driver's ranking with his third win of the season. Kogure finished second to give brisk NAKAJIMA RACING their first 1-2 finish of the season as well as 4 consecutive wins. Treluyer finished third, and, although giving up top position in point standing, added valuable points towards the final phase of the season.

On the final lap, last year's Macau GP winner No.7 Keisuke Kunimoto, who was battling for sixth position, hit defending champ Matsuda, who was running on the outside, at a high-speed corner known as "130R." Both cars went off the track and caused a huge crash. Although Matsuda injured his fingers, the two didn't suffer any serious damages.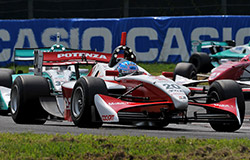 No.20 Kohei Hirate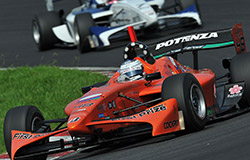 No.48 Yuji Tachikawa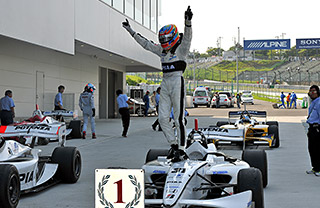 ◊ ◊ ◊
Pushed hard but tried to ease the burden on the car as well.

Winner No.31 Loic Duval(NAKAJIMA RACING)
It was not that easy. Firstly, I was disappointed with my start. Plus, my closest rival in the point ranking, Benoit (No.2 Treluyer), was right behind me. After few laps, the car had a severe over-steering and it was hard to keep the car on the track. On the other hand, my teammate Kogure was faster, so I thought I would have to settle with second place today.
But after the pit-stop, the balance of my car felt very good. Kogure had a problem and that allowed me to overtake him, but I was pushing at 100% and, at the same time, tried not to put burden on my car. I was fairly confident that I can keep up the pace till the end. I know the fight for the title won't be easy either.