Reversal from yesterday's cloudy weather, sports became a fine autumn day Land SUGO. Dazzling sunlight can be made from the fifth round of the Formula Nippon race, a fierce battle ensued throughout. During the battle, and achieved his first victory for a no-pit operations ahead No.37 Ooshima Kazuya (PETRONAS TEAM TOM'S). Continued to push throughout the normal pit stop picking strategy No.1 Loic Duval (DOCOMO TEAM DANDELION RACING) No. 2, No.36 Andre Lotterer (PETRONAS TEAM TOM'S) finished in third place. Stood on the top end of the race No.19 JP · de Oliveira (Mobil 1 TEAM IMPUL) is stopped by Kano Masa in the lap of gas. It ends with no points. As a result, the ranking series, which won the top 5 No.32 Kogure Takashi (NAKAJIMA RACING) emerged on top. Oliveira and three points ahead of Duval, this will be chasing points in five Lotterer Championship melee pattern was more and more.

Loic Duval (DOCOMO TEAM DANDELION) the PP!

No.1 Loic Duval

September 25 was reminiscent of a chilly late autumn (Saturday), Miyagi Prefecture Sports Land SUGO qualifying fifth round was held in Japan Championship Formula Nippon stage. High grip road surface temperature is low impact, and that was the situation may turn the engine, and a heated battle time attack the course record than the top few drivers who have decorated the pole to win here last year Loic Duval No.1 (DOCOMO TEAM DANDELION RACING), and dominate it. 100 / 5 of a second by a neck and Kogure Takashi No.32 (NAKAJIMA RACING) followed by the top ranking No.19 JP · de Oliveira (Mobil 1 TEAM IMPUL) No. 3, No.36 Andre Lotterer (PETRONAS TEAM TOM'S) was fourth.

◊ ◊ ◊

Ooshima Kazuya (PETRONAS TEAM TOM'S) is their first victory! !


2:30 pm, will start the formation lap. At this point, the temperature ℃ 21, track temperature rose to ℃ 33, and warm conditions. Officially launched and will be closed after a week driving ranks, standing on top first Kogure outstanding acceleration. Duval, No.8 Hiroaki Ishiura (Team LeMans) followed this. Lotterer put the list in the first corner at speed and failed to start Oliveira also have two lightly. Oliveira was out side the half-spin in a manner that upset the balance. In addition, we revive it and counter 当Teta, Oliveira is a left front Yamamoto Naoki No.31 (NAKAJIMA RACING) hit the right rear. Yamamoto spun, stopped on the track. Oliveira, who also damaged the front wing addition, they will also punctured left front tire. Behind the corner at the entrance of 2 No.16 Yuji Ide (MOTUL TEAM infinity) is Yuki Takashi Hiranaka No.18 (KCMG) in rear-end collision. Hiranaka went off to crash into the tire. Here was to finish the race. Shortly afterwards, on course to recover the machine to Yamamoto, the introduction of the safety car. During this time, and Ide Oliveira suffered damage to the machine pit. Oliveira nose as well as tire replacement and returned to the ranks in the same orbit refueling also performed.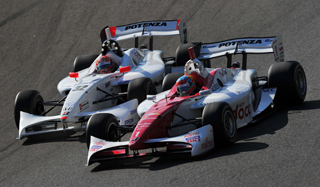 No.32 Takashi Kogure
No.1 Loic Duval The safety car returned to pit road exit 4 laps, the race resumed. 入Re代Wari position occurs here. Duval is somewhere south and put behind the last corner just before the restart Kogure, succeeded in overtaking at the first corner. And regained the top after the machine started ahead of second place. At the first corner on lap six and was, No.10 Hiroshi Hiroshi Tsukagoshi (HFDP RACING) overtook the Lotterer. Has emerged in fourth. Tsukagoshi, however, slowed down on lap 14. Had a problem with the drive shaft, away up the road surface and driving conditions Kuni Tamotsu transmitted, have been forced to retire. Duval order at this point, Kogure, Ishiura, Lotterer, No.2 Izawa Takuya (DOCOMO TEAM DANDELION RACING), Shima Hiroshi was.
The movement began to pit the top team from each of the past one-third 62-lap race. Lotterer the first to make a pit stop after a first 25 laps. At the end of lap 28 but after three laps Ishiura. Ishiura pit work were long over more than two seconds Lotterer. So when the pit out, preceded by Lotterer. In addition, just completed 30 laps, Kogure pit stop. Kogure adopted a strategy to replace the rear tires just short time and fuel, before returning to the course of one-stop Lotterer time only 10 seconds. Just finished with 32 laps and pit stop and was leading the Duval. Kogure also before, has returned to the course. Kogure and then struggle intensifies Lotterer. Kogure suffering from the effects of the two exchanges to understeer, because the pace was not slow to raise, close to the right behind Lotterer. At the first corner on lap 34, but will line up out side the Lotterer finally, the two-contact Harami slightly Kogure. Lotterer is light went off. Revive the posture immediately, but again approached KOGURE. First corner on lap 36, and now has succeeded in overtaking the Lotterer planted in Kogure. Raised position. At the first corner on lap 38 more, and put in the line up from Ishiura Kogure. Despite a light touch to the two side by side will lock brakes, Ishiura overtook Kogure here, also raised position.
After overtaking Kogure, fifth Lotterer of charge at this point is hard to show. At the fastest pace after another rewrite, Duval went to break off the difference between going forward. On the other hand, have Shima Hiroshi stood on top at this point. Hirate No.20 (Mobil 1 TEAM IMPUL), this was followed by Oliveira. Shima Hiroshi no pit strategy was adopted. It was refueling in the pits after the start time of Oliveira and even then had not been running to the end will make a pit stop. This is due to be performed for Hirate pit from the first pit stop on lap 45 just finished. At this time, who had lit the oil temperature alarm, back to the course is done to clean the side pontoons, had been forced out of the points back to the pits without alarm goes off again.


No.37 Kazuya Oshima
No.19 Joao Paulo de Oliveira Entered the race late, a top war intensified. One time while hitting a 1 minute 09 seconds of second place Oliveira, Shima Hiroshi go before chasing. At the first corner on lap eight to 55 weeks off and checkers, and Oliveira took the top easily. Oliveira then dropped the one time one minute 10 seconds, as it seemed to rush to the checker. Abrupt slowdown in the first corner of last lap, however. For out of gas, that would be stopped. Oliveira SP stopped rolling machine inertia outside corner out on the grass, head down and disappointed down the cockpit and sat down on the spot.
Shima Hiroshi topped it off again last week ran a 危Nagenaku, play for his first victory. Finally the difference was more than 10 seconds to 2 seconds 削Ri取Tta While Duval is No. 2. Lotterer third place. In addition, Ishiura, Kogure, and Izawa followed. 7 No.7 position Kotsutsorino Kay (Team LeMans), the eighth Matsuda Tsugio No.3 (KONDO RACING) won a prize. Get to the first point this season either. Results of today's race, the title race has been more chaotic. What kind of drama is waiting in the remaining two races, but totally unpredictable situation.

◊ ◊ ◊
Stage strategy was decided yesterday

Winner: No.37 Kazuya Oshima (PETRONAS TEAM TOM'S)
(The first win), I'm so happy. This year the second year, I thought I'd come up with a good result from the beginning, I regretted to 出Senaku results easily. But to be able to win at last for the cleaner. This condition is very good car from the day before yesterday, but I feel good in qualifying, Q2 and I think quite dangerous when yellow flag came out on, but I was stopped in the middle attack. But I got to start from the back, so even without the race, this course is difficult to overtake, so good condition of the car, there was still confident it would go faster while saving fuel. So let me ask the engineer to go in the pits no, I'm really happy because it could result Masaru Masaru. This strategy was decided yesterday's stage.