As the afternoon yesterday, looked into the sunny Suzuka Circuit in Mie Prefecture. All Japan Formula Nippon Championship final in 2010 is certainly worthy of the title race was contested. 28 lap race was contested by two, kept the top spot 0.5 points in No.19 JP · de Oliveira (Mobil 1 TEAM IMPUL) won. 2 No.36 ranked Andre Lotterer (PETRONAS TEAM TOM'S), 3 No.32 ranked Takashi Kogure (NAKAJIMA RACING), 4 No.1 position Loic Duval (DOCOMO TEAM DANDELION RACING) will result in, and Oliveira return to the series in its first year, won the champion title brilliantly.

Race2 the Oliveira (Mobil 1 TEAM IMPUL) on Pole

Mobil 1 TEAM IMPUL Directer Kazuyoshi Hoshino, No.19 JP · de Oliveira

November 6 was a warm Indian summer day (Saturday), the last race of the Formula Nippon knockout qualifying round off the season finally, held at Suzuka Circuit in Mie Prefecture. As a result, the pole position in race one, the No.1 ranking 4th Loic Duval (DOCOMO TEAM DANDELION RACING). Pole Position 2 race, the top ranking No.19 JP · de Oliveira (Mobil 1 TEAM IMPUL). And the grid that drivers were higher across the board has left the possibility of their own titles, which resulted in feeling a fierce battle tomorrow.


Qualifying Top 3 - Race2 2nd No.32 Takashi Kogure / PP No.19 Joao Paulo de Oliveira / 3rd No.31 Naoki Yamamoto

◊ ◊ ◊

Final race, a race No.1 Loic Duval (DOCOMO TEAM DANDELION RACING) victory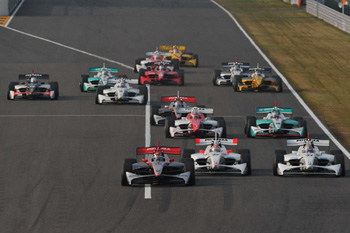 At 2:30 pm after an interval of about three hours, started the formation lap of race two. After the first race, the sun came out Suzuka temperature ℃ 19 track temperatures rose to ℃ 27, was warm like yesterday's qualifying condition. In this race, is mandatory tire change, it had been decided that all vehicles must enter the pits after 10 laps the top-digest. So, where drivers pit which seemed to affect the outcome of whether race can take a strategy like? After completing one lap of the formation lap and Burakkuauto signal from Allred. We decided this time to a reasonable start, kept the top left corner Oliveira, one pole position. This Kogure, No.31 Naoki Yamamoto (NAKAJIMA RACING) and lasts one to capture a fifth of qualifying Lotterer Yamamoto has been accelerating in the middle of the corner of two outside. Emerge until the third place. It Yamamoto, followed by Duval. Then hunt down the fast-paced, Kogure Oliveira, heated battle from the first lap top. At the first corner on lap two, the out-side to overtake Kogure Oliveira. After standing on top of one Hashi Kogure a string of 1 minute 43 seconds one time, but went ahead following a second place. Lotterer also begun to lag behind a slow pace compared with sluggish in second place and Oliveira, Yamamoto had to be forced to the back. Meanwhile, Duval played a stunning victory in the race, driving the right front tire while feeling the incident. What impact is suffering from a machine and understeer control, the pace was not at all.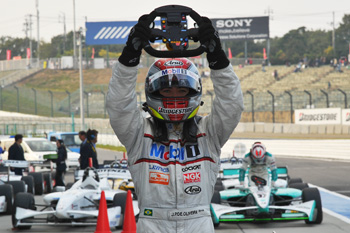 From around 10 weeks to digest the top and Kogure, each car in the pit one after another. 10 No.37 finished the week at Kazuya Oshima (PETRONAS TEAM TOM'S), in the following week Hirate No.20 (Mobil 1 TEAM IMPUL), No.8 Hiroaki Ishiura (Team LeMans), No.2 Takuya Izawa (DOCOMO TEAM DANDELION RACING) No.18 Katsuyuki Hiranaka (KCMG), 12 laps finishing at No.3 Tsugio Matsuda (KONDO RACING) and went into the pits, the number of tires are two, four and divided by their operations. The top team, finishing first at 13 weeks, Duval is the first to pit. Replace only one on the right front tire had a defect and returned to the course. No.10 pitted the same lap Kodai Tsukakoshi (HFDP RACING) is also one of only replacing the left rear. As had been predicted in advance, drivers begin to appear one exchange. Yamamoto entered the pits on lap 15 just finished one, on four tires replaced, even dared refueling. As a result, leading to forgive Duval. Kogure also entered the pits on lap 17 just finished Furthermore, we replaced the fuel of the four tires as well. Oliveira, Kogure, whereas the second fastest lap before the pit stop because it was earning a margin of 8.5 seconds, seemed to aim for winning the pit work takes time. However, Kogure engine stall in this pit of contrition. It takes one hour 23 seconds before the restart, they earned prior to the pit margin Hui.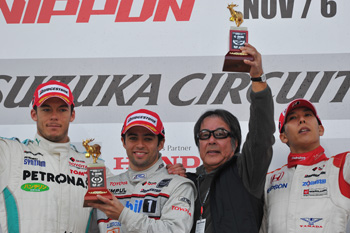 2nd Andre Lotterer / Winner Joao Paulo de Oliveira/ 3rd Takashi Kogure The following week we moved a look at this Mobil 1 TEAM IMPUL. Oliveira will only replace the rear tires and make a pit stop on lap 18 just finished, and Kogure, came out before calmly. In addition, just completed 20 laps, pitted the Lotterer, just take the strategy to replace the right rear tire. Lotterer returned to the course, succeeded in leaving here before Kogure. Emerged in second place. Then a stable pace, carving Oliveira, adhering to the top. And cite two victories this season, championship decided. Lotterer emerged from fifth to second place qualifying, ranking second only to The spanned. Duval off to protect third place ranking while being chased by four Hirate Yamamoto. Kogure, concluded the season in fourth place ranking.

The team title is Mobil 1 TEAM IMPUL, Rookie of the Year has won the Yamamoto.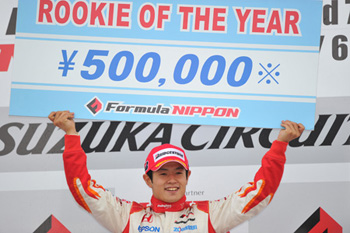 ◊ ◊ ◊
Continue to push to end race

Winner: No.19 JP · de Oliveira (Mobil 1 TEAM IMPUL)
It was a very tough race. They could remain a champion for the previous four drivers at the start, it takes pressure Itashi lot. So I could not make a mistake and nothing, I was just concentrating on my race strategy. On the other hand, we also had to care or take the strategy that they say what the other drivers. From the start of the race, and that we are choosing Kogure's strategy proved a little different. It was from his car a little too fast paced. Kogure's moment was overtaken on lap 2, I was a little worried. The Suzuka is important because it called that before anyway. It can run in the clear. After I pulled out, but I saw that's a separate Attoiu間Ni Kogure, noticed that his fuel light called. So it was pulled after Kogure's not forget, the self-absorbed, then had to worry about the difference between Andre. OK, so if KiSeta margin to the point where it can only pit stop doing so, I was feeling a little bit easier. But you keep pushing to end race anyway. Goal 4 - 5 weeks ago, we thought that position was all right now, I would win. From there, a little while to save all times to control the pace, I was thinking about when you finish.