Suzuka, Mie Prefecture, is a bit was a little cloudy in the morning. All Japan Formula Nippon Championship final in 2010, in the first 20-lap race was held in the morning, the pole No.1 Loic Duval (DOCOMO TEAM DANDELION RACING) start defending the top. While the middle is having troubles, as it is in the clear winner. 2 No.32 ranked Takashi Kogure (NAKAJIMA RACING), 3 No.36 ranked Andre Lotterer (PETRONAS TEAM TOM'S). Top ranked No.19 JP · de Oliveira (Mobil 1 TEAM IMPUL) are lagging behind in fourth place and start to Lotterer 0.5 percentage points, and Duval are forced to 2.5 percentage points resulted.

The Race1 Duval (DOCOMO TEAM DANDELION RACING)

No.1 Loic Duval

November 6 was a warm Indian summer day (Saturday), the last race of the Formula Nippon knockout qualifying round off the season finally, held at Suzuka Circuit in Mie Prefecture. As a result, the pole position in race one, the No.1 ranking 4th Loic Duval (DOCOMO TEAM DANDELION RACING). Pole Position 2 race, the top ranking No.19 JP · de Oliveira (Mobil 1 TEAM IMPUL). And the grid that drivers were higher across the board has left the possibility of their own titles, which resulted in feeling a fierce battle tomorrow.


Qualifying Top 3 - Race1 2nd No.19 Joao Paulo de Oliveira / PP No.1 Loic Duval / 3rd No.36 Andre Lotterer

◊ ◊ ◊

Final race, a race No.1 Loic Duval (DOCOMO TEAM DANDELION RACING) victory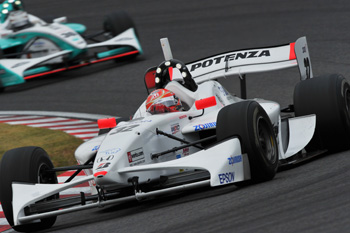 No.32 Takashi Kogure Under cloudy and cool for 20 minutes at 10 am, started the formation lap of race one. At this temperature ℃ 14, and the track temperature ℃ 16, were held yesterday over the qualifying conditions were much lower. After reviewing the eight-minute warm-up set of machines to suit this condition, each car Kuni Hatsu dummy grid. All cars arrived at after a regular grid formation lap, and all-red signal from Burakkuauto. The outstanding decided to start where it was Duval's pole position. Oliveira's two fastest qualifying, failed to start. Kogure not dodge it, stand in second place. Followed by further Lotterer, Oliveira was back to fourth.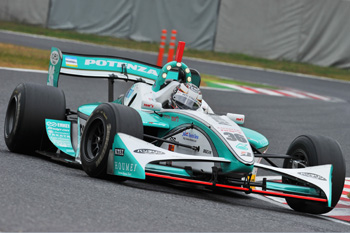 No.36 Andre Lotterer After this expansion separates the top followed by Duval. Kogure, and put somewhere south of the No. 2 behind the third-string Lotterer, Ukagatta overtaking opportunities. Duval's pace a little dull then the difference between the three is less than one second each lap. Duval, the leading machine and cause trouble around the middle of the race on lap 10. This is a foreign object hit Misshonoirukura for cracked. Duval's machine began to leak a little oil from the mission there, will give white smoke while driving. Operation of the machine itself is not a problem, however, the pace of Duval fell.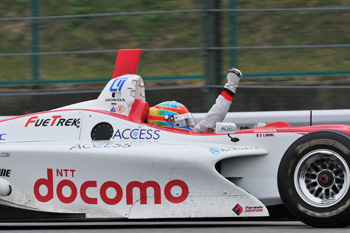 No.1 Loic Duval On the other hand, follow Lotterer Kogure and this affects the visibility of smoke and oil and Duval can not be captured. After all, as it ran off Duval, this season marks the second victory. Kogure, second place, third place was the result of Lotterer. Oliveira is a machine that had an oversteer balance in this race, the pace could not enough, still finish fourth. As a result, the series points, but 39.5 points Oliveira, Lotterer 39 points, 37 points Duval, and Kogure 35 points, two for the race, the title race has been more chaotic.

◊ ◊ ◊
Race two also, thinking only of winning

Winner: No.1 Loic Duval (DOCOMO TEAM DANDELION RACING)
To link potential champion, needed to win this race first one, was the first goal from it, I'm really happy to be winning. But it was a very tough race. At the start I was able to protect the top from the pole, I'm facing a problem that became later. At first sight of smoke rising from the rear of the hairpin machine, "Maybe you spin the wheel?" I'm wondering, then became more and more to keep smoke out. So the team also reported on the radio I was, "Now, because we can do nothing, just keep on running" I was told. Of course there were not in a good frame of mind, problems came up, and I could keep pace, I was a little worried. Rear tire rests on the oil, I had lost a little grip. But I think oil has become of my poor sight even behind rivals, would run out fast enough to keep the top end. I just like having the car until the end, I was praying she ran. But this race It was a single step, now overcome it, we should focus on two of the race. I think it is very important race in the afternoon, I am not thinking only of winning.