Rd. 5
TWIN RING MOTEGI
Qualifying 8/18 sat / Race 8/19 sun
Race Distance : 249.652 km / 52 Laps
2018 Super Formula Rd. 5 at TWIN RING MOTEGI Preview
It has been abnormally hot summer thus far since the rainy season finished compared to previous years. In addition, there have been 3 typhoons that have hit the Japanese peninsula in less than a month. Heading into race week for Super Formula Rd. 5 at Twin Ring Motegi, one thing can be said, and that the conditions are expected to be extreme for teams, drivers, and over members of race teams, alike.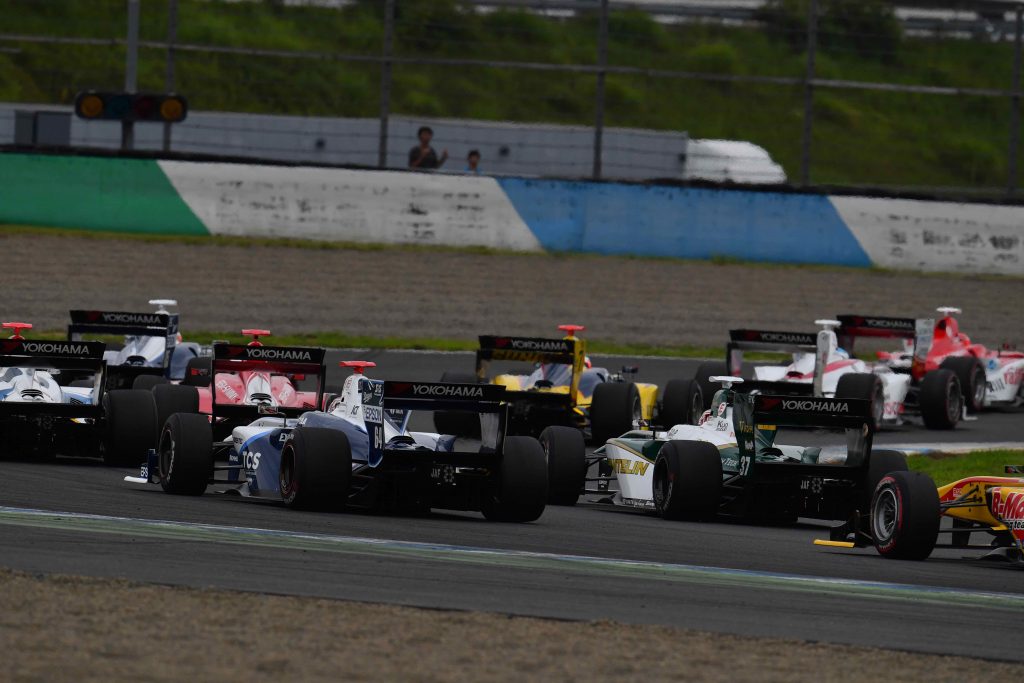 As we enter the race at Motegi, we also enter the latter part of the 2018 Super Formula season, which means this race is extremely important to pick up championship points. The last race at Fuji Speedway saw winner Nick Cassidy gain on Naoki Yamamoto who is currently in the lead with 22 points. Cassidy sits with 21. The 2017 Season Champion Hiroaki Ishiura is 9 points behind Yamamoto, but he is usually tough at Motegi, as well as the next race at Okayama International Circuit.
The course at Motegi is relatively flat and is said to be easy on tires. Two specs of Yokohama supplied tires were used last season at Motegi, so we will once again see 2 specs used in this race, which is the norm for all races in the 2018 Super Formula season. Motegi is a stop and go type of course, and is said to be hard to overtake on. But last season, there was a lot of overtaking because the way the 2 specs of tires were used to pick up speed. So that will be a focal point to this season's race, as well.
In Qualifying session 1 (Q1) all teams must use medium spec tires. But the teams will no doubt switch to soft tires for Q2. Since there was no off season testing done at Motegi, none of the teams know how much grip the "high grip tires" that Yokohama has produced this season will provide and how low lap times will go. So that is one of this places to keep your eyes on during Qualifying.

As with all races this season, it is mandatory for teams to use both specs of tires during the race. The top grid starters in the race will probably start on soft tires. But how far they race with soft tires on will be the question. On the other hand, those drivers in the lower grids will probably begin the race on medium tires. Once their cars get lighter after using fuel in the race, they will probably change to soft tires and begin picking up the pace. Motegi is known for being the best course in Japan to do 2-pit stops, and the lost time on pit road is lower than other circuits. So some teams may go with that type of strategy.
Kazuki Nakajima and Kamui Kobayashi will both miss the race because of other racing commitments. J.P. de Oliveira will drive in place of Kazuki, with Yuichi Nakayama taking the wheel in Kamui's place. Nirei Fukuzumi will drive at Motegi–his race after several away. How these drivers will fair will be something to watch for. Last season, it too long to get Kamui out of the pits, which cost him the win at Motegi. He did put up a fierce fight in the race after getting back out on the track. The team definitely has the data left from that race, so how the carrozeria Team KCMG car does is a place of interest.

Last season, KONDO RACING'S Kenta Yamashita won pole at Motegi, and they are normally solid at this track. So they will be one of the teams to watch. Motegi could be called TEAM MUGEN'S home course, so they will no doubt come in fired up for this race. JMS P.MU/CERMUO・INGING finished strong in the race last season and are in contention to possibly win the title again this season. ITOCHU ENEX TEAM IMPUL, VANTELIN TEAM TOM'S, DOCOMO TEAM DANDELION RACING all have solid teams and will come into this race no doubt looking for a win. So it should definitely be an exciting race!